July 13, 2010 at B1 Club, Moscow, Russia
by Rodion Goloshchapov
Guest Staff Writer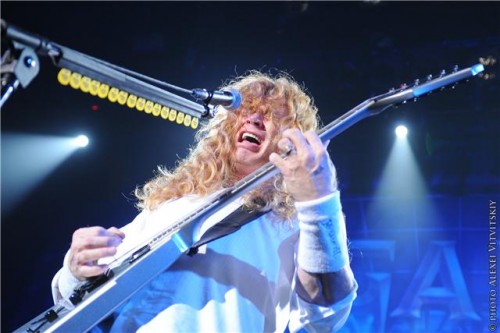 At first it seemed like the infamous B1 club with its capacity of 3000 would not be able to hold Megadeth with their rowdy crowd of die-hard fans. But in the end both dates played by the band at B1 in Moscow this month couldn't have passed better.
The local thrash-themed support act Arbitrator left no impression apart from their extremely young age and glaring unprofessionalism, but the imposing "supported Megadeth" line on their CVs is perhaps a fair enough compensation for having to bear the constant "Go home to your ma!" shouts from the crowd which accompanied their set.
An hour later, with the appearance of the Megadeth roadies on the stage, it became clear that Dave Mustaine was going to use Dean guitars, Dave Ellefson's brand of choice would be Jackson, and Chris Broderick remains an Ibanez man. During the show Mustaine switched between three Dean Signature VMNT Flying Vs, just like Ellefson would switch between three Jackson basses, all three being Concert Bass SMG series. Chris Broderick remained faithful to his Ibanez RG7 axe throughout the set.
Amidst sweltering heat the atmosphere was becoming more and more agitated, when finally Shawn Dover came on stage walking straight to his drum set, followed by Broderick, and then by Ellefson and Mustaine himself. The first three songs ("Wake Up Dead", "In My Darkest Hour", and "She Wolf") were played without breaks between them, while a fine, if not excellent, sound was gradually being shaped by the sound engineers.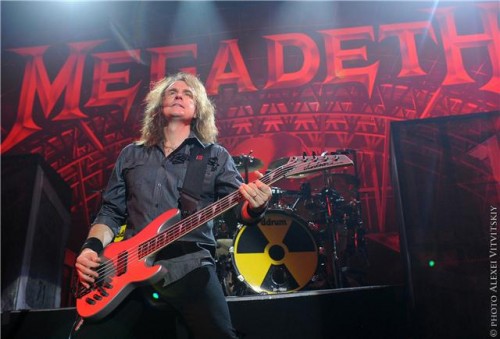 Rust in Peace back-cloth was splattered behind the band, and even one of Mustaine's guitars was decorated with the album's artwork. Mustaine, Ellefson and Broderick were constantly switching places, allowing their fans (who have waited for almost 10 years to see the band in Russia again) to have a proper view of their heroes.
Mustaine, for one, looked imposing with his mane of blond hair and a white musketeer's shirt – a true guitar hero and a heartthrob. His smiles and air-kisses directed at the VIP box looked elegant too, sincere and without a trace of flam.
Following a genius version of "Skin 'O My Teeth", Rust in Peace was performed in its entirety – in exactly the same sequence as recorded on the album. Broderick handled his lead guitar duties with lots of dignity, given that it isn't the easiest of tasks to follow in Marty Friedman's footsteps, as Rust in Peace to this day remains one of the most technically complex albums not only in the Megadeth catalogue, but of heavy music as a genre.
Broderick's leads weren't something that will suddenly change the world, but he is a competent, assiduous player who interacts perfectly with Mustaine, while carrying himself with confidence and poise. Mustaine soloed a lot too, and the interaction between the two was easy and natural. Plus Ellefson sounded like he's never been away, given that 2010 sees him back in Megadeth for the first time after an 8-year break.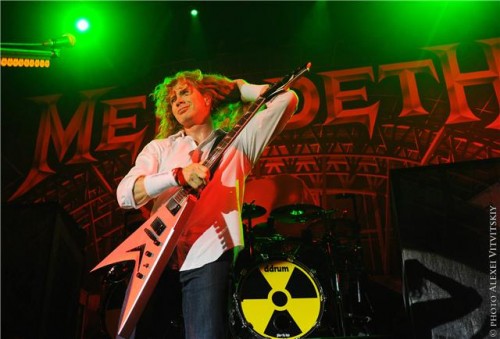 Toward the middle of the show a security guard decided it would be fun to pull down to the floor one of the crowd-surging fans, which made Mustaine act quickly and decisively. After seeing the lad being pulled down and hitting the floor, Mustaine leans over the side of the stage, slaps the guilty guardsman on the head, walks over back to his mic and says: "Don't fucking do that," to the ecstatic cheers from the crowd.
The ladies' favourite "A Tout Le Monde" sounded truly impressive, and Mustaine showed that he is not only a virtuoso on the guitar, but is also an equally formidable singer.
After mind-blasting "Symphony of Destruction" it seemed like nothing else would take the audience onto another level of their natural high, but suddenly the band launched into "Peace Sells" which completely overwhelms the already overexcited crowd.
In the end Ellefson, Mustaine and Broderick throw their guitar picks into the audience, and after a light scuffle a 15 year-old kid emerges in front of me screaming, eyes popping with sheer joy, holding a green guitar pick which says "Megadeth" in his hand. Then Dover throws his drum sticks into the crowd, and they hit my buddy who stands next to me right on the forehead. A cracking good show.
Set list:
1. Intro
2. Wake Up Dead
3. In My Darkest Hour
4. She Wolf
5. Skin 'O My Teeth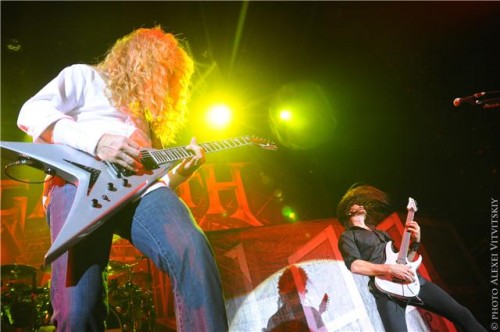 6. Holy Wars
7. Hangar 18
8. Take No Prisoners
9. Five Magics
10. Poison Was The Cure
11. Lucretia
12. Tornado of Souls
13. Dawn Patrol
14. Rust in Peace
15. Trust
16. Angry Again
17. Headcrusher
18. A Tout Le Monde
19. Symphony of Destruction
Encore:
Peace Sells / Holy War reprise
Translation by Alissa Ordabai
Photos courtesy of Mikhail Grigoriev