August 22, 2010 at Susquehanna Bank Center, Camden, NJ
by Steve Trager
Staff Writer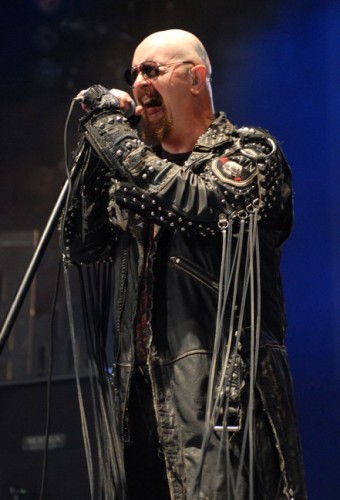 We often had wondered about Ozzfest returning to the concert stage for yet another blistering day of pure metal, and we the eager maniacs of metal give OZZY the horns up for yet another blistering day of metal on two stages. Sadly this seems to be the shortest run for Ozzfest this year with only six US dates, among them a stop at Susquehanna Bank Center in Camden, N.J. As this year's lineup seemed to be a slight slant with just a few larger scale names such as Halford and Motley Crue rounding out the main stage and Black Label Society and Drowning Pool rounding out the second stage for a blast of a day, despite the weather conditions. For the first four bands that were set to play in Camden on the second stage, I raise a glass to the people behind the production of Ozzfest, as they announced the threat of bad weather and moved the set times up and had set changes moving at a rapid rate of speed to a point that it seems like the first two hours went by so quick you just couldn't keep up with any set list.
Even with mandatory 20 set list and ultimately quick set changes throughout the second stage, we had the pleasure of catching a great set from Drowning Pool who, graced the main stage several years back. Still with a different front man, Drowning Pool shreds with tracks like "Sinner," "Enemy," and the song that broke the mold for this band "Bodies;" if that doesn't get your blood going better have a few more beers at Ozzfest. Many of us respect the music as do some bands covering their inspired mentors Pantera dropping tributes to Dimebag with "Cemetery Gates" and "Walk." I was never a fan of other bands covering material in metal but you have to give these guys more than just credit with that alone period, a well job done with a true inspired moment of greatness.
The second stage was cut short due to the threat of thunder and lighting which forced Black Label Society not to play. After looking around I could see alot of pissed off people who paid some great money to see Zakk kill it on songs like "Stillborn." For the most part not even a little rain would stop a show but with constant downpour and equipment getting trashed, it seemed to be a smart move at a quick decision.
Thanks to the rain for letting everyone miss out on BLS closing out the second stage, we were forced to just wait for like 90 minutes for the main stage to get going. With just four bands rounding out Ozzfest, this years' run of dates we the fans were treated to some great metal from NonPoint's opening slot with "Miracle" and "Bullet with a Name." Such a great time to watch front man Elias Soriiano whip his dreads around a mad man during Ozzfest.
Certainly Ozzfest wouldn't be complete without Dez Ferrara and Devil Driver who, just truly killed it with a memorable performance with a great tracks spanning Devil Driver's musical career, that including "I Could Care Less." And "Not All Who Wander Are Lost." While we enjoyed the old days of Coal Chamber, Devil Driver brings to the fold a fresh bit in metal all these years with a great live show at this years Ozzfest on the main stage.
As we metal maniacs looked forward to a great set by Halford and all those the contributions he has dropped into the bucket with Fight and Judas Priest spanning history behind him, his set list was actually decent but very disappointing as he pulled out songs I never heard before other than "Nailed to the Gun" and ''Never Satisfied." One would think taking the stage right before Motley Crue, Rob Halford would just squeeze in his set with as many great pieces of material that made this individual famous as a front man of two separate worlds that collide under one genre. Being a fan of certain years of Fight and Priest material, you get pumped up waiting to hear those songs blast right through your skull and you don't hear them you wonder has Halford lost it? Sadly we know Rob has more material than meets the eye and could kick your ass up and down the block but, we had to settle for an unusual set list.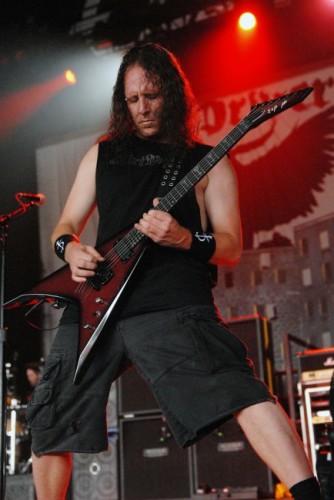 Gracing the stage for this first time in the history of Ozzfest none other then a classic band all themselves Motley Crue. Another band that certainly earned themselves more than just a musical career in the '80s. It's always a great set for this band as you want to hear the classic Crue songs, you ask and you shall receive it's that simple. Just how many songs can Motley Crue leave out in a 60-minute blaze at Ozzfest … quite a few but it it a trip down memory lane for all of us fans who grew up listening to Vince and the boys since 1981. Not only is this a special slot for the likes of Motley Crue, they got their first big break as an opening slot on Ozzy's tour in 1984 which is a big deal for any band to share a stage with a living legend such as Ozzy. It's like a true classic rock show with all the classics not to mention the pop or pyros jetting to the sky behind the stage as key songs are jammed down your throat. I always loved watching Motley Crue bring it home with a musical career spanning countless generations of fans even as co-headliner this year.
The Great and Powerful OZZ man has returned at Ozzfest with all new material in the fold, not to mention a new lineup including axe man Gus G from Firewind. You could say to play along side with Ozzy is a guitar heroes' dream come true as I watched this guy shred every song in Ozzy's set to bare bones. Is 90-minutes enough soak up a typical Ozzy set… the answer will always be no. While he tossed in a few Black Sabbath songs for good measure, Ozzy also unleashed the new single "Let Me Hear You Scream ". A nice addition to all the old traditional great anthems Ozzy has kicked out time and time again at each and every Ozzfest.. It's no surprise that this year was just a short run in the States, but Philly has been a great market for Ozzy all these years. Nothing truly says Ozzy without "I Can't Fuckin' Hear You" and Ozzy tossing buckets of water on him and fans in the pit.
Will this be the last Ozzfest ever once again? One never knows as Ozzy is getting older but, still can kill it as a great performer and front man that has carried the metal flame at Ozzfest for more than a decade.
Ozzfest Photo Gallery
Photos courtesy of Steve Trager