August 21st 2010 at Alrosa Villa, Columbus, Ohio
by John McGee
Staff Writer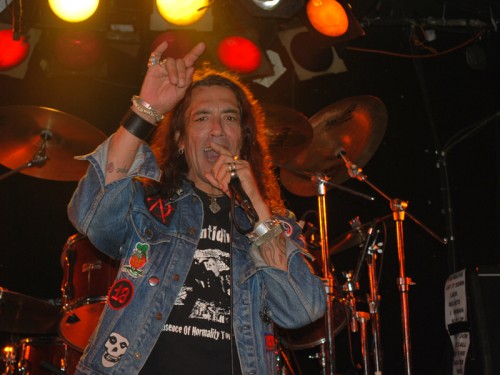 RATT rolled into Ohio's capital on a hot August night to a sold-out crowd. You could feel the energy vibrating through the air as the opening band, Dirty Side Down, pumped up the audience with some classic 80's hits. Dirty Side Down is an incredibly good band to watch perform. This was the right choice for an opening act. After the opening band played a set lasting about 45 minutes RATT finally took the stage. This was their first appearance at the Alrosa Villa since 1997 when they played with LA Guns. Needless to say Columbus, Ohio was geared up to see them play.
As the stage filled with smoke Warren DeMartini's guitar was ablaze with the opening lick of "You're In Love". The crowd erupted; a true sign that RATT N' ROLL had undeniably returned. Never stopping RATT played straight into "Lay it Down". Only as the final notes reverberated through the room did Stephen Pearcy finally say "Columbus Ohio how the hell are you?!"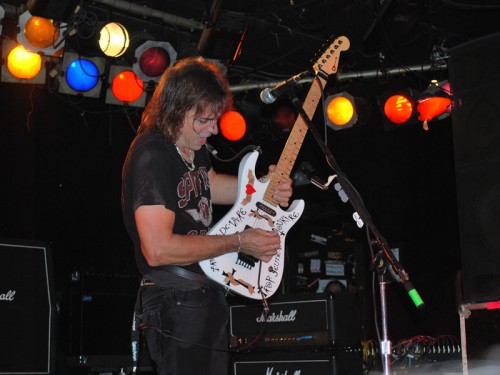 RATT reached down into the cellar and came back with the song "Lack of Communication" before moving into "Take a Big Bite" the first of four songs off the band's new album Infestation. RATT continued to pull out the hits from their earlier releases. The songs included "I Want a Woman", "Slip of the Lip", "Loving You is a Dirty Job" and "Back for More".
Having seen the band during their heyday I can confidently say that they can still put on one hell of a show! Stephen Pearcy is still one the best front men in Rock and Roll; proving once and for all that he is the voice of RATT. Having proven in the 80's that he was a guitar-God; Warren DeMartini still continues to astonish his fans with his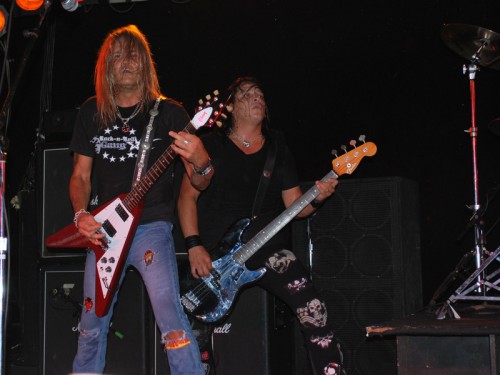 guitar prowess. Carlos Cavazo, the newest member of the RATT PACK, seamlessly slid into the 2nd guitar position sharing guitar solos and limelight with DeMartini as if they had been doing it for years. The rhythm section powered by Bobby Blotzer and Robbie Crane was like that of a well -oiled machine.
In this photographer's opinion there were many highlights of this unbelievable show. The most memorable being when RATT performed their encore of "Round and Round" and the crowd went insane singing along and pumping their fists in the air. Overall this was an amazing show that simply put…rocked. RATT once again showed that they have never lost their touch. This band still has what it takes to perform to another sold-out crowd thirteen years later.
Side note: If you were unable to catch one of RATT's shows on this tour you really don't know what you missed.
Set List:
You're in Love
Lay it Down
Lack of Communication
Take a Big Bite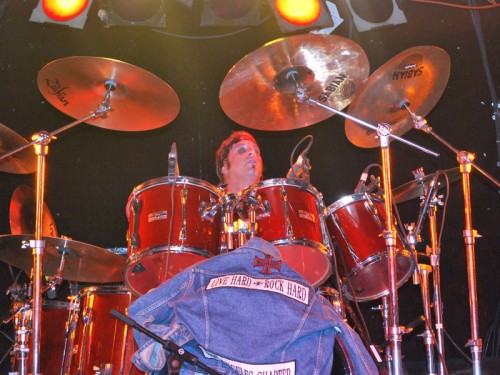 I Want a Woman
Slip of the Lip
Loving You is a Dirty Job
Last Call
Best of Me
Back for More
Nobody Rides for Free
Way Cool Jr.
Wanted Man
Morning After
Round and Round
Eat Me Up Alive
Photos courtesy of John McGee