Steevi Jaimz My Private Hell
by Alex Barbieri
Staff Writer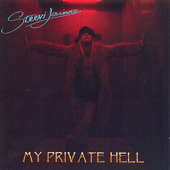 Not many people outside of the European hard rock/glam scene know about Steevi Jaimz, the peroxide blonde ex-singer of Tigertailz. Back in the day, the Tailz were England's neon-colored answer to America's Poison. In 1987, Jaimz sang on their first album, Young and Crazy, and wrote their U.K. top 40 single, "Livin' Without You."
Last year, Jaimz released My Private Hell on SCS/Cargo Records to rave rock reviews in Europe and abroad. Rock Web sites worldwide named My Private Hell one of the best hard rock albums of 2009. And rightly so. My Private Hell is without a doubt one of the strongest hard rock/glam releases in recent memory. Good news for American glam fans: In August 2010, My Private Hell was released domestically on JAMSYNC MUSIC. The U.S. version contains additional bonus tracks, as well as a digipack option.
My Private Hell was written, performed and produced in Sweden with Chris Laney and Anders Ringman, the songwriting and production duo largely responsible for the current "Swedish hard rock sound." Laney and Ringman are the "Mutt Langes" of the current hard rock scene, the sound standard by which all new rock releases should be compared. Collectively known as PLATFORM, the Swedish duo have manned the boards for Bai Bang, Crazy Lixx, Crashdiet, Europe, Talisman and Zan Clan, in addition to Laney's solo work and Swedish pop artists.
So why is My Private Hell so damn addictive? Truth be told, Jaimz is an authentic, but average, rock singer. Like Axl, Jaimz sells because he is the f***ing real deal. He's been there, done that, got the t-shirt and the antibiotics for it. (An appreciated whisky shot of sincerity in this age of television insta-idols.) That said, the credit for the brilliance — term not used loosely — of My Private Hell should go to the stellar songwriting and production by Messrs. Laney and Ringman.
The songs: On the kick ass opener "Amazing," Jaimz sings "I'm still standing strong!" Like a prize fighter on the upswing, you are proud to witness the comeback. Laney and Ringman's backup vocals burn with That Swedish Sound. "Don't Say It's Over," co-written by Ryan Roxie of Alice Cooper and Slash's Snakepit, is another standout track. "Something Good Something Bad" is all good, the tone and melody of the keyboards on the second verse are absolutely brilliant. "Still Crazy" channels early Sunset Strip L.A. Guns and Poison, and Laney and Ringman drive the point home that Jaimz is, indeed, still crazy. On the title track, the heavenly keyboards counter hellish Zakk Wylde-style guitar, proving melody is king.
There are only a few "OK" moments on My Private Hell, specifically "Little Sistah," Kiss of Death" and "Dancin' with Danger," but are all saved by Lany/Ringman backups. Thankfully, the album closes with "Kikk It Down," a hypodermic needle shot of adrenaline and one of Jaimz' best vocal performances.
The bottom line is My Private Hell by Steevi Jaimz is hard rock heaven for glam fans. If you're into this music (and you probably are if you're reading this), don't let this one slip through your leather- or lace-gloved fingers. View the official video for "Amazing" and order up the album at JAMSYNC MUSIC.
Genre: Hard Rock/Glam Metal
Band:
Steevi Jaimz – Vocals
Chris Laney – Guitar, Bass, Drums
Anders Ringman – Guitar, Bass, Drums
Track Listing:
1. Amazing
2. Don't Say It's Over
3. Something Good Something Bad
4. Still Crazy
5. Little Sistah
6. My Private Hell
7. Kiss Of Death
8. I Don't Wanna Walk Away
9. Dancin' With Danger
10. Kikk It Down
Label: Jamsync Music
Web sites:
www.steevijaimz.com
www.myspace.com/steevijaimz
www.facebook.com/steevi.jaimz
www.reverbnation.com/steevijaimz
Hardrock Haven rating: 8/10