by Alissa Ordabai
Staff Writer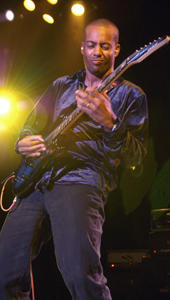 Following the release of the self-titled debut album by Tony MacAlpine's new project Seven the Hardway, the guitar meister himself checked in with Hardrock Haven for an e-mail interview.
Laconic and to the point, but also open to all questions – no matter how peculiar – MacAlpine gives our readers a short glimpse into inner workings behind the new record, as well as dispensing some wisdom on the nature of his craft.
Hardrock Haven: Hi, Tony! Thank you for finding time for Hardrock Haven and congratulations on the new album. How would you comment on this project's name and the title of this release? What does "Seven the Hardway" stand for in this instance?
Tony MacAlpine: Seven the Hardway just sounded great of the tongue so we went with it. There were a few other names but we liked that the best.
HRH: With the level and breadth of your musical knowledge, what is it about rock that still keeps you interested and makes you want to work in this genre?
TM: I love all music. Not on an intellectual level, but because I love music. It never disappoints like people do with false promises. It is always there. Be it rock, country, classical – its all good to me.
HRH: Given your extensive experience in working with various musicians, is it now easy to adapt to new situations and to players you haven't worked with before? Is there still a period of getting used to each other before becoming comfortable enough to start writing together?
TM: It takes many elements to be able to work and write with others. In this band we have enough love and respect to do the job. As in anything you do in life, yes, of course you have to get to know others on a personal level.
HRH: Was there any getting-to-know-each-other period Seven the Hardway before you were able to write together?
TM: Yes, of course, and then we had to get use to the music and understand where we wanted to go with it.
HRH: How long did the work on this album take from the initial snippets of musical ideas to the finished product?
TM: It took about 2 years of very hard work to get it somewhere, wherever that is and yes, we had to pass on many songs to get to the ones that made it to the CD.
HRH: Was there an initial concept for this release or did it all come together as you went along?
TM: The feeling was we wanted to write some music that we could connect with and to put ourselves into a direction that was new for us. Regardless of what people may think, we enjoy this music deeply.
HRH: What was your main creative goal of this release – a striving towards excellence or a desire to experiment?
TM: Neither. Our everyday experiences in life is what fuels it. Telling a story about life is what drives us. It all comes to life again in art form when we play life.
HRH: What are you most proud of on this release – your songwriting or your guitar leads?
TM: I don't play music for self gratification, so feeling proud would be a foreign thought for me. Rather I play to express myself and to be a mirror of life for others that share that same struggle. Life's struggle.
HRH: What do you think is your personal best on this album when it comes to guitar solos?
TM: I played my personal best on every song.
HRH: Did you challenge yourself technically on any of the tracks on this album? Was there any guitar part that you had to practice to get it right in the studio?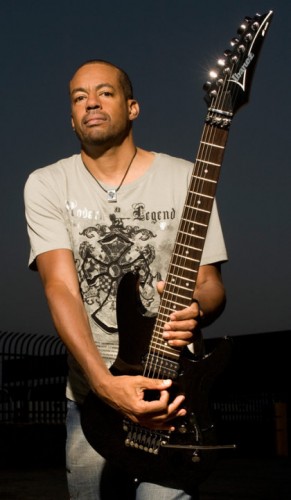 TM: It's more important to have the right tone and use the right Guitar than to be concerned with whether or not I am playing something that could be viewed as being something difficult. All songs took a great deal of practice to record.
HRH: In other interviews you were saying that you are planning to take this record on the road. What elements, do you think, need to coincide for a great live show to happen?
TM: Well, on the business side you need great promotion team, a label that believes in what you are writing and what you are trying to attain. Its not very exciting or romantic to work very hard at music writing and recording only to discover those responsible for promoting the work don't understand or like your work. On the music side you need attentive musicians that care about what they are doing and are not afraid of the hard work and commitment of road life. It's a tough schedule really to travel and play. It takes many hours of practice to learn the live show and then have just that 1 hour and a half to pull it off. These are the elements that are essential.
HRH: The band's web site lists Stefania Daniel as another guitarist who plays in this project. Did she contribute any guitar parts to the album, and if so, what are they?
TM: Doug Shreeve and Stefania Daniel are not on the CD. I played all bass and guitars.
HRH: What advice would you have for anyone who is just starting out on the guitar and wants to make a living out of playing rock music?
TM: Well, you know, for me whether its guitar or piano or harp – it does not matter, it's all the same. It's about communication. You know, I always think of this great quote by Ludwig van Beethoven. And if any of these players do not know the music of Beethoven or who he was, they should start becoming familiar with him and his music. Because learning to play and express yourself requires soul-searching and finding out who you are, and that determines what you say on the instrument. It helps greatly to understand what others before you thought about this and that is why I like this quote so much. "Music is the one incorporeal entrance into the higher world of knowledge which comprehends mankind but which mankind cannot comprehend."