Unruly Child Worlds Collide
by Joe Mis
Staff Writer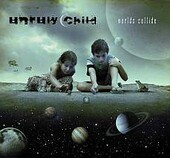 After an almost 20-year hiatus the original members of the well-respected melodic metal band Unruly Child have reunited and will be releasing a brand new studio album on Frontiers Records. The crew from '92 has returned to produce a fine modern rock album entitled Worlds Collide, ready to hit the stores on 15 October 2010.
Unruly Child's original line up is pedigree: Marcie Michelle Free (King Kobra, Signal) on lead vocals, Bruce Gowdy on guitar (Stone Fury, World Trade), Guy Allison (Boz Scaggs, World Trade, Doobie Brothers) on keys, Jay Schellen (Hurricane, World Trade, Asia) on the drums, and Larry Antonino (Pablo Cruise, Air Supply) on bass. Free's voice continues to deliver after all these years and proves her to be one of the finest rock vocalists of the modern era – every word is rich with passion and energy. Gowdy's guitar work is first rate whether he is delivering big hooky phrases, mellow acoustic rhythms or leaping high-speed solos. Allison's keyboard work is always appropriate for the track, always present but never dominating despite being an integral part of the music. Antonio and Schellen make a terrific bottom end, both capable of laying down complex rhythms and powerful ear-catching beats.
The CD opens with a biting commentary on modern life "Show Me The Money." This track starts off strong and sets the standard for the balance of the album. It features great vocals, thought provoking lyrics, an intense bass line and the finest guitar solo on the disc. "Insane" is one of the few low points of the album – it seems a bit contrived and too "pop", not fitting in well with the other tracks. It does feature an amazing bass riff however. "When We Were Young" is arguably the best track on the album – a catchy rhythm line, solid rock beat, excellent vocals, great keys and a technically flawless performance all around. The band drops its energy level to mellow and soft for the finely crafted "Tell Another Lie."
"Love Is Blind" settles into a fine rock groove with a chugging rhythm line layered over a heavy bass line and intense harmony vocals, easily the best vocal performance on the disc. "When Worlds Collide" is a great bluesy track with an almost Def Leppard feel to the guitar hooks, bass groove and intense vocals. "Talk To Me" is a strong but simple ballad that features Gowdy's best and most emotional guitar work. A thick bass groove and huge chorus drives the creepy "Life / Death" into the realm of the arena rocker.
"Read My Mind" features some great harmony vocals, nifty tempo changes and a sing-along chorus. "Neverland" is a great attitude song obviously inspired by the Peter Pan mythos and brings it to life with heavy bass, melodic keyboards, a wicked good screaming guitar solo and a bouncy chorus. The radio-friendly "Very First Time" is a light, up-tempo track – but much more commercial sounding than the others. 'You Don't Understand" closes out the album with plenty of keyboard flourishes, acoustic guitars and deeply personal lyrics inspired by Free's long battle with gender dysphoria.
Unruly Child's sound is polished, crisp and clean across the album. Gowdy and Allison did a very solid job with the CD's production. All the instruments are balanced and mixed well. Marcie Free paid great attention to every aspect of the vocal presentation, and the layers of harmony are some of the finest ever tracked on a metal album. The songs are all well written and nicely structured and the performances simply superb.
After all these years apart Unruly Child has picked up where they left off, making fine melodic music, and quite probably the ultimate comeback album. Each player delivers their best, producing a consistently clean and clear sound that is undoubtedly and uniquely their own. Performing music true to their old-school classic rock roots but delivering with a modern flair makes Unruly Child's Worlds Collide a highly recommended album for any rock or metal fan. If you like your metal to come out swinging a battle axe or broadsword, you might want to look elsewhere. If you like your tunes to cut with the precision of a surgical scalpel, grab this release.
Genre: Melodic Metal
Band:
Marcie Michelle Free (vocals)
Bruce Gowdy (guitars)
Guy Allison (keyboards)
Larry Antonino (bass)
Jay Schellen (drums)
Track Listing:
1. Show Me The Money
2. Insane
3. When We Were Young
4. Tell Another Lie
5. Love Is Blind
6. When Worlds Collide
7. Talk To Me
8. Life / Death
9. Read My Mind
10. Neverland
11. Very First Time
12. You Don't Understand
Label: Frontiers Records
Website: www.myspace.com/unrulychild , www.unrulychild.net/
Hardrock Haven rating: 8.75/10