October 19, 2010 at the Key Club in West Hollywood, CA
by Erik Tweedy
Staff Writer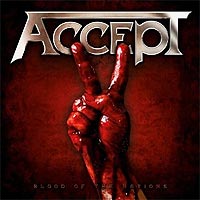 The last time Accept played in Southern California, President Bill Clinton was in office and the world had yet to hear of stains on a blue dress. 17 years have passed and the wait for Accept's return was well worth it. The best thing to come out of Germany since Hitler's suicide, Accept hit the stage of the Key Club with a full metal onslaught rarely seen on the Sunset Strip these days. Playing to a packed house, Accept stormed through a set list that encompassed most of their career including several tracks off the newly released Blood of the Nations.
Kicking the show off with "Starlight" from their 1981 Breaker release, Accept sounded fresh and tight and showed no signs of an aging band that just dropped their first studio release in 13 years and has played more shows in the past 10 months than the past 10 years. With the final departure of original lead singer Udo Dirkschneider, guitarist Wolf Hoffman has taken over the reigns as the band's leader and through his partnership with bassist Peter Baltes, they put the Accept machine back together again in late 2009. Taking over the vocal duties this time around is the dynamic Mark Tornillo who is a perfect fit for the band. Tornillo, sounding a lot like Udo, easily pulled off the older material and his vocal range will add a lot of depth to future Accept releases.
Leaning heavily on material from the '80s, Hoffman and the boys ripped through classics like "Breaker", "Metal Heart", "Son of a Bitch" and "Losers and Winners". Highlights of the show came when the pace was at its fastest. "Restless and Wild", "Neon Nights", "No Shelter" and "Fast as a Shark" were brutal double bass drum assaults that left most of the fist pumpers breathless. The new material off Blood of the Nations sounded great alongside the respective back catalog of these metal legends. This night was filled with non-stop guitar solos and a number of surprisingly good bass jams that had the crowd begging for more as the show closed with the eponymous "Balls to the Wall".
With a couple dozen European dates locked in for early 2011 the return of Accept to the worldwide scene looks to be permanent. Hopefully the fans in the U.S. will not have to wait another decade to see this terrific band.
Accept Set List:
Starlight
Living for Tonight
Breaker
Teutonic Terror
Bucket Full of Hate
Restless and Wild
Son of a Bitch
Metal Heart
Neon Nights
Losers and Winners
Bulletproof
The Abyss
No Shelter
Up to the Limit
Monsterman
Fast as a Shark
Pandemic
Princess of the Dawn
Balls to the Wall