by Ron and Don Higgins
Staff Writer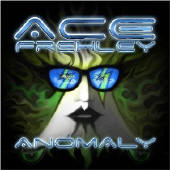 It's been two decades since Ace last released a solo album, Trouble Walkin', so expectations and curiosity were high. Fortunately, the wait was worth it. Space Ace is in stellar form on an album that will be sure to please the faithful who have been waiting with much anticipation for the past 20 years.
Excitement was already in place thanks to an online commercial he created that resurrected some nostalgic moments from the horribly cheesy film KISS Meets the Phantom of the Park. Not only does he use magic to materialize CDs for some fans but he utters his sole dialog from the movie "Ack!" before riding off on his chopper. With a promo like that, this album had better be good, and good it is. Although he's had a rough on-again, off-again, relationship with KISS, this album shows that Ace is going to be just fine. In many ways it sounds fresh and new but it also still sounds like ACE. His voice and guitar playing both sound as good as ever, if not better due to his new sobriety.
It's a hard rocking CD for the most part with three instrumentals (if you count "Genghis Khan") and of course he has the obligatory "Fractured…" song to finish off the album. The standouts are "Foxy & Free" (the title reminds one of his '70s roots), his cover of Sweet's "Fox on the Run" and "Outer Space."
"Foxy & Free" is the lead track and kicks off the record in high fashion with a sonic assault on your ears thanks to his signature Les Paul and some tasty riffs.
"Fox on the Run" is one of the best songs on the album because it captures the '70s feel of the original (when he was at the height of his fame) but he puts a modern spin on it to make it sound relevant today. Although Ace tends to talk-sing in most of his songs, his vocal style fits perfectly with this particular tune. It's a classic song for sure, and he has done it justice, and then some.
"Outer Space" was released as the first single and has some nice fret-work as well as a catchy chorus. It's is a great song musically but lyrically it could only be pulled off by Ace. Given the whole space image thing, it was an obvious choice for the first single.
One of the strongest songs both lyrically and musically is the ballad "A Little Below The Angels." It is a personal narrative looking back at the mistakes he's made in life.
With songs like "Angels" and "Change The World" (another autobiographical song) it shows that he's matured and yet he can still rock with the best of them. It's also nice to hear a little more of Anton Fig's drumming up-front on this release. As anyone who watches Late Night with David Letterman knows, he's a phenomenal drummer and it's nice to hear his playing get a little of the limelight here.
KISS fans and hard rock fans will not be disappointed by Ace's most recent offering. A final nice touch is his dedications to Eric Carr, Dimebag Darrell & Les Paul. It's worth the price as it will be the only CD in your collection that folds out into a three dimensional pyramid!
Like he proclaimed in his classic "Rock Soldiers"… Ace is back and he told ya so!
Label: Bronx Born Records
Web site: http://www.acefrehley.com/
Band:
Ace Frehley – lead vocals, lead guitar, additional bass on tracks 2, 5, 9, 11, and 12
Anthony Esposito – bass
Anton Fig – drums, percussion on all tracks except 4, 10, and 12
Derrek Hawkins – rhythm guitar on track 2
Scot Coogan – drums, percussion on track 10, background vocals on 3 and 10
Marti Frederiksen – keyboards, additional bass and rhythm guitar on 4 and 9, drums on 12
Brian Tichy – drums on track 4
Track Listing:
1. "Foxy & Free"
2. "Outer Space"
3. "Pain in the Neck"
4. "Fox on the Run"
5. "Genghis Khan"
6. "Too Many Faces"
7. "Change the World"
8. "Space Bear"
9. "A Little Below the Angels"
10. "Sister"
11. "It's a Great Life"
12. "Fractured Quantum"
13. "The Return of Space Bear" (iTunes bonus track)
Hardrock Haven rating: 8.25/10