Black Label Society LIVE!
October 12, 2010, House Of Blues on Lansdowne Street in Boston, Mass.
by Deb Rao
Staff Writer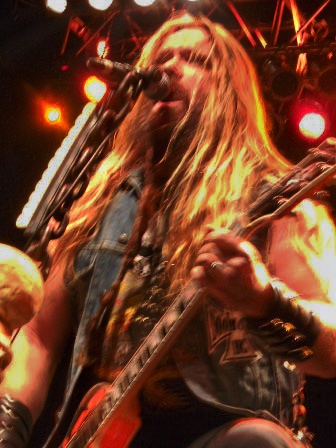 Black Label Society is currently on the East Coast Leg of their tour promoting their latest release Order Of The Black. BLS performed to a sold out audience at the House Of Blues on Lansdowne Street in Boston, Massachusetts on October 19th. The Boston Chapter of BLS fans arrived early and formed a line that made it's way to the top of Lansdowne Street. Opening the show were 2Cents, Children Of Bodom, and Clutch. It's has been a year since Black Label Society has performed in The Hub and as usual the band gave a stellar performance.
I arrived at the venue in time for Clutch. This was my first time seeing the band perform and I was very impressed with their rap-metal sound which was very unique. For some reason the sound reminded me of The Blues Brothers in heavy mode.
Black Label Society hit the stage at 9:30 P.M. for a 90-minute set in which the momentum of the performance never let up from start to finish. Zakk Wylde seemed healthy and energized and happy to be back onstage. As Black Label Society ripped through a set that was carefully orchestrated and full of BLS hits such as "Concrete Jungle", "Suicide Messiah", and "Stillborn" plus new material from Order Of The Black. Fans lit their cigarette lighters when Zakk Wylde sat down at the piano, as the band paid homage to their fallen brother Dimebag Darrell Abbott on "In This River." Highlight of the set was during "Fire it Up" as guitar virtuoso Zakk Wylde masterfully shredded the strings in a blistering 10 minute guitar solo.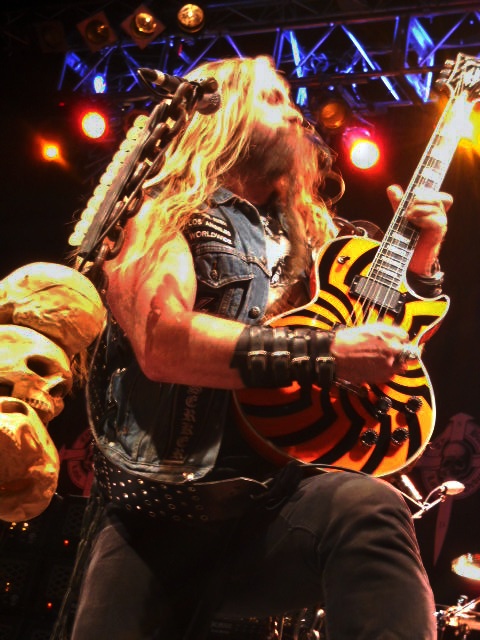 Black Label Society returned to their Southern country roots on 'The Blessed Hellride' in which Zakk Wylde and guitarist Nick Catanese performed on twelve string acoustic guitars. The band ended the set with their first hit "Stillborn." I had the opportunity to speak with guitarist Nick Catanese and he told me, "The tour has been going great with a lot of sold out shows."
Be sure to check out Black Label Society on tour this fall. During the set Zakk Wylde referred to himself as Keith from the Rolling Stones and Nick Catanese as Ronnie. It was refreshing to see the two guitarists unleash their powerful fury with dueling guitar solos. This past year has seen many health scares for guitar virtuoso Zakk Wylde and it was so good to see him back onstage performing again. The staff of Hardrock Haven wishes Zakk Wylde the best and much continued success with his new album Order Of The Black and tour.
Black Label Society Set List:
The Beginning…The Last
Crazy Horse
What's In You
The Rose Petalled Garden
Funeral Bell
Overlord
Parade Of The Dead
In This River
Fire It Up
Godspeed Hellbound
The Blessed Hellride
Suicide Messiah
Concrete Jungle
Stillborn
Black Label Society Tour Dates:
23 – Masquerade Music Park – Atlanta, GA
24 – The Fillmore Charlotte – Charlotte, NC
26 – Hard Rock – Orlando, FL
28 – Verizon Wireless Theater – Houston, TX
29 – Concrete St. Ampitheater – Corpus Christi , TX
30 – Verizon Theatre – Grand Prairie, TX
31 – Lonestar Pavilion – Lubbock, TX
November
2 – Stubbs Waller Creek Ampitheater – Austin, TX
3 – Brady Center – Tusla, OK
5 – DeltaPlex – Grand Rapids, MI
6 – Congress Theater – Chicago, IL
7 – The Fillmore – Detroit, MI
9 – Main Street Armory – Rochester, NY
10 – The LC Pavilion – Columbus, OH
12 – Cotilion – Wichita, KS
13 – Uptown Theater – Kansas City, KS
14 – The Fillmore Auditorium – Denver, CO
16 – The Complex – Salt Lake City, UT
18 – Dodge Theatre – Phoenix, AZ
19 – The Palladium – Los Angeles, CA
20 – Warfield – San Francisco, CA
21 – House of Blues – Las Vegas, NV