October 12, 2010, Shepherd's Bush Empire, London
by Alissa Ordabai
Staff Writer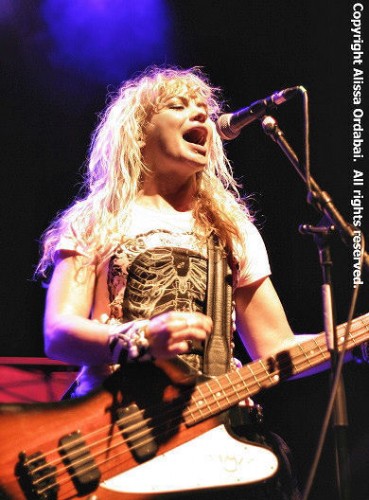 Artful balance between keeping your audience entertained and avoiding bombast and emotional overkill seems to come to the Dollyrots as naturally as genuine charisma comes to Kelly Ogden – the band's singer, bassist and indelible frontwoman.
The imposing atmosphere of the Victorian 2,500-seater theater – which Shepherd's Bush Empire has always been famous for – was on the night transformed into a club-like bristly vibe, the band connecting with the audience as soon as they hit the stage.
Affable, direct, and robust, the Dollyrots managed to walk the tightrope between goofiness and tongue-in-cheek bravura with natural ease, balancing out any musical superfluity with worldly, knowing lyrics which can caricature the stereotypes and obsessions of the modern Western teenage psyche like no other band's.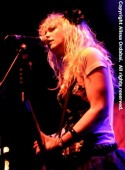 Ogden's singing hit the target on each song – accuracy of intonation and a knack for juxtaposing little vocal nuances making her smallish voice seem like just the right thing for this act. Linear and repetitive is how punk is supposed to be, and the Dollyrots know how to fit what they have into this simple concept. It may not be a great deal, but do try to put up an uplifting, entertaining show without affectations and false pretenses while enjoying yourself and sharing the fun with your audience. And the London crowd loved the band on the night, many having queued for over an hour ahead of the starting time to avoid missing the band.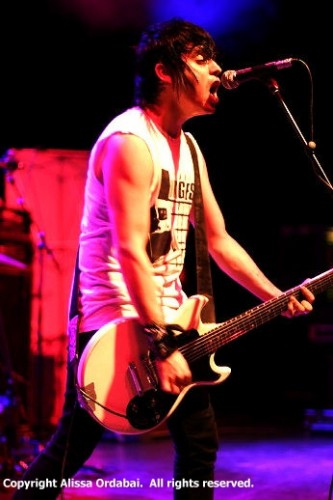 Teenage music for the teenage audience – made for that curious time in our lives before grown-up sensibilities set in – is, of course, an overindulgent pleasure, a pleasure with no obligations, without any secret messages, contending to have no knowledge of adult ambition, loss, or sensuality, and of the devastation they can wreak. As a result, there is no self-importance to the Dollyrots' act, which is, perhaps, the neatest thing about them. With them, it is all sincere, organic and open. How they will deal with this creative model once maturity sets in, is another question, but for now there is no other band on the circuit who can deliver such brilliant entertainment while asking so little of you – giving you all the fun you can have without demanding anything in return.
Photos courtesy of Alissa Ordabai