by Joe Mis
Staff Writer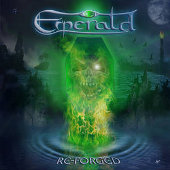 Re-Forged is the newest release from the veteran metal band Emerald. Hailing from Switzerland, this sextet has put together a dozen pounding tracks of relentless metal that will blow out even the best speakers.
Emerald's roots extend back to 1995 when members of Dark Crystal and Oppress joined forces to create a new heavy metal act. Although only one founding member – guitarist Michael Vaucher – remains with the band, their devotion to metal remains a constant. Putting out big booming tracks of melodic heavy metal, Emerald draws influences from the greats – Virgin Steele, Iron Maiden, Jag Panzer, Warlord, Savatage and Crimson Glory to name a few. Despite many lineup changes early on, Emerald managed to build a solid core of talented musicians over the years. Joining Michael Vaucher are bassist Adriano Troiano (1997+), keyboard player Thomas Vaucher (1998+), drummer Alex Spicher (2007+), vocalist Thomas Winkler (2009+) and guitarist Manuel Werro (2009+). Re-Forged is the band's fifth studio release.
Musically, Emerald straddles a number of genres. They add elements of progressive metal and old school heavy metal to a solid base of power metal to create their signature sound. Thomas Winkler has a very powerful voice probably best described as a blend of Rob Rock and Ripper Owens. He sings clearly and stays within his range, and can crank out a fairly good falsetto when needed. Michael Vaucher and Manuel Werro make up a very potent guitar team. They lay down some amazingly complex rhythm lines while making them sound so simple. Both are decent soloists, but seem most comfortable when playing high-speed solos. Their slow breaks are decent, but seem occasionally sluggish or cold. Thomas Vaucher is a good keyboard player, never taking over the music and blending in well with the rest of the band. The real heart and soul of Emerald seems to be the bottom end. Alex Spicher is an amazing drummer capable of doing it all – and doing it all well. Keeping up with him is bassist Adriano Troiano. His bass work is generally subtle but he steps to the fore often with some powerful fills and riffs. The two make a great team and drive everyone else forward. The band's song lyrics are pretty much power metal standard – stories of wars, heroes, sorcery and political criticism – but well done.
Musical highlights include the amazing harmony guitar work on "The Last Legion," the staggered, choppy rhythms and big gang chorus of "Pipes Are Calling," the Savatage influenced "Where's Your God," the varying tempos and overall structure of "The One" – great keys and solos here, the wonderfully old-school almost pop rock groove of "Until My Winter Comes," and the obviously Iron Maiden inspired "Mark Of The Beast."
The production and engineering are very good – the only flaw is that on rare occasion the vocals get buried by the music. The balance is generally good throughout, presenting each instrument clearly and cleanly. Refreshingly the album is not over-engineered like much modern metal – there is an underlying warmth and pleasant feel to all of the tracks.
All in all, Re-Forged is a solid effort from a veteran group, although with the number of personnel changes they've had Emerald is in many ways a new band. If they stabilize their lineup and grow a bit tighter in terms of songwriting they could be easily numbered among the best of the genre. Any fan of heavy metal will find much to like about this release.
Genre: Heavy Metal
Band:
Thomas Winkler (vocals)
Alex Spicher (drums)
Adriano Troiano (bass)
Michael Vaucher (guitars)
Manuel Werro (guitars)
Thomas Vaucher (keyboards)
Guest Musicians: Sean Peck (Cage), Mike Sifringer (Destruction), Mike Steel (Steelclad), Oromi Damir Eskic (Gonoreas)
Track Listing:
1. The Wanderer
2. The Last Legion
3. Pipes Are Calling
4. Where's Your God
5. Alteration
6. Secret Agenda
7. The One
8. Witches Tower
9. Winterlude
10. Until My Winter Comes
11. Mark Of The Beast
12. Mutiny
Label: Pure Steel Records
Website: http://www.emerald.ch/ , http://www.myspace.com/emeraldch
Hardrock Haven rating: 7.5/10