Marcie Free of Unruly Child
by Alex Barbieri
Staff Writer
On the eve of the release of the new Unruly Child album, Worlds Collide, Marcie Free — one of the premier vocalists in melodic rock — talked to Hardrock Haven about the new album, why she feels it is divine providence that U.C. is back together, being transgender in a hard rock world, how she defines success and much more.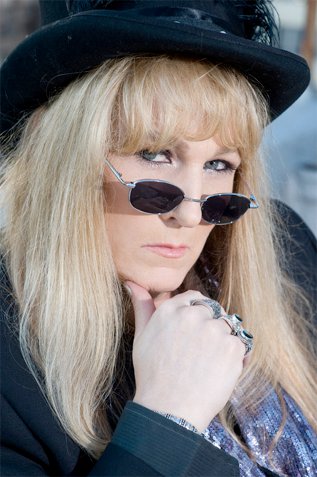 HRH: The new Unruly Child album, Worlds Collide is set for release Oct. 15 in Europe and Oct. 26 in the U.S. on Frontiers Records. Are you excited about it, and will we have a chance to see you and Unruly Child live at some point?
MARCIE FREE: I am extremely excited about this record. It's a very important album for me. I have been getting sober now for over two years, and that led me to developing a close personal relationship with God, or my higher power as some people like to call it. Many wonderful miracles have been happening in my life since then. One of them was during my morning prayer one day in May 2009, shortly before Bruce Gowdy called me to ask me if I would be interested in signing with Frontiers.
That day, I realized that we are all blessed by God with certain gifts when we are born and  how important it is for us to get in touch with those gifts so we can develop them and give them back to God so to speak, in order to make life more enjoyable for our fellow man and for ourselves as well. We all have them. It could be as simple as loving to knit, or work as a journalist or a librarian. Whatever it is, you do it because you love to and you are good at it because that is what God intended you to do.
I realized how incredibly gifted God made me and how selfish I had been by not using that gift. I made an oath to God that if another musical opportunity ever came along, I would take responsibility and stand up and accept it as a way of doing my part — uphold my end of the contract so to speak. I believe it is divine providence that Unruly Child are back together again after all these years.
HRH: There is a YouTube video with you signing the Unruly Child contract to Frontiers Records. Was it a difficult negotiation? What were your demands or concerns before signing on the dotted line?
MF: No, not at all.  Frontiers was very fair with us, and it only took about three months as we started talking in June and were finished in late August. It would have taken a lot less had we all been living in the same country, I imagine. I hope you don't mind, but I am not comfortable talking in public about our private or contractual affairs. Please forgive me?
HRH: The first single "Very First Time" sounds incredible, and will likely be on many hard rock fans' top 10 of 2010 lists. You sing "Your eyes like home to silent prayers of love." Are you religious or spiritual, and is that where the emotion in your voice and songs comes from?
MF: I am deeply spiritual, though not what I would call religious as I don't necessarily belong to any church group. I do believe getting together with like-minded people is very important, so in that way I support the idea of a church group. As I spoke of in the beginning, I felt I was moved by my higher power to come back into music and give back what I feel God has blessed me with, as a way to show appreciation for my gift or talent. I prayed every single day and night while making this album for God to give me the inspiration, strength and courage to complete the tasks of recording it. So I suppose you could say that is where my appreciation comes from. My life has been filled with much pain and heartache (up till recent times), so it is easy for me to tap into that emotion when I need to.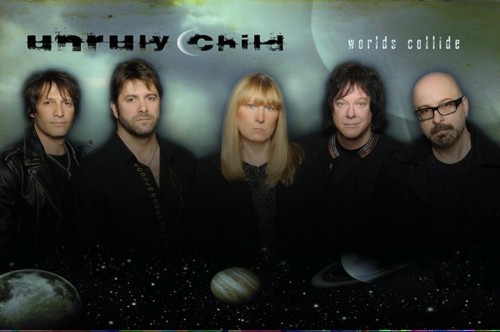 HRH: In the new video for "Very First Time," the band is seen smiling throughout the song. Does the band get along well, and are the internal relationships different from "back in the day?"
MF: I feel as if Bruce, Guy, Jay, and Larry are my brothers in rock. I love them as much as I love my own family.  I would gladly sacrifice my life for theirs if I had to. When I was in the band years ago, I was still hiding and dealing with my gender issues. Having been involved in drugs and alcohol throughout my life to deal with the pain really makes a person act and feel crazy or not themselves, so yes, things have greatly changed for the better now days.
HRH: You have a rich recording history, from King Kobra to Signal to Unruly Child, two solo albums and extensive fill-in studio work. What are some of your favorite recording moments and memories?
MF: I recall a moment when I was in Berkley, California making the Signal record.  I was in the studio singing the song, "You Won't See Me Cry" while my then wife Laurie watched in the control room from behind the glass.  It was a very moving experience for me. Of course there were many great times. I love being in the studio  Recording our new song, "Talk To Me," was also moving as I could hear it taking shape as I recorded it. It was if I could see the whole world reacting positively to it as I sang it.
HRH: Most people don't know how tense things can get when recording an album. Any interesting meltdown stories in the studio?
MF: No, I cannot think of any particular meltdowns as you say. I really am a very mellow person. Although during the recording of Unruly Child's debut record, Nate Winger did make me very angry the day he came in to do some background vocals with me. We were in the room singing when suddenly and without provocation he thought it would be funny to hit me in the leg as hard as he could, giving me an instant charley horse. He stood there laughing while I thought of how much I would like to murder him.  I may have, had I had my Glock 19 with me that day. But then I wouldn't be talking to you right now :-).
HRH: You're one of the finest singers in melodic rock. Much like Steve Perry, you have a perfect blend of tone, control, melody and grit. How have you kept your voice in shape over the years? Any tips for other singers out there?
MF: Thank you, Alex. I quit smoking. That was probably the best thing I have done for my health and for my singing over the years. I do scales in the car while driving to and from work and drink lots of water, as the body tends to dehydrate quicker when you reach my age.
HRH: You've been very open about your transition and being transgender. Do you feel you have helped opened the doors of acceptance for other transgender people, as Rob Halford has done for homosexuality? Any advice for people out there struggling with their sexual identity?
MF: I hope so. In the beginning when I came out, so to speak, it was hard for me. I was already in the public eye and didn't want to take the responsibility for being the "poster child." Now, if I can be of hope and help to those who are suffering with transgender issues, I am honored to do so. I would plead to them to please don't suffer in silence as I did for 40 years. There are many wonderful professional people and gender clinics out there today who are willing to help you. And please remember: With God, all things are possible. My strength lies with Him. We love, because He loved us first.
HRH: How do you define success these days, how does that definition differ from the past, and what will make Worlds Collide a success in your mind?
MF: My faith in God comes first and foremost. That is how I define success today. I didn't have that when I was young, destroying myself with drugs and alcohol to hide my shame and agony. I call this record my gift to God because He was with me every step of the way. When you think of it in that way, how can it not be a success?
HRH: Do you have any thoughts on the passing of Ronnie James Dio? If so, any memories you'd like to share.
MF: Ronnie and I first met at a Christmas party back in 1985. Carmine Appice introduced us. I will never forget how blown away I was at how much of a kind gentleman he was.  Many so called "rock stars" are not as real and down to earth as he was.  He was always like that.  I miss him dearly.
HRH: Anything else you'd like to promote or say to the Hardrock Haven audience?
MF: Just that we appreciate all your love and support so much. We are asking everyone to please visit us on our website, www.unrulychild.net. We will be making every effort to get this band out on the road touring the world to hopefully get a chance to meet all of you someday.
HRH: Thank you, Marcie, for the pleasure of interviewing you. You're bringing some much-needed glamour back into the hard rock scene! I speak for many fans when I thank you for making the world a better place with your talent and strength. All the best to you and Unruly Child.
MF: You are most welcome Alex. It has been wonderful speaking with you and thank you for all the fun and interesting questions. God bless you and all the readers!
Watch Unruly Child's new official video for "Very First Time" on YouTube.  http://www.youtube.com/watch?v=m5SKtuuKAcQ.
Visit the official Unruly Child website at http://www.unrulychild.net/.
Friend Marcie Free at http://www.myspace.com/markmarciefree and http://www.facebook.com/marcie.free.