Sammy Serious of The Zeros
by Alex Barbieri
Staff Writer
In the late '80s, purple haired glam punks, The Zeros, ruled the Sunset Strip and were poised to become the next big thing. In this new interview, Sammy Serious, The Zeros' founding member, lead singer and songwriter, reflects on those purple Hollywood daze, and his excitement about The Zeros' new album, Zero In.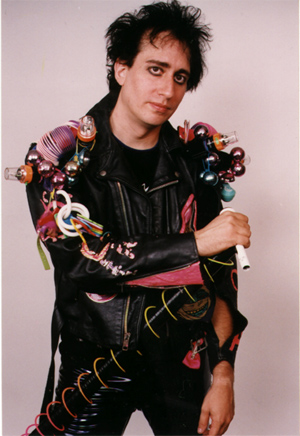 HRH: Your 1991 debut, 4-3-2-1… Zeros, is a hair metal/alternative/pop/punk classic. Tell us about those days of "purple mania" on the Sunset Strip, playing gigs with Guns 'N Roses, Poison and others, the painting of the Whisky and Coconut Teaszer and any memories you can share.
SAMMY SERIOUS: Words can't explain the heyday of that time period. There were so many cool bands coming out of one place, Los Angeles, and I am proud to say The Zeros were one of the bands that graced that period, along with Tuff, Pretty Boy Floyd, Faster Pussycat, Warrant, L.A. Guns, Red Hot Chili Peppers, D'Molls and others. So much good music and really cool people made it a fantastic scene.
The painting of The Whisky A Go-Go purple was a landmark moment for The Zeros. Growing up with all the rock and roll history that the Whisky A Go-Go had over the years and looking up to the legends that played there and being able to say we played there too was monumental.
The Coconut Teaszer also had a really strong musical vibe going on at that time, and was also painted purple in honor of The Zeros. I remember like it was yesterday: Driving down the Sunset Strip in the purple Zero-mobile and looking over the dashboard and seeing The Coconut Teaszer painted purple with our name on the front of the building. Then driving up the street and seeing The Whisky purple with each letter of our name — Z E R O S in each window — it just didn't get any better than that.
HRH: The Zeros built a lot of buzz in the late '80s/early '90s, but never took off like some other L.A. hair metal bands. Because of that, do you think The Zeros have retained a certain underground coolness and mythology?
SS: I think the reason we did not get in the forefront like some other bands at that time period was because, although we had the buzz in Hollywood, the trouble started when we hit the road for the 4-3-2-1… Zeros album. The record company was a small label and was not able to give us the support we needed that other bands had that got signed to other bigger labels. So that put the band in a very difficult position and it started to take its toll. It got to a point where some of the band members were unhappy and had to own up to their obligations instead of sticking it out on the road and pushing forward.
Fans of The Zeros are true Zeromonger fanatics. They will never give up on our band 'cause they are the hardest core fans out there and they are still behind us right up to now, 2010. I love that true Zeromonger fans love us and do not let anything get in the way of their Zeros rock and roll.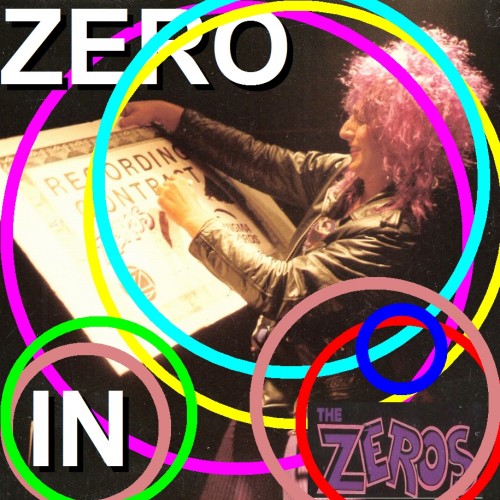 HRH: Your Myspace site has a blog emphatically stating the one and only original Zeros is with Sammy Serious. Please explain.
SS: There are seven bands right now calling themselves The Zeros. Why? I don't know. Maybe they love us so much, they want to be us, which I totally understand. But there is only one — or should I say only none Zeros — which is us, The Zeros with Sammy Serious fronting the band. If these other bands want to be us, they should start a Zeros tribute band and call it Sticky Sweet Girls or the 4321s, but not The Zeros. That's our name! If you don't see Sammy Serious fronting the band The Zeros with our trademarked logo, that means it is not us. There is only one original Zeros, the one with Sammy Serious fronting the band.
HRH: There are obvious Ramones influence in The Zeros' tunes. Who are your influences, and do you feel The Zeros have influenced a lot of bands?
SS: My influences just come from anything I like and I grew up on a lot of rock, hard rock, classic rock, punk, metal, glam, musicals and anything that was good. I can go on naming bands and artists all day, but there's too many to name. Bands tell me all the time that The Zeros influenced their band and that is a big compliment!
HRH: What songs have you written for TV shows, movies and other artists?
SS: So many, but here is a few: I wrote the theme song for The Howard Stern Show,
two songs for the movie Caged Fury and the Zeros did the theme song for the movie, Tapeheads. I have a song in the upcoming movie, The Significant Other. There's so many songs I wrote over the years, you can imdb Sammy Serious. http://www.imdb.com/name/nm1489492/
HRH: Tell us about your new album, Zero In, and what's ahead in 2010 for The Zeros?
SS: I am very happy with the new record, Zero In. I recorded it in Las Vegas at Hit Track Studios with studio mogul, Tom Parham. The CD has a couple different kinds of songs that you would hear from The Zeros … the way rock is supposed to be: fun, with an edge of insanity that was always been The Zeros' way. Plus, I put a couple of ballads on the disc. The future for The Zeros right now is to get an agent to get some shows booked for a tour and go out and rock!

HRH: Everything about The Zeros is very indie and DIY, from the album covers to the song production to your Moo Moo Serious Youtube videos. Is that by design, or does it just come out that way?
SS: I love things that come across that way and gives you that effect, so yes it is intentional and that is my goal. When I listen to the Beatles Sgt. Pepper's album, I don't sit there and wonder if this would be better if it was done on 200 tracks. It's really about capturing something that can't be captured again. I have demo tapes of Zeros songs that I know I could never re-record again, even if somebody gave me a million dollars to redo them. Don't get me wrong, I would redo it for a million, ha ha, but you know what I am saying.
HRH: Your fans are called "Zeromongers." Are they still as zany and is there a new purple generation of kids discovering The Zeros' music?
SS: Every day, I get e-mails from people just learning about The Zeros and becoming our "number none" fans. Zeromongers is a name we coined for fans that just can't get enough of The Zeros. I would love for people to hear more about us and if you are a true Zeromonger, you are out spreading the word about your favorite band, The Zeros.
HRH: Here's a question we ask other artists: Do you have any thoughts on the passing of Ronnie James Dio? If so, any memories you'd like to share.
SS: Ronnie James Dio is a great singer and front man. One of my favorites. I remember getting turned on to Elf and saying, 'Who is that guy? What a great, powerhouse voice.' I also love his solo stuff. I just heard "The Last in Line" on the radio. What a great tune. There are so many great frontmen that I miss. I go to YouTube and watch Queen and just love Freddie Mercury. Also Kevin DuBrow from Quiet Riot. There are too many great singers and musicians I miss, friends that left us way too soon.
HRH: Anything else you'd like to share with the Hardrock Haven audience?
SS: I would like to ask them if they have not heard of The Zeros, check us out!! They can do so at www.myspace.com/thezeros or come and be friends with us on Facebook at The Zeros page http://www.facebook.com/pages/the-zeros/127804050581738 or my Sammy Serious page. http://www.facebook.com/samserious
HRH: Sammy, thank you so much. You've been a pleasure to interview. All the best and here's to the success of your new album.
SS: Thank you. You're welcome.
Order The Zeros new album, Zero In, at CD Baby.
http://www.cdbaby.com/cd/zeros4
Watch the purple-licious video, "Love's Not Fair" on YouTube. http://www.youtube.com/watch?v=HNB9jVeHzIo
Serious agents interested in booking The Zeros can contact Sammy Serious at SAMSERIOUS@aol.com.
Online:
http://www.myspace.com/thezeros
http://www.sammyserious.com/