by Deb Rao
Staff Writer
Hardrock Haven is always on the lookout for new bands on the horizon. One band that caught our attention is The Cringe who hails from New York City led by singer/guitarist John Cusimano who is married to TV Personality Rachel Ray. The Cringe also has some Boston roots featuring lead guitarist James Rotondi (ex-Air, Mr. Bungle), bassist Jonny Matias (ex-Crash Moderns) and drummer Shawn Pelton.
I recently caught up with The Cringe in Foxboro, Mass. at the Showcase Live when they were opening for The Alarm. The Cringe has a classic rock sound that is reminiscent of the Foo Fighters meets The Replacements. The band recently released their 3rd album Play Thing on Listen Records produced by Steve Hardy with input from legendary producer Steve Lillywhite. The Cringe is gearing up for their tour with Blues Traveler, which kicks off in Kansas City at Harrah's on Oct. 15. For tour dates visit www.myspace.com/thecringe.
Hardrock Haven is proud to present the unveiling of The Cringe.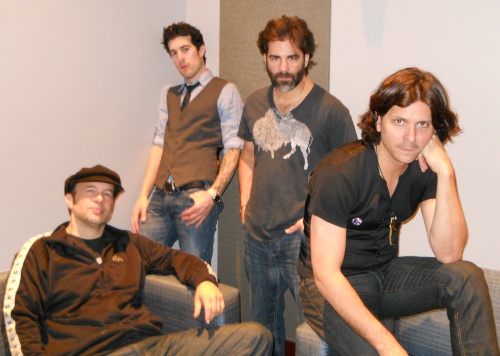 HRH: Hi Guys welcome to the heart of Patriots Nation. I know the band hails from New York.
John Cusimano: Is this a Boston based club?
HRH: Yes.
John Cusimano: I will just keep quiet then! (Laughter) But Roto our guitar player is from Boston.
James Rotondi: Yes I am from the North Shore. So is Jim Plunkett still playing for The Patriots? (Laughter) Last time I was here was six months ago. I saw U2 at Gillette Stadium.
HRH: No. Tom Brady is in The Patriots! So the band is out on the road. Tonight you are opening for The Alarm. Are you excited to be here tonight? There seems to be resurgence with '80s bands. It has been a long time since I have seen them perform.
John Cusimano: I saw them once many years ago; I have always been a fan. It is our first show with them.
James Rotondi: The Alarm sort of has a revolutionary thing. They have always been a political band. We like that. A lot of our songs have a political theme. So it is good to be with kindred spirits.
HRH: Your new album is out entitled Play Thing. I know one song was on ESPN. Tell us about the writing process for this album.
John Cusimano: This album is more collaborative of the band. A lot of times I will just lock myself in a room and kind of get lost in there and play the guitar to something that emerges to something that could have the beginnings of something to it. Then I will sit with that for a while and Roto does the same kind of thing. Then we bring our ideas to one another and sort of discuss what works and what don't and kind of puzzle piece it all together. That is sort of how it works. The germ of the song you kind of know right away and discuss it right away.
James Rotondi: We actively argue and it is a good thing! (Laughter)
Jonny Matias: We get right into it. Everyone lays down their thing. We have four strongly opinionated people in the band. Most of the battling is down within the rhythm section.
John Cusimano: Shawn and Jonny have a Gallagher Brother relationship.
HRH: Play This is special because you had the opportunity to work with famed producer Steve Lillywhite who has worked with U2. Did he sort of guide you along the lines of what he thought was the best sound for the band?
John Cusimano: He is so ingenious. He will literally listen to something and he is so low key. He is kind of humble even though he has produced 10 of the greatest records ever. He will say why don't you try this and it will be the simplest of suggestions and it will literally change the entire song and make it fantastic. He is a good guy. Half the band and Steve love soccer. So we have that in common.
James Rotondi: This is not only Patriots territory but also it New England Revolution. New England was the dominant team in soccer for a long time. We have fallen on hard times of late but they may come back. I want to say keep it going.
HRH: The Cringe was recently down in Austin for SXSW. What were some of the highlights?
John Cusimano: We go every year. Other than New York and Boston, Austin is one of our favorite cities. It is in the middle of very serious conservative Texas and it is just wild barbecue party town. It is a crazy town. It is the live music capital of the world. Every corner you turn is another Stevie Ray Vaughn. We love it there. Food is great, music is great.
HRH: Who are some of your guitar influences?
James Rotondi: I am pretty old school. I like Hendrix, Jimmy Page and Van Halen. But if I have to pick one guy that I most model myself after it would be Jeff Beck. He is the coolest.
John Cusimano: I love Deep Purple. Jeff Beck for me; I am not really a lead guitar player. I am more of a rhythm player. His talent is mind-boggling.
HRH: The new video you had the fans make it. I thought that was an interesting concept.
John Cusimano: We had a concert in the Highline Ballroom and we asked the fans to bring their cameras and everyone recorded this one song and we spliced it and made a video of it.
HRH: What are your future recording plans?
Shawn Pelton: We got a studio update in John's place. We got six or seven tracks down. It is great to be able to record in nice studio. We have 24-hour access.
John Cusimano: I built a studio in my house. It is nice not to have the pressure. We go there and write some music and eat good food. We recorded Play Thing at the Power Station. It is called Avatar now.
HRH: The new single Is "No Control".
John Cusimano: It was about a guy that I know that is out of control. I think everybody knows something like that who is spiraling out of control off the rails like a hurricane.
HRH: How would you describe the New York music scene?
John Cusimano: The New York music scene used to have such a strong identity back in the '70s. Punk was born there and new wave. Now it is disjointed. It is such a big city, it is always thriving. It has some of the most creative people in the country. It is so fragmented but there is so much good music. Brooklyn has sort of taken over. There are a lot of great bands there. Brooklyn has a lot thriving Indie bands.
James Rotondi: New York is much bigger. There is something about New York City when you are ready to step up to the plate New York beckons. Boston is a great town and has launched a lot of great bands. Obviously you got Aerosmith, but a lot of great Indie bands like the Lemonheads. Boston had a lot of great producers. New York is a very special place.
HRH: The Cringe is gearing up for your tour with Blues Traveler on October 15 in Kansas at Harrah's. Any closing thoughts?
James Rotondi: Look for Play Thing by The Cringe It has some deep Boston roots.