by Deb Rao
Staff Writer
As the holiday season fast approaches, the winter concert season is kicking into full gear. One of the top bands to emerge onto the music scene Hinder is hitting the road with support act Vancouver's DEFAULT.
DEFAULT first burst onto the music scene in 1999 and have a fairytale story that most bands can only dream about. Default consists of Dallas Smith (Vocals), Jeremy Hora (Guitar), Dave Benedict (Bass), and Danny Craig (Drums).
Discovered by Nickelback's Chad Kroeger, DEFAULT is destined to end this year on a high note. With the release of Come And Goes, DEFAULT is hitting the concert trail with HINDER. The anticipated tour kicked off on Nov. 17. In this exclusive interview for Hardrock Haven, bassist Dave Benedict gives Hardrock Haven all the details surrounding the tour and new album.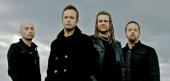 HRH: Dave, Thank you for checking in with Hardrock Haven. I understand that DEFAULT will be heading out on the road with HINDER on Nov.17. The tour kicks off in Cleveland. Tell us about the upcoming trek.
DAVE: Well it is going to take us through Middle America and end in Oklahoma City where Hinder is from so it should be a great show to end on. We are all really looking forward to the tour, as it has been 5 years since we have toured the States.
HRH: DEFAULT has just released their latest CD entitled, Comes And Goes. Tell us about the song-writing process.
DAVE. We did a lot of the writing in Jeremy's basement with our producer Bob Marlette and did all the demoing there too before heading to L.A. To record at Henson studios where we did the last recording.
HRH: Comes And Goes was produced by Bob Marlette who has work with Ozzy and Shinedown. How did he help guide the band in the studio and help you achieve the sound that you wanted on Comes And Goes?
DAVE: Like I said we did the last recording with Bob so we are now past the awkward first date stage so to say, he knows us and what we are looking for as far as an album goes. His goal this album was to really get the passion out of Dallas's performance and as you can hear they did an amazing job at it.
HRH: How does it compare to The Fallout?
DAVE: It doesn't. It is 10 years and three albums since. We are all different people and have been through 10 years of life since. How can we compare to something that was so long ago. If there is an answer to that it would have to be that there is the four same guys trying to make the best possible music that we can. Same thing we tried to do on the first album but with a little more experience.
HRH: DEFAULT first got together in 1999. How do you think the line-up has evolved over the years?
Dave: the line- up has not changed but maybe our topic of conversation has. It went from boobs, beer and poop humor to diaper genie's and baby formula.
HRH: One of the fairy tales stories behind DEFAULT is that Nickelback singer Chad Kroeger helped discover the band? How did this factor all come into play in the launching of DEFAULT?
DAVE: Well the band had a demo and took it to Chad and he immediately brought the band into the studio and recorded the bulk of what is The Fallout except for "Wasting My Time," "Live A Lie" and "Sick And Tired" that were recorded by Rick Perasher. Chad also took Deny to C-Fox our local radio station and entered it into the local seeds competition which played the song in regular rotation gaining interest in record companies such as TVT, Atlantic, Universal and Roadrunner records. Not to mention touring with them helped a lot as well.
HRH: Were you a huge fan?
DAVE: Of Nickelback? No I would not say that I was a huge fan but I liked them and respected what they did, but since I have become a massive fan of what they have accomplished and how far they have come as a band and yes now I consider myself a huge fan!
HRH: How would you best describe the band's sound?
DAVE: I have always described us as honest rock and roll. What you hear is what we are.
HRH: DEFAULT hail from Vancouver. How would you describe the Canadian music scene?
DAVE: It is only getting stronger with bands like Hail The Villain and My Darkest Days. Boarders mean nothing. Music means everything.
HRH: As a bass who are some of your influences?
Dave: My biggest influences have to be most of all Flea as I named my first-born child after him. Zari… Figure it out if you are as big of a Chili's freak as me.
I would also have to say that Gene Simmons, Victor Wooten, Les Claypool and Kyle Kyle are among others.
HRH: Is there anything else that you would like to say about the upcoming tour and album?
DAVE: It has been way to long since we have toured the States and we are very excited to jump that boarder and come see all you freaks! See you soon!!!
For more information, check out Default's official website at:
www.defaultonline.com
Hinder/Default Tour Dates:
WEDNESDAY 11-17 CLEVELAND, OH HOUSE OF BLUES
THURSDAY, 11-18 LIBERTYVILLE, IL AUSTIN'S SALOON
FRIDAY, 11-19 CINCINNATI, OH BOGARTS
SATURDAY, 11-20 PONTIAC, MI THE CROFOOT
TUESDAY, 11-23 KALAMAZOO, MI STATE THEATRE
WEDNESDAY, 11-24 DES MOINES, IA VAL AIR BALLROOM
FRIDAY, 11-26 LITTLE ROCK, AR THE VILLAGE
SATURAY, 11-27 MIAMI, OK BUFFALO RUN CASINO
MONDAY, 11-29 DALLAS, TX PALLADIUM BALLROOM
TUESDAY, 11-30 HOUSTON, TX WAREHOUSE LIVE
WEDNESDAY, 12-01 CORPUS CHRISTI, TX BREWSTER STREET
FRIDAY, 12-03 FT STEWART, GA HUNTER ARMY AIRFIELD
MONDAY, 12-06 HARTFORD, CT WEBSTER THEATER
WEDNESDAY, 12-08 BALTIMORE, MD RAMS HEAD LIVE
FRIDAY, 12-10 POUGHKEEPSIE, NY THE CHANCE
SATURDAY, 12-11 ALLENTOWN, PA CROC ROCK
SUNDAY, 12-12 SAYREVILLE, NJ STARLAND BALLROOM
SATURDAY, 12-18 OKLAHOMA CITY, OK DIAMOND BALLROOM