Joey Concepcion of Chaos Embrace
by Alex Barbieri
Staff Writer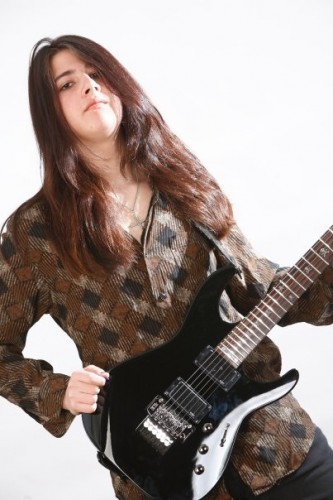 There are some well-known hot beds of metal on the planet: Los Angeles and Sweden, to name a few. Add Connecticut to the list — the home of 19-year-old guitar wunderkind, Joey Concepcion. If you haven't heard Joey yet, you will. He's currently recording his debut album with his band Chaos Embrace with Obsession/ex-Loudness front-man, Michael Vescera producing. Hard rock world, say hello to Joey Concepcion.
HRH: Joey, what's up brother? Great to talk to you. How is the recording of the Chaos Embrace album going, and when will we get a chance to hear it?
JOEY CONCEPCION: Hi, Alex! It's going great, man. I'm really loving how it's sounding. I think it's gonna be very different to what's out there now. I just posted five new tracks on our MySpace page and we are currently shopping for a label!
HRH: How would you describe the style of Chaos Embrace, and what is it like working with producer Michael Vescera?
JC: I would say it's kinda like melodic hard rock, with some new and old school influences. I am a big fan of lots of different music, like Arch Enemy and Firewind. I wanted to go for a really heavy sound, but with melodic vocals. I love the Lynch Mob Revolution record and I think this project was very influenced by that.
Working with Michael Vescera is an amazing experience. I'm a big Yngwie and Loudness fan and I love Mike's voice a lot with those bands, plus we're from the same neck of the woods. Mike has an amazing ear and really knows what to do in the studio. I totally recommend others work with him.
HRH: How old were you when you started playing guitar? Who or what got you into hard rock and metal music?
JC: I started playing when I was 11. Guns N' Roses and Metallica influenced me a lot at first, and the guitar teacher I had at the time got me into a lot of really great music. Also, my parents, definitely.
HRH: Has your dad, Joe Concepcion, been a big influence on your musical career?
JC: Yes I think so. My Dad has been such a big support to me and he loves music a lot, too, and got me interested in playing too. He's a bass player. I love my Dad.
HRH: You were recently in the Sam Ash music store's "Best in Shred" competition. How did you finish and what did you enjoy most about it?
JC: I won the store finals, so the next step is that I go to the Sam Ash in New York City for the next round and compete there. I played Steve Vai's "Blue Powder" for my last performance, and that song is really, really tough to play. I love (Vai's album) Passion and Warfare. It's influenced so many musicians, and is definitely one of my all-time favorite guitar records. I just went in to have fun and see where the contest takes me and I hope it carries on! Haha!
HRH: Take us through a day in the life of a teenage guitar hero. What time do you wake up? What do you eat for breakfast? Are you up late? Do you practice and write a lot?
JC: I usually wake up around 10 a.m. or 11 a.m. I play guitar really late, so I don't always get up that early, ha-ha. Sometimes, I eat breakfast. I have tea in the morning. I practice and write a lot. I wanna make sure I always have material that I can use for new songs.
HRH: What type of guitar and effects do you play? Do you have any endorsements you'd like to talk about?
JC: I have a lot of different guitars at the moment. I just started working with master guitar luthier, Buddy Blaze, on a custom guitar for me. He's the best and has built for the best! I use a lot of Super Strat type guitars. I use a lot of weird effects sometimes. Steve Vai has been a big Influence on that. Usually when I play solos, I like to have a little delay. That's where George Lynch's comes in, too. I have a Morley Bad Horsie 2 Contour Wah. I play Madison Amps and D'addario Strings. I like Planet Waves Cable Straps and other products they have. I also like Dimarzio pickups, Modtone Pedals and use the Floyd Rose® Tremolo System a lot.
HRH: What bands and albums are you currently listening to, and who are your favorites of all time?
JC: I've been currently listening to Opeth a lot. They are very unique how they can be very mellow and melodic and still be very heavy. I also like Arch Enemy and Nevermore. My music taste has such a wide range. I love a lot of the '80s metal stuff like Skid Row, Whitesnake, Dokken and Lynch Mob. I'm a huge fan of Racer X and Paul Gilbert. He is incredible! Probably one of my all time favorites!
HRH: What are your musical goals, and how would you define success in music and life?
JC: My goal is to someday travel all over the world and play everywhere with my band, and get my music across everywhere. It's my dream and passion. I wanna develop fans everywhere and hopefully tour. I think whatever your dream and your goal is, you have to chase it with all of your heart and if you believe in yourself, you can do anything. Happiness is the most important thing, and I think that is success.
HRH: Give us your first thought that comes to mind on the following names and words:
HRH: Guitar.
JC: Love forever.
HRH: Metal.
JC: Passion and how it makes you feel better and pumps you up.
HRH: Idols.
JC: Paul Gilbert, Steve Vai, George Lynch, Jason Becker, John Petrucci.
HRH: The Music Business.
JC: Very tough but still try your hardest to accomplish that goal.
HRH: Your Dad.
JC: The Best Dad, with big support and love.
HRH: Do you have any thoughts on the passing of Ronnie James Dio?
JC: I think it is very sad, and is such a tremendous loss to the metal community. I loved his voice and his music and he will be missed all over the world, and his music will without a doubt carry on.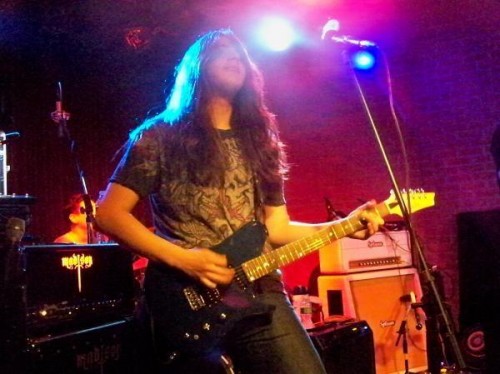 HRH: Tell us something we don't know about Joey Concepcion.
JC: I love running and working out.
HRH: Do you give guitar lessons, and if so, how can someone get in touch with you?
JC: Yes, I do! I work at Route 1 Guitars in Milford, CT. You can call and book for a lesson at (203) 783-9828.
HRH: Is there anything else you would like to say to your fans and the Hardrock Haven audience?
JC: I hope people like my music and keep checking us out for updates on new stuff! And keep rockin'! m/
HRH: Joey, thanks so much, brother. It was great to catch up with you. We're looking forward to hearing your new album. All the best and please stay in touch!
JC: Thanks, Alex! I had an awesome time! Keep rockin' HRH! m/
Friend Joey Concepcion on Facebook at www.facebook.com/people/Joey-Concepcion/1563367138
Watch Joey shred on YouTube: http://www.youtube.com/watch?v=WmYraH277Fo&feature=related
Listen to new Chaos Embrace on their MySpace page. http://www.myspace.com/537690671
Listen to "Out of Time" with Michael Vescera on vocals on Joey's Myspace page: http://www.myspace.com/joeyconcepcionguitar