All That Remains For We Are Many
by Mark Allen
Staff Writer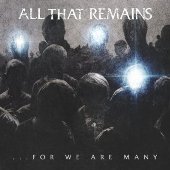 Following the ultra-melodic sensibilities of this group's previous release (2008's Overcome), many fans wondered if all that remained of All That Remains was a has-been band more interested in pleasing the modern hard rock crowd than continuing to lead the New Wave of American Heavy Metal charge. Sure, the commercial crowd had enthusiastically embraced the band–or at least, their hit singles–but could All That Remains reclaim the fickle fallen-away fans who demanded brutal heaviness while simultaneously keeping the mainstream hard rockers happy? For We Are Many, the band's fifth studio album, answers that question, and the answer is a resounding yes.
For We Are Many immediately caters to the we-want-it-heavy component of their fan base with the thunderous intro "Now Let Them Tremble" which is all death-metal growls and powerful thrash rhythms custom-designed to prove that they can still slam out the savagery when they so choose. This brief opener quickly segues into the title track, showcasing a relentlessly aggressive pace and Philip Labonte in full-blown screaming mode with nary a clean vocal in sight.
"But what about those clean vocals?" you ask. "I like the band better in melodic mode." Well, fear not, because once All That Remains finishes their heavy-handed silencing of their critics, they immediately start incorporating the melodic hooks and clean vocals that helped them gain crossover success. This is a pattern the band will carry throughout the album, expertly merging the thrashing metalcore of their genesis days with the commercial catchiness that has defined their more recent output. Nearly every chorus is crafted around a killer hook and sung cleanly to appeal to the melodic fans, but often with screaming and/or growling background vocals to remind everyone that this is, indeed, a heavy metal band. As formulas go, this one works surprisingly well.
Adam Dutkiewicz (guitarist for Killswitch Engage) returned to produce this project (he also produced the band's breakout album The Fall of Ideals) and the sonic quality is absolutely impeccable. If the band paid a million bucks for this production job, it sounds like they got every penny's worth. If they didn't pay a million bucks, well, it certainly sounds as if they did. Dutkiewicz is a maestro knob twiddler, knowing with unerring instinct when to bring the heavy factors to the forefront and when to let the hooky melodies surface through the metal maelstrom.
The members give it their all and their energy comes through loud and clear. Labonte has been accused of being a better screamer than a singer, and it is an accusation that is, quite frankly, sustained, but that should not be interpreted to mean that his clean vocals are drab, for they are not. Labonte can sing perfectly fine; it's just that his screams pack a little more power and emotion. Speaking of emotion, guitarist Oli Herbert lays it all on the line with his playing, his technical wizardry ably matched by his string-scorching passion. The raging riffs and rumbling rhythms intertwine with some relentlessly-powerful drumming, the sum of all the parts meshing together to form one massive melodic metalcore monster.
All That Remains have, against all odds, found a way to please their older fans while maintaining their hold on the newer ones. The metalcore market should eagerly devour this album like a hungry wolf feasting on the flesh of its fallen prey.
Genre: Melodic metalcore
Band:
Philip Labonte (vocals)
Oli Herbert (lead guitar)
Mike Martin (guitar)
Jeanne Segan (bass)
Jason Costa (drums)
Track Listing
1. Now Let Them Tremble
2. For We Are Many
3. The Last Time
4. Some of the People All of the Time
5. Won't Go Quietly
6. Aggressive Opposition
7. From the Outside
8. Dead Wrong
9. Faithless
10. Hold On
11. Keepers of Fellow Man
12. The Waiting One
Razor & Tie/Prosthetic Records
Hardrock Haven rating: 9/10