Femme Metal Presents Beauty and Brutality
by Alissa Ordabai
Staff Writer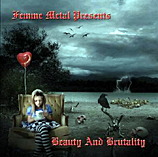 A two-disk compilation of female-fronted metal and rock released to support Cancer Research UK features 31 tracks of material ranging from operatic pomp-metal to punky pop-rock. It is, however, the former style which dominates this release, as if to convince that a female voice in metal goes best with gothic atmospherics, lavish theatricality, and mock-operatic delivery.
This idea, apparently, has taken root within contemporary metal so well that the pattern repeats itself track after track: ambitious string arrangements, commonplace vocal temperaments set over big orchestral pretensions, conservatoire-trained (or pretending to be such) smarmy voices, racing metal riffs supporting sweet pop melodies, and spooky, eerie atmospherics. Anyone who hasn't been following female talents in metal closely within the past 10 years will find that this model has now been brought so such sleek perfection that finding true vocal individuality here is less likely than in the context of Broadway musicals.
It is perhaps against this streamlined approach that true individuality really stands out on this release. Reactive Black with their unashamedly decadent delivery and Iggy Pop-meets-Pet Shop Boys-meets early Metallica eclecticism show that there is still scope for a female voice in metal – beyond unctuous pseudo-gothic atmospherics and opera-scale diva pretensions. DEADMANSWAKE and Vanity Link demonstrate that you don't have to have a big voice to be a true rock vocalist and to be able to deliver a poignant message, both offering welcome breathers for such an intense record jam packed with apocalyptic visions.
But spectacular displays of authentic vocal talent, true drama and wonderful melodic imagination still find place on this compilation. "Absence of Light" by Dimlight is one such track where finely wrought atmospheric soundscape accentuates the numinous voice delivering an inventive, protean melody. Here you start of believe that good taste, imagination, and an ability to create a unique atmosphere can still co-exist when women are represented in metal. Moreover, this track is a proof that a female rock singer can have choices beyond portraying lovers, mourners, or angels of destruction.
True self-expression has always come easier to women in jazz than in rock, maybe because jazz never tried to objectify women the way that rock has traditionally done. But metal is a relatively young genre – too young for succumbing to rigid models, yet mature enough for more women to start exploring ways in which it can resonate with their inner selves, as opposed to blindly following clichés and fulfilling expectations of the male-dominated industry.
Track Listing:
CD1
1. ReVamp – "Head up High"
2. Exilia – "No Tears for You"
3. DAMA – "Rainy Roads"
4. Magion – "War of Hearts"
5. Soulmaker – "A Vide"
6. The Mary Major – "Morning Sickness"
7. Disdained – "Longing for Serenity"
8. Asrai – "Stay with Me"
9. Crownless – "Lost Inside"
10. re-Vision – "Shapeless"
11. Infinite Tales – "Running Away"
12. One Without – "Withered Serenade"
13. Aperioin – "Shine"
14. Reactive Black – "Thoughts"
15. Appartition – "Elysium"
16. Triaxis – "Gates of Damnation"
CD2
1. Epica – "Unleashed"
2. DEADMANSWAKE – "Back to Blood"
3. Vanity Ink – "Smell the Party"
4. Seven Kingdoms – "Somewhere Far Away"
5. Diva Suicide – "Crystals"
6. Exoterik – "Butterfly in Your Hand"
7. Özge Özkan – "My Cold One"
8. Kivimetsän Druidi – "Jäässä Varttunut"
9. VIRUS IV – "Frightening Lanes"
10. Solsikk – "Volatile Territory"
11. Dimlight – "Absence of Light"
12. Raven Tide – "Doom Reveil"
13. A New Dawn – "Masque of the Red Death"
14. Velvet Seal – "Inner Guillotine"
15. Ex Libris – "Destined"
Label: Femme Metal
Online: www.femmemetal.net
Hardrock Haven rating: 6/10