Frank Zappa Evening With Frank Zappa During Which… The Torture Never Stops
by John Kindred
Staff Writer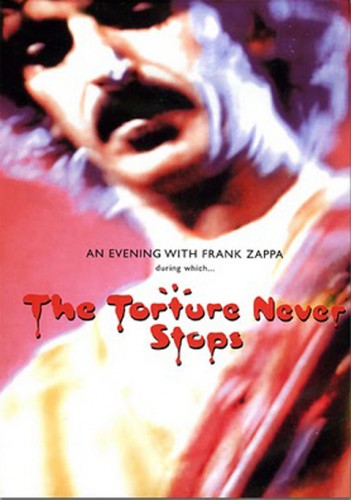 The legacy of composer Frank Zappa spans more than 30 years. Eagle Rock Entertainment returns to the video vaults to revive, in its entirety, Zappa's '81 Halloween concert, which originally aired on MTV. Evening With Frank Zappa During Which … The Torture Never Stops DVD features 24 songs that originally are found on the albums Tinseltown Rebellion and You Are What You Is, also released in '81.
Recorded in New York at The Palladium, Zappa performs and directs his band through these eclectic songs. Zappa's band included the best musicians available; Ray White, Tommy Mars, Scott Thunes, Chad Ackerman, Ed Mann, Bobby Martin and Steve Vai.
Zappa's music highlights diverse explorations into a multitude of genres. His experimentation focuses on utilizing many types of instruments. Unfortunately, music fans must be a fan of the less-than-serious lyrics that float over the top of the complicated music. The quirkiness of the lyrics' whimsical banter is better suited to fans of Weird Al Yankovich than serious rock fans.
The spotlight really shines on the musicians as they express their talent guided by Zappa's baton from the opening track to the finale. Many know of the talents of Steve Vai, but the lesser-known musicians stand equally with Vai and Zappa. Bonus features include two additional live songs, "Teen-Age Prostitute" and "City Of Tiny Lites," a videography, discography and a photo gallery.
Considered a musical genius among his peers and fans, Frank Zappa recorded and produced more than 60 albums during his career. As a modern composer, his lavish and unique musical landscapes brought inspiration to aspiring musicians. Although his music isn't for everybody, you can't dismiss his contributions to the world of music. Releases like Evening With Frank Zappa During Which … The Torture Never Stops provide a historical time stamp for current and future fans to enjoy indefinitely.
Label: Eagle Rock Entertainment
Line-up:
Frank Zappa (guitar, vocal)
Ray White (vocal, guitar)
Tommy Mars (keyboards, vocal)
Scott Thunes (bass, vocal)
Chad Wackerman (drums)
Ed Mann (percussion, vocal)
Bobby Martin (keyboard, sax, vocal)
Steve Vai (guitar, vocal)
Track Listing:
1. "Black Napkins"
2. "Montana"
3. "Easy Meat"
4. "Beauty Knows No Pain"
5. "Charlie's Enormous Mouth"
6. "Fine Girl"
7. "Teen-Age Wind"
8. "Harder Than Your Husband"
9. "Bamboozled By Love"
10. "We're Turning Again"
11. "Alien Orifice"
12. "Flakes"
13. "Broken Hearts Are for Assholes"
14. "You Are What You Is"
15. "Mudd Club"
16. "The Meek Shall Inherit Nothing"
17. "Dumb All Over"
18. "Heavenly Bank Account"
19. "Suicide Chump"
20. "Jumbo Go Away"
21. "Stevie's Spanking"
22. "The Torture Never Stops"
23. "Strictly Genteel"
24. "The Illinois Enema Bandit"
Features:
Region 0
Note: Additional performances from the concert and one short:
1) Teen-Age Prostitute (live)
2) City Of Tiny Lites (live)
3) You Are What You Is
Discography
DVDography
Liner Notes
Photo Gallery
Dual Layer
Full Frame –
1.33
Audio:
Dolby Digital 2.0 Stereo – English
Hardrock Haven rating: n/a