Golden Resurrection Glory to My King
by Franco Cerchiari
Staff Writer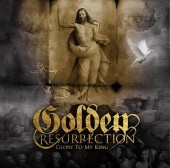 If you have heard the magnificent ReinXeed release, Majestic, then you should have great anticipation to take hold of ReinXeed guitarist/vocalist Tommy Johansson's side project Golden Resurrection also featuring vocalist Christian Lijigren (Narnia, DivineFire.) Showcasing neo-classical/shredding guitar work by Johansson that could rightly be placed alongside of Yngwie Malmsteen, Jason Becker, Rusty Cooley or even the brilliant Michael Angelo Batio, Glory to My King does indeed have some major strong points. With of course each song about a belief in Christ, His teachings, His life and His death on the cross, the tracks are melodic, riff filled, rich and complete with some guitar work that is incredible.
Sometimes it becomes a bit much hearing a "sermon" and in moments the overall message and lyrics becomes a tad much, but one should know, by a title such as Glory to My King what it is they are in for.
Track 6 "Proud To Wear the Holy Cross," does seem to repeat many of the lyrics time and again throughout this track's playing time. However the fluctuation of the vocal lines during the chorus was redeeming.
The keyboards and guitar come across strong, both giving a layer of music under the vocals, and heard together are wonderful. And of course the beyond good guitars of Johansson do make this a CD that followers of neoclassic shredding need to hear. On the flip side, a strong, more prominent bass line would have brought a stronger "thunder" as it seemed on many tracks that the bass guitar was barely audible at best.
Lijigren is an admirable vocalist but his style seems to be better suited for hard rock (at times reminiscent of Russell Allen,) rather than the melodic power metal that is heard here. What made Majestic such a standout (along with the guitar work) was the melodic metal voice of Johansson. The vocals here on Glory to My King, while in many moments are harmonious, seem to be stuck in a sort of "flux" that instead of these huge, soaring, to the heavens voice that melodic power metal is so known for, they seem to remain at the middle range. During certain tracks ("God's Grand Hotel," "The Final Day,") his voice reached higher but even in moments he seemed to be out of his comfort zone.
But what must be given notice are the harmonies of "Never Look Back," the astounding, seemingly never ending guitar solos of "The Final Day," the keyboards of Olav Andersson (Grand Stand/Audiovision) on "Golden Flames" are beyond good. Superbly mixed by Eric Martensson (W.E.T./Eclipse,) overall the sound was excellent, the production strong, and each musical note clear and easy to be heard.
Sadly not a CD that stands out (again like Majestic did,) but in its own way here is a CD rich in melody with some amazing musicians at the helm. Johansson is indeed a powerfully talented guitarist whose work alone makes this a CD guitarists the world over need to hear.
Genre – Melodic Power Metal
Musicians:
Christian Lijigren – lead vocals
Tommy Johansson – guitars, keyboards, vocals
Olav Andersson – keyboards, vocals
Rickard Gustafsson – drums
Stefan Kack – bass
Track Listing:
See My Commands
Best For Me
Glory to My King
Never Look Back
The Final Day
Proud to Wear the Holy Cross
Golden Flames
God's Grand Hotel
My Creation
Label: Rivel/Lijigren Records
Hardrock Haven Rating: 8/10