Jaime St. James of Black N Blue
by Alex Barbieri
Staff Writer
Black 'N Blue is back! Lead singer Jaime St. James — aka "The Saint" — took time out from final mixing of their long-awaited new album to discuss the future of Black 'N Blue, as well as some choice memories from his 30-plus years singing in a long-haired rock 'n roll band. Direct from Los Angeles, say hi to Jaime St. James …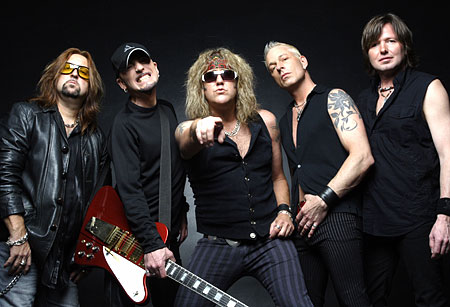 HRH: Jaime, I've been a long-time Black 'N Blue fan and there are a lot of us anticipating the new BNB album. Is Hell Yeah! finally finished? Why did it take so long and when will it be released?
JSJ: I did four years with Warrant; Jeff "Woop" Warner lost his studio; we changed record labels mid-stream and needed to record three new tunes for the new label … it goes on and on.
HRH: Is the new album in the classic Black 'N Blue style? What previous BNB album would you most compare it to? Can you give us some song titles to whet our appetites?
JSJ: It is classic Black 'N Blue. That's all we do! It's all the old records rolled into one, as I hear it. Songs like "Target," "Fools Bleed," "Monkey," "Angry Drunk Son Of A Bitch" and "Falling Down" to name a few are part of a great piece of work that we are very proud of.
HRH: I (almost) played at Rocklahoma back in 2008. The storm hit right before we were to start. But seeing BNB live earlier that day was one of the highlights of that weekend for me. Are you guys playing live in support of Hell Yeah!? Any shows confirmed yet?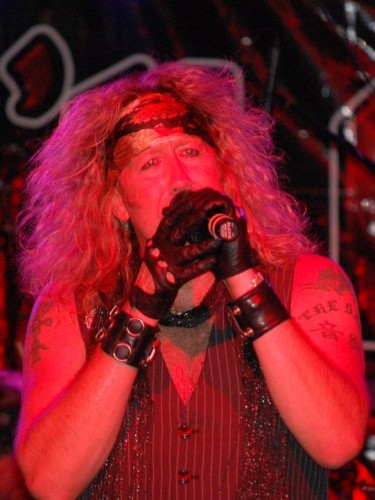 JSJ: Yes, we will be supporting the Hell Yeah! release. We have just confirmed shows in Denver at Casselman's and Club Red in Phoenix in March. We have some festival shows lined up too, but can't announce 'em yet.
HRH: Looking back at the '80s, what are some standout memories of the following periods:
HRH: Living with the band and playing clubs in Los Angeles in 1982 and 1983.
JSJ: Great time in my life. The Sunset Strip was on fire and we were part of the fuel. All of BNB and our crew lived in a house at 1538 Martel, just off Sunset Blvd. and we ruled! We trashed that place in honor of our greatness.
HRH: Recording your first album with Dieter Dierks in Germany.
JSJ: One minute, you're hanging at the Troubadour and the next you pack a bag for three months in Germany—it was our dream come true! Dieter was cool and helped us very much.
HRH: Writing and recording Without Love with Bruce Fairbairn in Vancouver.
JSJ: Don't forget Bob Rock! I still love that record and it should have made us huge. We recorded across the hall from Loverboy and that is why I sang most of the background vocals on" Lovin' Every Minute Of It," a Mutt Lang tune.
HRH: Writing and recording In Heat and Nasty Nasty with Gene Simmons.
JSJ: Love Gene. Most of the songs on those records were f'ing great … a few blew.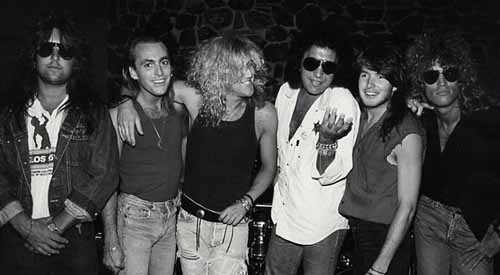 HRH: What was your favorite live gig of your musical career? Your favorite recorded song and vocal?
JSJ: Opening for KISS at Madison Square Garden. Favorite BNB song: "Strange Things." Favorite vocal: "Miss Mystery."
HRH: How did the nickname, "The Saint" come about?
JSJ: The guys just used to call me that—it came about naturally.
HRH: How do you feel about Tommy being a member of KISS? Is it weird seeing someone you grew up with in that position?
JSJ: I'm goddamn proud of him and he is excellent in KISS.
HRH: Is there any chance that BNB will tour with KISS in the future? Would Tommy do double duty in both bands?
JSJ: Book it! But chickens will blow watermelons out of there ass before that will happen!!
HRH: Black 'N Blue toured with Dio in the past. Can you share some memories of Ronnie and do you have any thoughts on his passing?
JSJ: Ronnie was a very nice man and an amazing singer. He is horribly missed.
HRH: Tell us something we don't know about Jaime St. James. What do you do besides sing in Black 'N Blue? If you could say something to the world, what would it be?
JSJ: I was born to play rock 'n roll and I do it. I have never taken a music lesson in my life, yet I have written some pretty cool tunes. I play drums and guitar well enough to write and I have been given a gift so I roll with it. I don't have any kids so when I die, this is what I leave behind—my songs.
HRH: Jaime, thank you for the interview and for all the happiness and great memories your music has created over the years. All the best and please stay in touch!
For more information on Jaime St. James and Black 'N Blue, go to http://www.jaimestjames.com/