Jesse James Dupree of Jackyl
Deb Rao
Staff Writer
It is has been a blockbuster year for Jackyl. I was able to catch the band in action this year in May on Memorial Day weekend in St. Louis and after all these years, Jackyl still put on a dynamic live show. Riding high on the current release, When Moonshine And Dynamite Collide, Jackyl has just released their second single from the album entitled, "Just Like A Negro."
"Just Like A Negro" features a special collaboration with Hall of Fame artist DMC from Run DMC. If that wasn't enough, DMC will be joining Jackyl onstage on their current Winter tour. Singer Jesse James Dupree is also the producer of Full Throttle Saloon, which airs on truTV, which kicked off on November 17th and airs every Wednesday. For more info on Jackyl visit www.jackyl.com.
In this exclusive interview for Hardrock Haven, Jesse James Dupree discusses the making of their current hit album When Moonshine And Dynamite Collide, working with DMC, and current winter tour which kicked off in Kansas City on Nov. 24 with a sold out performance.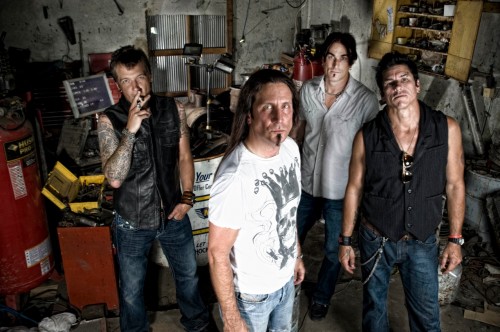 HRH: Jesse, Thank you for checking in with Hardrock Haven. Jackyl is kicking off their winter tour in Kansas on Nov. 24. I hear that DMC will be joining you onstage for the tour. How honored are you to have DMC perform with you?
JESSE: Yes, what an honor it is. He is in the Rock And Roll Hall of Fame and he has created so much of an opportunity for people in the hip-hop world. It is awesome to be playing with him.
HRH: Are you going to be performing a bunch of new songs off of your new album, When Moonshine And Dynamite Collide?
JESSE: Absolutely, we are going to be doing songs off of the new album, songs that everybody expects to hear and some surprises in there.
HRH: Awesome. How did this all transpire working with Darryl?
JESSE: He actually heard the track and called me and said,"Hey I want part of this." So we put it together and he has been out with us since August.
HRH: That is great. I saw the band in St. Louis in May. There seemed to be a whole new generation of fans at the concert.
Jesse; Yes, it is not only cool to see the fans that have come out to see us for the past 15 years but the people that bring their kids and younger people. I think there is resurgence in straight up rock and roll. I have found in the past couple of years. We have been loving every bit of it.
HRH: The new single is out, "Just Like A Negro." Would you say it refers back to the era of the blues? A lot of people don't realize that without the blues there would not be rock and roll.
JESSE: Yes, If you have seen the video between the private and public link there is over 32,000 plays in a couple of weeks time. It is great to have the response to the video, if you watch the video it explains the concept of the song. Check out the video here: http://www.youtube.com/watch?v=5TMO9A7uccw
HRH: It seems kind of deja' vu with you working with Darryl. In 1986, DMC worked with another rock artist Aerosmith in "Walk This Way." It was great the way the way hip-hop and metal combined. What are your thoughts on DMC and the collaboration with Aerosmith on "Walk This Way"?
JESSE: Darryl talks about how cool it was to work with Aerosmith. I think he is getting another whole new experience out of working with us because he loves the message in this song.
HRH: It has been eight years since your last release. Tell us about the writing process for "When Moonshine And Dynamite Collide." Was it done collectively or did you write the lyrics by yourself?
JESSE: A lot of the stuff I have been writing for a while. It just all come together organically. We played these songs live. We had a chance to road trip them. I think that really helped in the process of deciding in what goes on the record.
HRH: Do you have any favorite tracks on the album?
JESSE: I love one through twelve. I really love the title track when "Moonshine And Dynamite Collide." I think it is a great song.
HRH: How would you describe the sound on this album? It seems like you stick to your successful formula of southern blues-rock. Would you say it has your signature stamp on it?
JESSE: I think it sounds just like Jackyl. I don't know how much more like Jackyl it could sound.
HRH: You are in the second season of producing your own TV show Full Throttle Saloon on truTV?
JESSE: I have been very fortunate and diverse to do a lot of different things not only television but on the record business side of things. It is rewarding to be able to step outside of your box.
HRH: I heard that at one of your performance at Sturgis you jumped out of a cannon?
JESSE: I didn't jump out of the cannon; I was shot out of it!
HRH: That must have been an experience?
JESSE: It was one hell of an experience. It was the biggest adrenaline rush I ever had.
HRH: Over the past 20 years. How do you feel that Jackyl has evolved as a band?
JESSE: We have become comfortable in our own skin in what we are. We are a rock and roll band that is based on the fundamentals in which rock was created on.
HRH: Do you have any favorite bands of today that you listen to?
JESSE: I like a lot of the new stuff that is out now. The Shinedown record is a great record. Black Stone Cherry are good guys. My son Nigel Dupree is out there tearing it up.
HRH: Jackyl is currently out on the road. What are your touring plans for next year? Any European plans in the works?
JESSE: Right now we don't have any plans for Europe. I would love to have us booked over there.
HRH: What would you say the highlight of 2010 has been for you?
JESSE: Working with DMC was great. The debut of the TV show last Wednesday night. It comes on every Wednesday night on truTV. Having the new album out is the Top 3 things.
HRH: You have worked with a lot of great people over the years. What was it like working with Brian Johnson of AC/DC?
JESSE: As you can imagine it was a huge deal for us. AC/DC was such an influence on us. Not only being a fan but to be able to work with him was really cool.
HRH: Actually, you showcase your bluesy roots on the song Janis Joplin song Mercedes Benz.
JESSE: That was something that just kind of happened, I left it on the CD.
HRH: Any plans for a solo album in 2011?
JESSE: I don't know? Right now I am just focusing on here and now.
HRH: Jesse, Thank you for taking time out of your schedule for this interview. Anything else that you would like to say about the tour?
JESSE: It is something you got to see! C'mon out. I hope you all grab the album, enjoy learn the words and come out and get out and see the show.
JACKYL FALL TOUR DATES CONFIRMED:
11/24 in Kansas City, MO @ Midland Theatre.
11/25 in Louisville, KY @ Phoenix Hill.
11/26 in Traverse City, MI @ Ground Zero.
11/27 in Flint, MI @ Machine Shop.
12/2 in Council Bluffs, IA @ Whiskey.
12/3 in Green Bay,WI @ The Club at Tom, Dick, & Harry's.
12/4 in Libertyville, IL @ Austins.
12/10 in Cincinnati, OH @ Bogarts 96 Rock X-Mas Show.
12/5 in Tailgaters – Bolingbrook, IL