John Waite Rough & Tumble
by Alex Barbieri
Staff Writer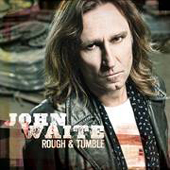 Ask any rock fan who grew up in the '80s about John Waite, and they'll probably smile and agree that he has one of the most signature voices of the era. Well, Waite is back to rough of us a bit with a delightfully inspired album of Nashville-tinged rock 'n roll.
Rough & Tumble is Waite's first studio album of original material since 2007's Downtown: Journey of a Heart and long-time fans will not be disappointed. The album features some of the best melodic moments of his career but—to Waite's creative credit—it is not a safe retread of a proven pop formula.
Rough & Tumble has a stripped down, organic rawness to it. Gone are the huge multi-layered vocals and keyboards in favor of guitar/bass/drums purity. At first a little disconcerting, you'll soon realize the more straightforward sound is the perfect showcase for Waite's clear emotive vocals, and also sounds just downright cool.
Credit for this new direction must go in part to Matchbox Twenty guitarist Kyle Cook, who was Waite's songwriting partner for the past year and a half. The combination of Waite's rich, dignified vocals and Cook's Southern honkytonk Strat is both sexy and stunning.
On the Tom Pettyesque "Evil," Waite sings, "Start to feel the rush of the 4/4 time / Moonlight's kickin' in the door." The slithery groove and sultry vocal will make you want to turn up the red lights and dance like no one's watching.
Waite goes for the gold on "If You Ever Get Lonely, a ballad so beautiful, it will stop you in your tracks. One of the best songs of Waite's career, it is as "hit single" as a song gets. (Producers of Showtime's Californication series should take note: this is the perfect song for an episode.)
The acoustic "Skyward" is another highlight: simple yet lush, it is both inspiring and life affirming. And "Better Off Gone" is immediately one of the best breakup songs of all time; full of motion and hope. Gonna let these horses run straight into the morning sun / I'm better off gone. Waite reminds us it's ok to live, love, lose—and, if needed, relocate.
John Waite—one of rock's rarest gems—is back and better than ever. Buy Rough & Tumble and be reminded what great rock music is supposed to sound like. And if you get the chance, see Waite live this time 'round if you can.
Genre: Rock-Country
Band: John Waite – Vocals
Luis Maldonado – Electric and Acoustic Guitar
Shane Fontayne – Electric and Acoustic Guitar, Acoustic and Baritone Guitar
Kyle Cook – Electric and Acoustic Guitar, Programming and Harmony Vocals
Tim Hogan – Low End David Santos – Bass Guitar
Mike Webb – Hammond B3 Organ
Billy Wilkes – Drums and Percussion
Fred Eltringham – Drums and Percussion
Rodger Carter – Drums and Percussion
Bobby Keys – Saxophone
Jennifer Paige – Background Vocals
Track Listing:
1. Rough & Tumble
2. Shadows of Love
3. Evil
4. If You Ever Get Lonely
5. Skyward
6. Sweet Rhode Island Red
7. Love's Goin' Out of Style
8. Better Off Gone
9. Further The Sky
10. Peace of Mind
11. Mr. Wonderful (Bonus Track)
12. Hanging Tree (Bonus Track)
Label: Frontiers Records
Online: http://johnwaitethegreatest.web-log.nl/johnwaitethegreatest/2010/12/rough-an-tumble-tracklisting-and-info.html
www.facebook.com/people/John-Waite/1383702065  
Hardrock Haven rating: 8/10