by Alex Barbieri
Staff Writer
Kyoji Yamamoto is one of the most popular and influential guitarists you probably never heard of. As the founding member of seminal Japanese bands BowWow and Vow Wow, Kyoji was one of the first guitarists to use the "touch" tapping technique. He is also the musician that Lars Ulrich of Metallica sought out after playing to 26,000 fans in Tokyo.
In between gigs, from his home in Japan, Kyoji graciously answered some questions about his brilliant new instrumental CD, The Life Album, having a few too many with Metallica, touring with KISS in Japan in their heyday and why, despite his many accomplishments, he remains so down to earth and approachable.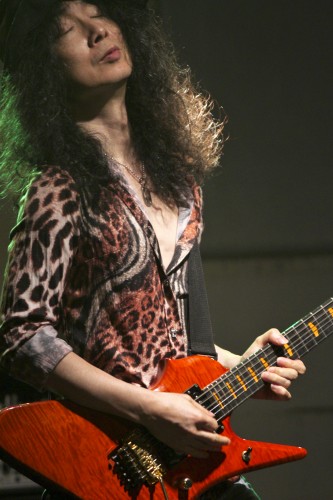 HRH: Kyoji, congratulations on The Life Album, an amazing collection of instrumental guitar songs. Tell us about making it: What inspired the songs? Where was it recorded? What are some of your proudest moments on it? Will it be released in the U.S.?
KYOJI YAMOMOTO: Thank you. As you can see from the title, I wanted to express one's life through music. I recorded it in my private studio. It took years to complete it, since I composed the songs, played all the instruments and mixed and mastered it myself. It is an instrumental album. I love dramatic and touching music. I'm sure you will understand it with your heart.
It is inspired by my family, friends and my own life. It is my life and could be your life, too. You can feel as if you are watching a movie of your life when you listen to it through. My proudest moments are tracks 7 through 10. ("Talking To Myself," "Deep Inside," "Sunset Horizon" and "Heavenly.") It is like a suite. I have received many emails from people saying that they couldn't stop shedding tears. The last song "Heavenly" is about one's death. Death's image is not good generally, but I thought there must be something like hope and I tried to express that.
I don't have a record deal for this album in the U.S. yet, but you can order it through the Internet at CD Japan.
HRH: You have been called the most famous guitarist in Japan, yet you are very approachable and down to earth. Why is that? What keeps you grounded in life?
KY: Whenever I see the rock stars who try to make themselves look bigger over others, I always think they should take it easy and relax. It's true that rock music has got an image of "Do what you want—who cares?!" But you should not get the meaning wrong. You must not hurt people for your freedom. You can do anything you like musically, but you are ordinary people before being musicians.
I think "The sense of balance" is one of the most important things in my life. I like to be a very natural and ordinary person off stage. I have experienced high tides and low tides many times, and I know how wonderful relationships with people can be. I think you should have a sense that we are all equal—beyond borders, religions and generations.
HRH: Your tone and playing is so emotional. Do you feel that you speak through your guitar and that music is the universal language?
KY: I think emotion—in other words, feeling—is the most important thing when you play music. I always try to make every single note "live." I don't think I have particular words to say by guitar, but I talk with my soul and squeeze my emotion out by playing. Those notes are literally LIVING! And there is no language barrier. It is absolutely universal.
HRH: Take us back to 1977. You're in BowWow, and opening for KISS in Japan in their heyday. What did you think of them? What were they like? Any crazy stories you share?
KY: We were the opening act for KISS in Kiss '77 and '78, as well. They were just fantastic. To be honest, before playing with them, I didn't think they were that good. But, I was totally knocked out by their performance on the very first night!! They were always more than great, always perfect!! Except one night when BowWow's drummer stumbled over a cable by accident and a big magnesium (flash pot) did not exploded (laughs).
They were always kind to us and permit us to use their P.A. system as loud as we like. I heard some interesting stories from their fans, but I shouldn't tell you (laughs). They had more than enough pleasure of everything, but they never lost the power once they got on stage. It was amazing!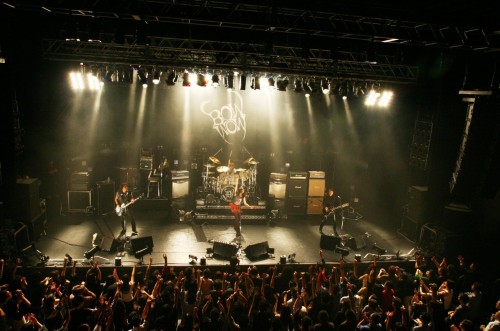 HRH: In an interview, you stated that BowWow at the Reading Festival in 1982 was the most exciting day of your life. Why was that? What other bands played on that bill?
KY: BowWow were just an opening act and it was our first time playing in the U.K. When we started to play, the audience was lying on the grass drinking beer. But, as the songs proceeded, the applause got louder and louder and they stood up. And at the end, it became like our own concert with 50,000 people.
We couldn't believe it, since we didn't think anyone knew who BowWow was, and we played just around noon. They kept calling us back on stage even as the next band set up their gear. Then I went back on stage, by order of the promoter, and did a "call and response" thing with the audience until they settled down. It was a most exciting day!
HRH: You have said that you love to jam with other musicians. Who have you met and played with over the years? What is your favorite style of music to jam to?
KY: One night at a jam in Roppongi, Tokyo, Japan, it was Zakk Wylde on vocals, Stevie Salas (George Clinton's band) and me on guitars, and the drummer and bassist from Zakk's band. We played great together!
I've also jammed with Carmine Appice, T.M Stevens (heavy metal funk bassist of Shocka Zooloo) and John Wetton (Asia). A jam with (Whitesnake bassist) Neil Murray just before he joined Vow Wow was awesome!
I also played with Uli Jon Roth for his Japanese tour. We played his songs, Hendrix songs, Scorpions songs and Japanese traditional songs together. Unforgettable memory!!!
In Japan, I've recently jammed with fusion musicians such as Kazumi Watanabe and Issei Noro (Casiopea). I like jamming any style of music as long as you can hear myself, you know what I mean? (Laughs).
HRH: In 2003, Lars Ulrich and Robert Trujillo of Metallica, after performing for thousands in Tokyo, jumped in a cab to a small club, and jammed with you until the early morning hours. Describe that night: What was the club like? What did you talk about? What songs did you play? What were you all drinking?
KY: I met Metallica back in the '80s. I was sitting in the dressing room of the Marquee Club in London. Suddenly, all the members of Metallica came in singing an old BowWow song! I was really surprised. They said they used to copy and play our songs and they knew about us very well.
The next time I met them was in 2004 when they toured in Japan. Lars asked his staff to find my phone number, and he called me to go out for a drink. We drank three bottles of wine at the bar on the top of the beautiful hotel in Shinjuku. Then went to the hotel where they were staying. I met the other members there and talked for a while and I suggested we go to the bar where we can jam.
Lars and Rob came with me. There were about 10 people drinking quietly. Then suddenly we started a jam session along the bass line that Rob started. We were so drunk. Metallica had a big concert the next day. It seemed like they were all right, but I was not (laughs).
HRH: Do you know Akira Takasaki of Loudness? What do you think of his playing? Have you ever played together? What is he up to these days?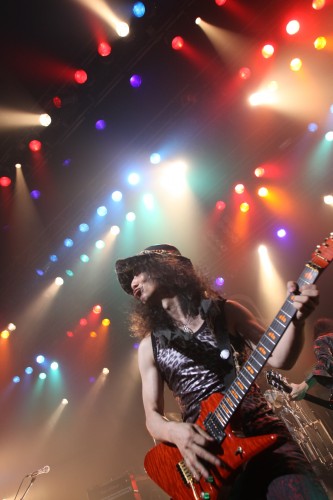 KY: Yes, I know him very well. Actually I knew him when he was in the band called Lazy before Loudness. He's got a great technique and his own sound. We have played together in some rock festivals. He still plays in Loudness and toured in Europe this summer.
HRH: Give us your first thought that comes to mind on the following names and words:
Guitar: A vital organ for me. When I was a kid, I was so stressed and sometimes became violent. But when I started playing guitar, all the bad feelings were gone. I think various emotions came out through my guitar. I'm thankful to my guitars.
Metal: Gives me a thrill and power. I like to stay calm, but sometimes I'm dying to need metal!
Japan: Beautiful country and beautiful people, but useless politicians.
United States: Power!
The Music Business: I don't want be involved so much. But, I need to be involved I guess.
Your Fans: Thanks for supporting me for so many years!! I love you all, really!
HRH: Do you have any thoughts on the passing of Ronnie James Dio?
KY: He was one of the best rock singers in the world. I heard his voice for the first time on Rainbow's first album. I was very impressed by his powerful, beautiful and dignified voice. I met him in an Indian restaurant in the U.K by coincidence. He was with his wife and he was very calm and tender. We lost an irreplaceable treasure.
HRH: Tell us something we don't know about Kyoji Yamamoto.
KY: I am known as a hard rock guitarist. Of course I love hard rock, but I love all good music and I've been making many different kinds of music you don't know about. I have introduced some and will introduce more of my works on my Facebook page. So, please check it out at http://www.facebook.com/kyoji.yamamoto.
HRH: Your son, Maoki, is also a musician. What instrument does he play? Is he following in your footsteps? Does he have a CD we can check out?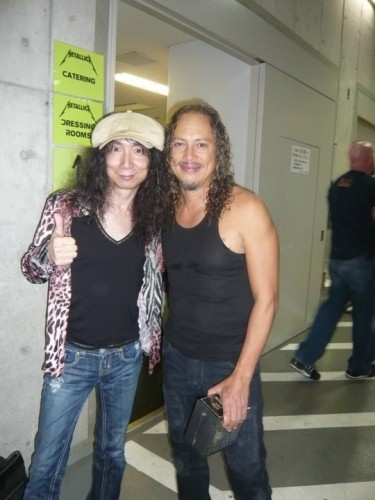 KY: He plays drums and keyboards. He is more interested in jazz fusion and modern classical stuff. He's still a high school boy and there is no CD released, however he played in my solo concert when he was 15. You can see it on YouTube.
HRH: Is there anything else you would like to say to your fans and the Hardrock Haven audience?
KY: Hi everybody! Probably most of you don't know me at all, but if you give me even three minutes to listen to my music, it would be more than a pleasure for me!! I'm sure you wouldn't regret it. Please just click the YouTube links below to hear "Alone" or "Mother Ocean."
HRH: Kyōji, arigatōgozaimasu. Thank you for taking the time to answer these questions. It has been an honor and a pleasure. All the best and please stay in touch!
KY: Do Itashimashite (You're welcome.) Thanks for having me on this wonderful website.
Friend Kyoji Yamomoto on Facebook at http://www.facebook.com/kyoji.yamamoto
Watch the video for "Alone" on YouTube: http://www.youtube.com/watch?v=TkkTnYAK9X8
Watch the live video for "Mother Ocean" on YouTube: http://www.youtube.com/watch?v=lrU116D9AT0.
Order The Life Album on CD Japan.
Order The Essential Kyoji Yamamoto (compilation album) on Amazon.