Low Profile Afraid Of The Dark
by Joe Mis
Staff Writer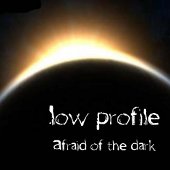 Hailing from Florida's sunny Palm Coast area, Low Profile is trying to prove themselves to be more than a cover band by releasing a CD of all original music entitled Afraid Of The Dark. Despite the entire lineup being Florida transplants from the northeast or mid-Atlantic states none of them are senior citizens – go figure. This trio delivers some decent new hard rock while tipping their hats to some of the greats of the 1980s.
The members of Low Profile aren't kids. They've been kicking around the Florida music scene for a number of years, and that experience shows in their music. Low Profile writes well focused and well structured songs, and their level of musicianship is very good. Their roots go back to the classic hard rockers of the early to middle 1980s, but they deliver their catchy hooks and riffs with solid teamwork and a modern touch. Their "veteran" experience shows throughout the album, particularly their fine use of backing vocals.
Lead vocalist / guitarist (and New York native) Reg Monsanto has a gruff and somewhat dry voice, well suited to the hard rock genre. His range is a bit limited, but he stays within it and delivers the goods. Monsanto is a good guitarist as well, laying down some thick and juicy hooks and nice solos. Fellow New Yorker Fred Peterson brings a big and crunchy bass to the band, and can play quietly in the background or step to the front. Drummer and D.C. native Ralph Abraham is a solid drummer and displays solid teamwork, working nicely with both bass and guitar.
"Afraid of the Dark" opens with a nice Dokken-esqe acoustic guitar and bass passage and features some great harmony vocals, chugging guitars, bubbling bass and strong lyrics. "Wandering" is a simple and soft rock track with some fine acoustic work, a great bass line and a fine lead break. Big drums and a touch of sleaze rock infect "I Like It", but this track is one of the weaker on the album – it seems a bit forced, although the guitar solo is fantastic. The band switches toke totally and goes ultra heavy in "A Punk Like Me" and fills the song with grinding guitars, energetic drums and great bass. Good lyrics and solid harmony vocals brighten the upbeat rocker "Rain," while a big bass groove and "Alice In Chains" style vocals drive "Going Down Again."
"Let It Go" and "Waiting" have more of a pop rock feel to them thanks to simple and bouncy bass and drum lines. The band does not seem to be in their comfort zone on these tracks – some of the "pop" elements seem forced as if they really wanted to do something harder but held back a bit. "Call Of The Wild" opens with some tribal drums and intense bass, but becomes the band's vocal showpiece with nicely layered harmonies over some powerful riffs. The band manages to set a truly dark and creepy mood in the somewhat spooky "Neverland," while "Sleeping With The Enemy" takes its energy from a great drum line. "Black Widow" wraps the album with some great acoustic guitars that lead to a big arena-rock track with a solid sing-along chorus.
The only persistent negative on "Afraid Of The Dark" is the engineering. All the tracks have a bit of a muddy sound, but fortunately it is consistent so it is easy to balance out with equalizer settings. Low Profile makes simple, basic and direct rock, and the roughness of the recording in a way almost adds to the atmosphere.
Low Profile is a decent band and deserves more than just a cover band reputation. There is real talent here, both in terms of musical ability and songwriting talent. Despite a few rough spots on the CD, Afraid Of The Dark will appeal to almost any fan of hard rock or commercial rock. The band's enthusiasm and raw talent easily overcome the flaws, so the good here far outweighs the bad. They are a young band and need to settle on a preferred style. They seem at their best at the opposite ends of the spectrum – playing hard and heavy stuff or soft ballads. They wash out a bit when holding the middle ground or reaching for a "pop" sound. While it may not be the proverbial "diamond in the rough," Afraid Of The Dark is certainly is worth a listen.
Genre: Hard Rock
Band:
Reg Monsanto (lead vocals, guitars)
Ralph Abraham (drums, backing vocals)
Fred Peterson (bass, backing vocals)
Track Listing:
1. Afraid Of The Dark
2. Wandering
3. I Like It
4. A Punk Like Me
5. Rain
6. Going Down Again
7. Let It Go
8. Waiting
9. Call Of The Wild
10. Neverland
11. Sleeping With The Enemy
12. Black Widow
Label: LP Records (Indie)
Website: http://www.myspace.com/lowprofilepalmcoast , www.lowprofile-theband.com
Hardrock Haven rating: 8/10