Michael Larsson of ColdSpell
by Alex Barbieri
Staff Writer
Last year, Swedish band ColdSpell's album, Infinite Stargaze, topped many hard rock "Best of 2009" lists. The band has been quiet — at least for American fans — so Hardrock Haven thought it was time to venture north to the land of the midnight sun where guitarist and songwriter Michael Larsson reveals what ColdSpell is conjuring up next—along with the title of the new album due in February!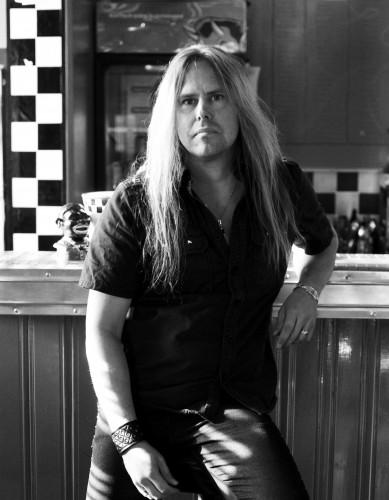 HRH: Michael, thank you for sending me a copy of Infinite Stargaze. Athough I'm a year late, it is on heavy rotation in my car, and it will likely be my favorite album of the year. What has ColdSpell been up to, and can we look forward to a new album soon?
MICHAEL LARSON: Hi Alex and thanks for those kind words. I'm glad to hear the combination of driving your car and listening to ColdSpell works out fine, haha! What have we been up to … well, I must admit that time flies away. It's hard to believe that it is almost two years since the Infinite Stargaze was released.
I have been promoting the album and have done lots of emailing and interviews, and we have done some shows here and there. We have some changes in the line-up for this new album and it finally feels like we are one solid unit that's ready to rock.
HRH: The last album sounded sonically amazing. Are you recording in the same studio with the new lineup? Please let your vocalist, Niclas Swedentorp, know that I think he is one of the best in the business.
ML: Ha ha, yes I will let him know that! He is a "one of a kind" singer and great to work with, too. It's important to have the chemistry going and we do have that for sure!
This new album is recorded in the same studio and is mixed by the same outstanding Tommy Hansen from Denmark. As I said, we have a new lineup, a new drummer and bass player due to the fact that they did not have the time to do this. But we are still best friends. The new guys are both good old friends of mine from the time I used to live in the south of Sweden. The drummer is Perra Johansson (Crawley, Lost Souls) and the bass player is Anders "Kebbe" Lindmark ( RAW, Dalton). They are the nicest guys and both have a huge backpack of experience.
HRH: As a founding member and main songwriter of ColdSpell, are the new songs similar or different to those on Stargaze? Can you tell us what the new album is called, and share any song titles yet?
ML: Yes, the new album will be in the same vein as Infinite Stargaze. It's the same songwriter but with two new members that will take us up to the next level! It's maybe a little heavier sounding, but still ColdSpell.
Alex, you will be the first to know the new album title, so feel honored ha ha – Out From the Cold is the title for the new ColdSpell album.
HRH: Thank you Michael for that Hardrock Haven exclusive! You read it here first, rockers: Out from the Cold will be the title of the new ColdSpell album.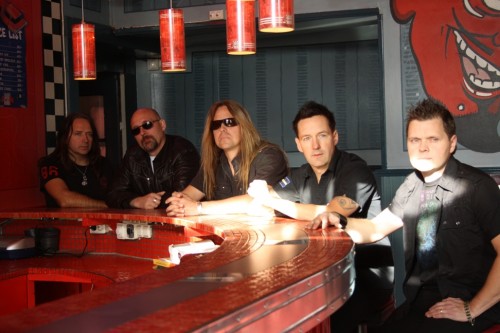 HRH: There are some obvious American '80s hard rock influences on Infinite Stargaze, such as Dokken, Queensryche and Dream Theater. Was American metal big in Sweden back in the day? Were albums easy or difficult to find and buy?
ML: I'm glad to hear that and, of course, bands like those you mentioned had a big influence on me, but also bands like Deep Purple, Whitesnake, Sabbath, Rainbow, Badlands … those American metal bands were huge in Scandinavia / Europe at that time and I think that Dream Theater still is! It was no problem getting those albums at that time.
HRH: Looking back at the last year supporting Infinite Stargaze, what are some of your favorite shows and memories? Any crazy stories you can share?
ML: The crazy stories I will let you know when we meet and have a couple of beers. We have done some amazing shows but I think that we have the best ones ahead of us, all those amazing reviews and top album lists are memories worth keeping.
HRH: Does the band have any plans to tour following the release of the new album? Will U.S. fans get a chance to see ColdSpell live?
ML: I sure do hope so and I feel in my gut that the U.S. is not that far away. We have been talking about doing Europe and we will see about U.S. dates after the release of the new album.
HRH: What adult beverages would be found in ColdSpell's studio?
ML: Just pure spring water. And course maybe one or two beers. And red wine from Robertson Winery. And maybe some well deserved single malt whiskey, haha!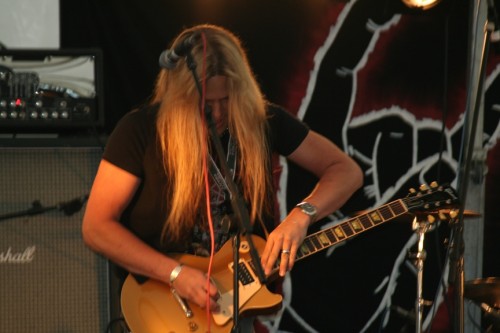 HRH: What type of guitar and effects do you play? Do you have any endorsements you'd like to talk about?
ML: Still trying everything that comes my way, I had some offers but I guess it's important that it feels right.
I play an ESP Eclipse, Gibson Les Paul and Peavey Wolfgang. I don't use that many effects, but I can't live without my Jimi Hendrix wha wha. Otherwise it's delay, tube screamer and maybe a chorus from time to time. Plain and simple.
HRH: Take us through a day in the life of Micke Larsson. Tell us something we don't know about you.
ML: A day inside the head of Mr. Larsson, haha! I guess it's not that exciting. I will just disappoint you. I spend some quality time with my family and my dog, get some new song ideas that makes me look even more confused. And as it is now, I spend more time with the computer than playing guitar and that is not so good.
What you don't know is that this weekend I'm going to our cabin out in the woods and relax, have a sauna, drive my snowmobile and get inspired! Haha.
HRH: Give us your first thought that comes to mind on the following names and words:
HRH: Guitar.
ML: My love of life.
HRH: Metal.
ML: Judas Priest.
HRH: Idols.
ML: Ronnie James Dio.
HRH: Fans.
ML: Dedication.
HRH: The Music Business.
ML: Biiiig and strange.
HRH: Beer.
ML: Mythos.
HRH: What bands and albums are you currently listening to, and who are your favorites of all time?
ML: At this moment, I'm listening to this new amazing Firewind album and checkin' out a new live DVD from Kings X.
That's a tricky question—there´s so many favorites, but if I mention a few: King´s X Dogman, Lynch Mob Wicked Sensation, Dream Theater Images and Words, Rainbow Rising, Whitesnake 1987, the first Badlands, Montrose Rock the Nation. All are a piece of hard rock history.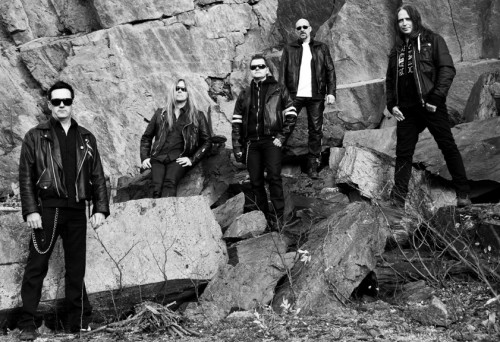 HRH: What are your musical goals for ColdSpell over the next few years, and how do you define success in music and life?
ML: Success is to get to do what you are meant to do … to enjoy it and share it with others, family, friends and everyone else! When it comes to ColdSpell, we like to do high quality hard rock albums that hopefully will get us over to the U.S. in 2011.
And of course make sure to enjoy every minute and second of it! We will release this new album in February and have a new video ready for the release, so we will take one thing at a time!
HRH: Do you have any thoughts on the passing of Ronnie James Dio? Any memories you would like to share?
ML: Yes I do. He meant a lot to me for sure. He was the one that was supposed to be around as long as hard rock exists and unite us all. He will be remembered and not forgotten that's for sure! He has a special place in my heart! We have a song on the new album "The King" that is dedicated to him, but can be referred to other special people in our lives—someone near that we lost. That lyric and song felt so right at the time he passed away so I decided to have it on this new album.
HRH: Is there anything else you would like to say to your fans and the Hardrock Haven audience?
ML: Like that old Scorpion song, "Can't live without you." That's what it's all about! Lookin' forward to this coming 2011 and finally, hopefully get to meet you all over there on the other side of the Atlantic!
HRH: Michael, thank you for your time and openness. You are one of the nicest and most talented people I know in hard rock and metal. All the best to you and ColdSpell, and please keep us informed about the new album any U.S. shows!
ML: Oh my god, that is the nicest thing I've heard in a long time. Many thanks! Thanks for doing this interview with me and all the best to you Alex and everyone else at Hardrock Haven. Cheers from Sweden!
Watch the video for "Night Falls" on YouTube: http://www.youtube.com/watch?v=1lo6CryCgfY
Friend Coldspell on Facebook at www.facebook.com/pages/ColdSpell/164708699316 and on MySpace at www.myspace.com/coldspellsweden