Patrick Kennison of Heaven Below
by Alex Barbieri
Staff Writer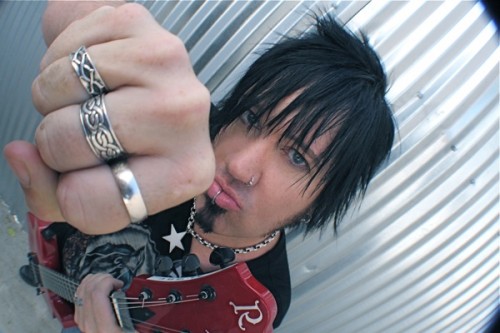 Born from the ashes of The Union Underground, Heaven Below is singer and songwriter Patrick Kennison's comeback statement and artistic vision of what a rock 'n f****in' roll band should be: badass look, well-crafted songs, pro musicianship and a high energy live show. And he swears by B.C. Rich guitars. Kick back and crack a cold one as Kennison checks in with Hardrock Haven on what's up with Heaven Below,
HRH: Patrick, first off thank you again for signing the poster and CD for my 15-year-old niece, Emily. How is the EP doing and how have the shows been in support of it?
PATRICK KENNISON: Anytime, we love making fans early on. The EP has been consistently selling even after we wrapped up our "Horns 'N Halos" tour last month. The shows were killer. The radio support we've been getting really affected the tour in a positive way. To commemorate and thank everyone, we released a free Digital Time Capsule on www.heavenbelow.com.
HRH: The band's management advised HB to release an EP to help stand out from the throng of modern rock bands vying for the public's attention. Do you think the strategy has paid off?
PK: I really think it did. It kept songs from getting overlooked. But I must admit, had I known the reaction and response would be this good, I would have been tempted to release it as a proper full length. Hindsight 20/20. No regrets.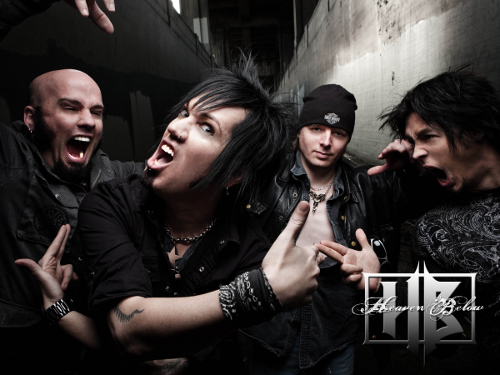 HRH: "When Daylight Dies" really is akin to Evanescence with male vocals. How did Ben Moody become interested in producing the song, and what was it like to work with him in the studio?
PK: I met Ben through Marty 'O Brien, bassist extraordinaire. I played on Ben's solo album and one day I played him my demo for "When Daylight Dies." He pulled the car over after the song played and insisted that he produce it. I thought he was joking. Several days later he'd put a 32-piece orchestra in it and booked us in a killer studio. The guy is a mad genius in the studio.
HRH: How did the dissolution of The Union Underground fuel your drive to form and succeed with Heaven Below?
PK: I realize most people view The Union Underground as a successful band, and we were. But, the band was cut short by cliché pitfalls which led to me ending it. It was frustrating but it had to be done. I realized it was time for me to step up my position as an artist and please myself first. Business-wise, it was a priceless lesson.
HRH: What are your musical goals for Heaven Below over the next few years, and how do you define success in music and life?
PK: Musically I just want to make ourselves happy. Luckily that seems to show through our songs and live performance. I think people pick up on that, even if some of the songs may sound like they come from an angry place. It's our therapy. I define success simply by being fortunate enough to play and release music on our terms. Now that the "invisible carrot" as I call it, has been removed (industry gatekeepers), music is now up to the people that matter most — the artist and the fans.
HRH: Take us through a day in the life of Patrick Kennison. What time do you wake up? Go to sleep? What do you do besides Heaven Below?
PK: Lately I've been going to bed really late because we're working on new material all night. We have a killer rehearsal room in Hollywood as well as our own home studios. I can be found in one of those most of the time writing and recording. HB consumes nearly all of my time. I got Netflix on my Xbox but I have to force myself to watch movies and play games on it. But when I do, it's a great release. I heard the new 'God of War' came out for Xbox and my PSP. I better investigate after recording.
HRH: Any interesting stories you can share during the recording of the EP? What adult beverages would be found in Heaven Below's studio?
PK: Of course working with Ben was killer. One of the nights we were recording, Jesse got pretty drunk after his tracks, so we parked his car somewhere off the premises so that when he woke up the next morning, he'd think it was towed. Turns out a girl from another band that he'd dumped or blown off rehearsed next door and saw his car and wrote obscenities all over it with her lipstick. He was mighty confused the next morning. Wish he'd got pictures of her and the car.
Jesse and I love those overpriced fancy beers. A Blue Moon sounds so good right now!!! Of course, Jagermeister is really good to us. (Literally. Jagermeister sponsors Heaven Below. – Ed.) It's like a beast you can't tame!!! We even have our own drink: Jager, pineapple juice and a splash of Sprite = "The Heaven Below Sunrise." Looks gross, tastes great. Just like us!!!!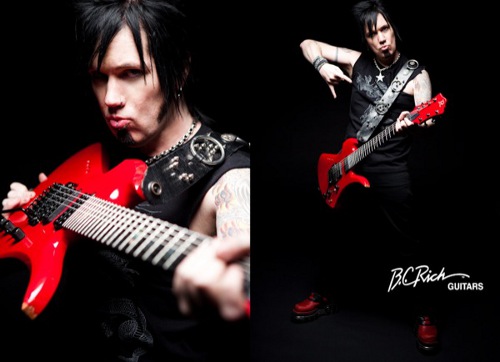 HRH: You proudly play B.C. Rich guitars. Give us some details on your guitar and rig, and why you love B.C. Rich so much.
PK: Ever since my U/U days, B.C. Rich has supported what I do. I have a killer little collection with some rare one off models. I even own the last guitar Bernie Sr. (founder of B.C. Rich guitars) made before he passed. It's stamped and dated in the guitar. It is the best sounding and looking guitar I own. I turned Jesse on to them and he now loves 'em too. He's got a Kerry King 7-string Warlock and a 7-string Stealth. I have several 7 and 6-string Mockingbirds, a 7-string Warlock, an Archtop Tele Meegs that's really rare. I even have a Double Neck Bitch on the way like the one Lita Ford played in that old Ozzy/Lita video ("Close My Eyes Forever.") Check out www.bcrich.com/artists to see Jesse and I in action. We'll also be at the B.C. Rich and Dean Markley booths at the NAMM Show in January.
HRH: You have said that Iron Maiden's "Powerslave" tour was your first big rock concert. How did that show affect your desire to become a musician and play in a band?
PK: It was unbelievable. I had no idea concerts were like that. The ones I went to after that paled in comparison. There are really no words to describe how it changed me. I begged my parents for a guitar after that show. They delivered on my 12th birthday and I never looked back.
HRH: What bands and albums are you currently listening to, and who are your favorites of all time?
PK: Lately I'm getting into old stuff I didn't understand as a little kid. Stuff my older brothers and sister liked. Rush, Thin Lizzy, UFO, etc. There is some killer music in there that blows me away. As for recent releases, I love Muse, the new Accept — insanely killer album — and Avenged Sevenfold, to name a few. My all time faves are still Alice in Chains, Nine Inch Nails, Metallica, Priest, Maiden, even Cheap Trick.
HRH: If you could choose any musicians, dead or alive, who would be in your dream band, and what instruments would they play?
PK: I'll go with dead, so I have something to look forward to when I die. My vocalist would be my friend Dave Williams from Drowning Pool. I cherish the memories I have with him on and offstage. On bass would be Cliff Burton, of course. Dimebag would have to be on lead guitar. Jimmy "The Rev" Sullivan would be on drums. I guarantee we would make the best music metal heads have ever heard!!!!
HRH: Do you have any thoughts on the passing of Ronnie James Dio? Any memories you would like to share?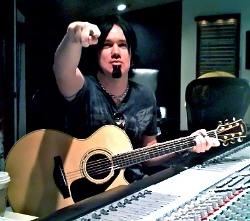 PK: I feel like it's life's cruel joke to take the nicest and most talented away from us, but the legacy he left can never be topped. I never got to see him perform, but I've always enjoyed the Dio-era Sabbath much more than the Ozzy era. I realize how influential the Ozzy stuff is, but the Dio era is so fucking cool and dark.
HRH: Is there anything else you would like to say to your fans and the Hardrock Haven audience?
PK: Thank you for supporting new music like us and for everyone who has been requesting "When Daylight Dies" on their local radio station. We have an exclusive unreleased version of the song available as a free download on www.heavenbelow.com to show our appreciation. We're as excited as all of you to get this band louder and further.
HRH: Patrick, thank you so much for your time and generosity. All the best to you and the band. Please keep us posted on what's going on with Heaven Below!
PK: Absolutely. You know I will!!!
Watch the Heaven Below promo video on YouTube. http://www.youtube.com/user/HeavenBelowMusic
Order the Heaven Below EP on Amazon. http://www.amazon.com/Heaven-Below/dp/B0040T7FHS/ref=sr_1_6?ie=UTF8&qid=1287693921&sr=8-6
Visit Heaven Below online at:
http://www.facebook.com/pages/Heaven-Below/70819759934
http://www.myspace.com/heavenbelowmusic