Seven Thorns Return To The Past
by Joe Mis
Staff Writer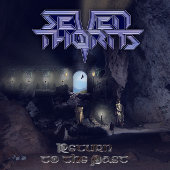 Denmark's Seven Thorns is ready to unleash a new assault on the power metal world with their upcoming album Return To The Past. The band has taken great pains to purify their music and make it the epitome of the genre, and have succeeded remarkably well. Filled with hooky riffs, booming drums and solid vocals, this album will please any power metal fan.
Lyrically powerful and musically solid, Seven Thorns' roots reach back to 1998, but the band really solidified when drummer Lars Borup joined forces with vocalist and songwriter Mik Holm. Numerous internal issues plagued the band and their first album was recorded but never released. Finally the group finally managed to stabilize and focus on their music.
"Liberty" opens the album with big sweeping guitars and a powerful drum line. The theme of fighting one's own battles and not folding to outside pressures recur throughout the album. Guest guitarist Olaf Lank lays down a remarkable solo that highlights both his own talent and that of regular guitarists Gabriel Tuxen and Christian Strojer. "End Of The Road"gives keyboard player Asger Nielsen a moment in the sun, and the passionate voice of Erik Blomkvist blends nicely with the classically tinged guitar work of Tuxen and Strojer. "Through The Mirror" turns the speed down from 11 to 10 and gives drummer Borup and bass player Nicolaj Marker a chance to stretch their legs. This track have a very classical feel and could have easily appeared on one of Yngiwie's albums. Nielsen's keyboard work is quite slick here as well, making this easily the best track on the CD. Superb vocals and great teamwork highlight the galloping "Freedom Call," along with some excellent guitar solos.
"Countdown" gallops along at high speed and allows Blomkvist to push the top of his vocal range. The opening of "Forest Majesty" is the only real break in the album's intensity, but the double bass attack begins anew almost immediately. "Spread Your Wings" has a great opening riff – very much a conventional metal groove, but as before the rapid fire drums and bass return in earnest. "Fire And Storms" and the finale "Return To The Past" compete the aural assault.
Having refined their music to such a pure extreme makes Return To The Past a power metal showcase, but the album is so pure it is like drinking distilled water – sooner or later you need something with a different flavor. Almost all of the tracks have the same underlying tempo and the drum attack seldom seems to vary in speed or intensity. There is some variation in vocal timing and tempo, but at times it seems that different lyrics are the only way to tell one song from another. Non power metal fans will probably like each track on its own, but the relentless pounding across the CD will quickly wear them out. This aside, Return To The Past is slickly produced and well engineered. Everything is crisp and clear, as power metal should be.
Fans of power metal will love this album, but Seven Thorns will probably not bring new fans into the genre due to the unrelenting intensity and lack of easy differentiation between the songs. The band is definitely pure traditional power metal, and play their music with fire and passion. Immensely talented, Seven Thorns will only get better as they grow and begin to vary their sound and add some real originality to their tracks. If you like pure power metal with a hint of classical inspiration, don't miss it.
Return To The Past drops on 14 January 2011.
Genre: Power Metal
Band:
Erik "EZ" Blomkvist (vocals)
Lars "Laske" Borup (drums, backing vocals)
Nicolaj Marker (bass, backing vocals)
Gabriel Tuxen (guitar, backing vocals)
Christian B. Strojer (guitar, backing vocals)
Asger W. Nielsen (keyboard, backing vocals)
Mik Holm (backing vocals, composer)
Guests: Mikkel Henderson (keyboards), Olaf Lenk (guitar solo on "Liberty" & "Return to the Past")
Track Listing:
1. Liberty
2. End of the Road
3. Through the Mirror
4. Freedom Call
5. Countdown
6. Forest Majesty
7. Spread Your Wings
8. Fires and Storms
9. Return to the Past
Label: Nightmare Records
Website: www.myspace.com/seventhorns , www.seventhorns.com
Hardrock Haven rating: 7.5/10