Volbeat Beyond Hell, Above Heaven
by Justin Gaines
Staff Writer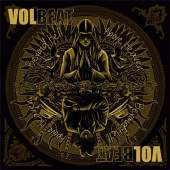 It's been a hell of a ride for Danish heavy metal band Volbeat. Their 2008 album Guitar Gangsters and Cadillac Blood was extremely well-received, garnering coverage in the notoriously metal-averse Rolling Stone, and they were hand-picked to open for none other than Metallica on the US and European legs of their Death Magnetic tour. The world was taking notice of Volbeat's unique brand of metal, which meant the pressure was on for the band to deliver with their fourth album, 2010's Beyond Hell, Above Heaven.
If you're not already familiar with Volbeat, you're in for a treat. They bill themselves as "Elvis Metal," and that tag works as well as any. They've got a wild mix of Danzig, Social Distortion, Metallica, Johnny Cash and of course Elvis Presley in their punk and rockabilly-infused, ass-kicking heavy metal sound.
Beyond Hell, Above Heaven is a continuation, both stylistically as well as conceptually, of Guitar Gangsters and Cadillac Blood. As soon as the high-octane opener "The Mirror and the Ripper" opens, you feel that familiar energy and know Volbeat is as strong as ever. It's all high-speed riffs, crushing rhythms and catchy, rockabilly-inspired melodies, plus of course Michael Poulsen's hugely powerful, Elvis-style vocals. Whether you're banging your head to the thrashing "7 Shots" or "A Warrior's Call" or singing along with the melodic "Fallen" or "Thanks," Beyond Hell, Above Heaven is an instant favorite, lodging in your head and refusing to leave your CD player (or MP3 playlist).
There are a few memorable guest appearances on Beyond Hell, Above Heaven, including Kreator's Mille Petrozza and King Diamond's Michael Denner on "7 Shots" and Napalm Death's Barney Greenway providing harsh vocals on "Evelyn," both of which are highlights of this already strong album.
Beyond Hell, Above Heaven is another amazing album from a band that has the potential to take the world by storm. Expect to see this one atop a lot of "best of 2010" lists.
Edition Notes: The Limited Edition version of Beyond Hell, Above Heaven contains a cover of the Misfits' "Angelfuck" as a bonus track. It's well worth hearing, as the band definitely put their unique "Elvis Metal" spin on the classic punk song.
Genre: Heavy Metal
Band:
Michael Poulsen (v) (g)
Anders Kjolholm (b) (v)
Jon Larsen (d)
Thomas Bredahl (g) (v)
Track Listing:
1. The Mirror and the Ripper
2. Heaven Nor Hell
3. Who They Are
4. Fallen
5. A Better Believer
6. 7 Shots
7. A New Day
8. 16 Dollars
9. A Warrior's Call
10. Magic Zone
11. Evelyn
12. Being 1
13. Thanks
Label: Mascot
Website: www.volbeat.dk
Hardrock Haven rating: 9.5/10