Astral Doors Testament of Rock – The Best of Astral Doors
by Justin Gaines
Staff Writer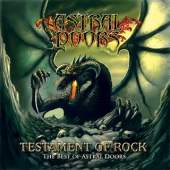 It's perfectly appropriate that the cover art for Testament of Rock, the new "best of" collection from Swedish metal band Astral Doors, features an enormous dragon that would make the late Ronnie James Dio (RIP) proud. Astral Doors nicked pretty much everything else from Dio, so they might as well claim the role of metal dragonslayers as well.
Perhaps that's a bit harsh. Dio was a huge influence on the power metal genre, so it's understandable that a modern band might reflect – however strongly – that influence. Still, between vocalist Nils Patrick Johansson's dead-on vocals (funny how this never comes through when he's singing for Wuthering Heights) and songs like "Slay the Dragon," "Evil Is Forever" and "Time To Rock" (what, nothing about rainbows?), you often get the feeling Astral Doors is trying a bit too hard to imitate a legend.
Issues of originality aside, this is a fantastically talented power metal band, and they do this kind of music very well. They've also been around long enough to warrant a retrospective like Testament of Rock, which collects 13 of the more memorable Astral Doors songs plus one new track. You get three songs from the 2003 debut Of the Son and the Father (or Cloudbreaker if you have the Japanese release), four from 2005's Evil Is Forever, two from 2006's Astralism (these songs have been remixed and remastered), two from 2007's New Revolution, and two songs from last year's Requiem of Time, plus the new song "Victory," which is an English version of a song the band previously recorded in Swedish.
Testament of Rock hits all the highlights of Astral Doors' career to date, so it's a pretty effective "best of" collection, and one that does a great job of introducing the band to new fans. Compared to similar offerings by At Vance and Brainstorm though, it falls a bit short. What this collection needed, especially to entice their existing fans, is a second disc of Japanese b-sides (there are plenty to choose from), covers, and other rarities. "Victory" alone probably isn't enough.
Genre: Power Metal
Band:
Nils Patrick Johansson (v)
Joachim Nordlund (g)
Ulf Lagerstrom (b)
Johan Lindstedt (d)
Jocke Roberg (k)
Martin Haglund (g) (no longer with the band, but present on these recordings)
Track Listing:
1. Cloudbreaker
2. Time To Rock
3. Of the Son and the Father
4. Black Rain
5. Power and the Glory ROT
6. Bride of Christ
7. Slay the Dragon
8. New Revelation NR
9. London Caves
10. Evil Is Forever
11. Lionheart
12. Quisling NR
13. Victory
14. Testament of Rock ROT
Label: Metalville
Website: www.astraldoors.com
Hardrock Haven rating: 7.5/10