Chastain For Those Who Dare
by Justin Gaines
Staff Writer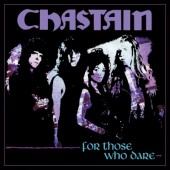 Originally released in 1990, For Those Who Dare was the fifth studio album from Chastain, the band formed by guitar wizard David T. Chastain. For Those Who Dare was also the final Chastain album to feature original vocalist Leather Leone. If you're familiar with Chastain, hers is a name that immediately brings to mind one of metal's most distinctive voices. With a vocal style inspired by Ronnie James Dio, Leather was a true metal vocalist with enough vocal power to compete with the best in the business, regardless of gender.
For Those Who Dare is an interesting Chastain album, and one that remains overlooked 20 years later. The focus of the album remains split between David T. Chastain's guitar heroics and Leather Leone's powerhouse vocals, but there is a noticeable progression in the band's sound. Chastain managed to sound heavier and more aggressive without trying to imitate the emerging thrash metal sound, which was no mean feat in 1990. Chastain's intricate solos were paired with positively thundering rhythms, which only amplified the heaviness Leone was bringing. The band's cover of the Heart staple "Barracuda," which could have been extremely cheesy, ended up being one of the album's highlights, but it was original songs like "Night of Anger," "Please Set Us Free" and the powerful title track that really defined For Those Who Dare's sound.
Divebomb's 2010 reissue of For Those Who Dare puts this album back into fans' hands after a long absence. The reissue does not include any bonus material, but the songs have all been digitally remastered and the liner notes feature tons of photos and an extensive interview with David T. Chastain. Just having the album back in print is a welcome development, but between the improved sound quality and the expanded liner notes, the reissue of For Those Who Dare is a must-have for Chastain/Leather fans. If you're debating whether or not to pick it up; the reissue is limited to 1000 copies, and is not available in MP3 format, so it won't be around forever.
Genre: Heavy Metal
Band:
Leather Leone (v)
David T. Chastain (g) (v)
David Harbour (b)
John Luke Herbert (d)
Track Listing:
1. The Mountain Whispers
2. For Those Who Dare
3. Please Set Us Free
4. I Am the Rain
5. Night of Anger
6. Barracuda
7. Light in the Dark
8. Secrets of the Damned
9. Not Much Breathing
10. Once Before
Label: Divebomb Records
Website: www.leviathanrecords.com/chastain.htm
Hardrock Haven rating: 7.5/10