by Ron and Don Higgins
Staff Writer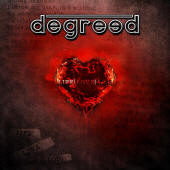 Life Love Loss is the impressive debut album by the Swedish hard rock band Degreed released on MelodicRockRecords.  If you are a fan of Andrew McNeice's new record label or web site, then you'll have a pretty good idea of what to expect from this band.  They are talented musicians who have the ability to write catchy melodic songs and the production is top of the line.
This album is amazingly well crafted, especially considering it's a debut album.  This is a young band that sounds like they've been playing together for decades.  They have had some success in Europe and now it's time for the rest of the world to hear what they've been missing.  Degreed is currently a five member band that formed in 2005.  In 2006 they participated in Emergenza and won the Swedish/Nowegian/Finish finals.  Then in 2008, lead singer Robin Ericsson came in sixth place on Swedish Idol.  And now in 2010 they have released a fantastic record.  Not a bad start for a young band!
The thing that's great about Degreed is that, although the songs are catchy, you can't escape the fantastic musical talent of these five guys.  It's easy to just say that they are good: good band, good singing, good musicianship, good songs, good album, etc.  But it's more complicated than that because they have big hooks and catchy choruses reminiscent of '70s and '80s AOR and melodic rock and yet they sound so fresh and modern.  The songs vary from hard rock to melodic rock with hints of metal and also some progressive rock thrown in for good measure.  While listening to the album you can hear inspirations from Journey and Night Ranger to Hoobastank and Enchant all the way to Stratovarius, all wrapped up in catchy songs with strong vocals.
The album starts off strong with "B.O.D.", which is a rocking song that has some progressive moments but is very accessible.  Next is "Arms of Misery" which starts off with some cool, ethereal keyboards and then settles into a great, modern-sounding melodic rock song. 
"A Little Bit" kicks things up a bit with some crunching guitars and strong vocals along with a catchy chorus that you can't stop singing.  The fourth track, "Captured by the Moment" is a nice surprise as it's a cover song from Steve Perry's first solo album Street Talk.  You know the band has confidence if they start covering Steve Perry on their first release.  The bigger surprise is just how good this version is.  Although Steve Perry is a legend for good reason, this version is just as good, and possibly better, than the original.  That's just because this one is so fresh and modern sounding (in a good way). 
This is a standout track as is the next one, "Just Imagine".  The keyboards and guitar work together at first to give this a bit of an '80s feel.  It's another one you can sing with and has great musicianship with an excellent, shredding guitar solo in the middle.  "Story of Life" is another rocker.  Vocals are reminiscent of Danny Vaughn and the drums stand out too. 
"Human Being" is another standout.  It's a progressive, heavy rocker that starts out with vocal effects and a "Deep Purple" sounding keyboard.  Then another catchy chorus follows.  The song changes continually and has another great instrumental break.  This is a great song!  
The next song, "Color Me" is the most '80s sounding with keyboards and even a cowbell — Nice!  "Catch the Feeling" starts off with shredding guitar that comes back in the middle of the song.  Most of the song sounds like a modern, up-tempo Journey song.  This is another great song that showcases the drumming as well as the other musicians' chops. 
"Keep Me Alive" is a solid, modern-sounding melodic rock song that, in a perfect world, should be getting lots of radio airplay.  "My Fall" is another up-tempo, radio-friendly song. 
The album ends with "By Your Side".  It's a complete change from the rest of the album.  It's a slow, orchestrated ballad.  Because of all of the different styles and changes throughout the album, you kind of expect this song to morph into something else but it never does.  It takes a couple of listens to truly appreciate this song.
This is a very strong album from a great new group.  The harmonies and choruses are strong enough to make the album easy to listen to but the strong musicality makes you want to listen to it over and over again.  Maybe on the next album they will do an all instrumental song to further showcase their talents.  And since the lead singer also plays bass, he won't be left out!
In summary:  Buy this album.  You won't be disappointed!
Band:
Robin Ericsson – Lead vocals and bass
Daniel Johansson – Guitars and backing vocals
Jesper Adefelt – Guitars and backing vocals
Mikael Jansson – Keyboards
Mats Ericsson – Drums
Track Listing:
01) B.O.D.
02) Arms of Misery
03) A Little Bit
04) Captured by the Moment
05) Just Imagine
06) Story of Life
07) Human Being
08) Color Me
09) Catch the Feeling
10) Keep Me Alive
11) My Fall
12) By Your Side
Website: www.degreedmusic.com
Label: www.MelodicRockRecords.com
Hardrock Haven Rating: 9/10