by Joe Mis
Staff Writer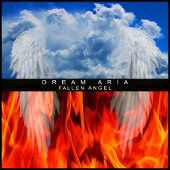 More than snow and winter winds are blowing out of the Great White North in early 2011. Toronto's own rising progressive metal stars Dream Aria will be releasing their third album entitled Fallen Angel in January, and it is a unique experience. Blending elements of traditional metal and rock, techno, progressive metal, classical, New Age and Gothic metal, Dream Aria does their best to be something different.
Fronted by the haunting voice of Ann Burstyn and dynamic keyboards of Don Stagg, Dream Aria takes the listener on a musical journey. Not quite a "rock opera," Fallen Angel's storytelling is more thematic, following an angel through the "Carnival Of Souls" in her quest to understand mankind. Burstyn has a very good voice – smooth and clear, and when she switches into her operatic mode she delivers a good deal of power. Don Stagg does a good job with the keys, stepping to the fore when needed and content to stay in the background at other times. Drummer and producer Gary Flint does a good job on both sides of the sound board, laying down some dynamic drum lines throughout the album, and providing excellent mixing and production. Bassist and acoustic guitarist Jon Casselman is the perfect compliment to the rest of the rhythm section, laying down energetic and fluid bass lines. Adding to the diverse sounds of Dream Aria is an array of talented guitarists – Mark Crossley, Kurt Schefter, Tim Welch, Mike Phelps, Rob Masiokas and Mark McLay.
"Fallen Angel" kicks off the album with some great progressive tempo changes and solid bass and drum work and some interesting layering of the guitar tracks. Powerful guitars and leaping keyboards (and a spoken introduction by Russian actress Maria Ouspenskaya from 1941's The Wolfman) are the highlights of "Gypsy Heart," while amazingly intense bass leads into the energetic "Abstract Relations." "A Tale Of Two Wolves" slows things down a bit and allows Ann Burstyn to show off the true depths of her vocal talents with a nice bit of self-harmonization before the prog tempo changes move the song along.
"The Illusionist" is a nice change of pace – part mid-tempo rocker, part ballad. This track gives Ann a chance to show off the softer and smoother side of her vocals. "Carnival Of Souls" is one of the high points of the album – it has almost an old Styx feel to it and is simply a fine rocker – definitely a carnival or circus atmosphere here. Great vocals and wonderful upbeat musicality make this track an absolute winner. "Healer" is a fine vocal and guitar-driven softer rock piece. Well written and well performed, it features some great guitar and keyboard passages. Drums and bass drive "The Gift", and excellent vocals join with great guitars and keys making this track Dream Aria's showpiece. Moody keyboards and eerie vocals open the epic final track, "Winter Storm." This almost eight-minute track is primarily instrumental and has at times a Savatage/TSO feel to it, and an old school Styx/ELO tone at others. The untitled tenth track is a quick spoke "outro".
The production and sound quality of the entire album is top-notch. Crisp, clean and musically dense, the band easily sets the mood for each track with well balanced instruments and a fine mix on the vocals. The diversity of musical styles is handled flawlessly by all involved. Musicianship is excellent throughout, and despite most tracks being up tempo rockers each one is just bit different from the others allowing the album to stay fresh and interesting.
Any progressive metal fans will enjoy this album, as will most melodic rock fans. The complex arrangements and depth of the music make this album a treat for the ears. With a little luck, Fallen Angel may be the album that lifts Dream Aria from MySpace to the big time.
Highly recommended!
Genre: Progressive Metal
Band:
Ann Burstyn (vocals)
Don Stagg (keyboards)
Garry Flint (drums)
Jon Casselman (bass, acoustic guitar)
Mark Crossley (guitars – tracks 1,2,4,5)
Kurt Schefter (guitars – tracks 4,5,9)
Tim Welch (guitars – track 1)
Mike Phelps (guitars – tracks 3,7)
Rob Masiokas (guitars – track 8 )
Mark McLay (guitars – track 6)
Track Listing:
1. Fallen Angel
2. Gypsy Heart
3. Abstract Relations
4. A Tale of Two Wolves
5. The Illusionist
6. Carnival of Souls
7. Healer
8. The Gift
9. Winter Storm
10. Untitled
Label: Indie
Website: http://www.myspace.com/dreamariacanada
Hardrock Haven rating: 8.5/10