by Alex Barbieri
Staff Writer
Glenn Gyorffy (aka Glenn Five or G5) of Anvil is one of the most underrated and inspirational bassists in rock. His aggressive yet melodic style helped revive Anvil from obscurity in the '90s. No less important was his dedication to his Anvil brothers, Steve "Lips" Kudlow and Robb "Robbo" Reiner, without which the band might have never survived and realized the success of the "Anvil: The Story of Anvil" film.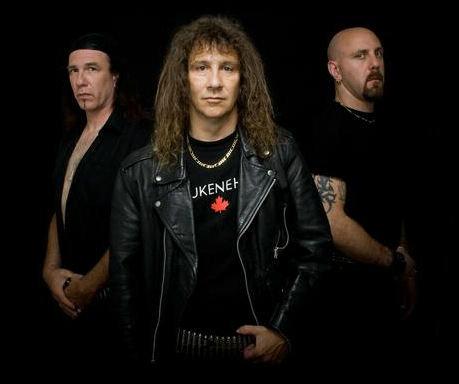 In this rare interview, Hardrock Haven talks with Glenn Five—Anvil's quiet but no less crucial third member talks about life since the Anvil movie, their new album Juggernaut of Justice due in May and much more.
HRH: Glenn, thank you for your time. The first question that comes to mind is, how has your life changed since the worldwide acclaim of "Anvil: The Story of Anvil?"
Glenn Five: My pleasure Alex. Well, for starters playing with Anvil is my job now! I am very proud to say that. Playing music has always been part of my life and the fact that I get to do it as a career now is truly a dream come true.
The movie first premiered at the Sundance Film Festival in Jan 2008 and since then we have been incredibly busy appearing and performing at many film festivals all over the world and playing many shows in headlining and support positions. In 2009 we headlined the 3rd stage at "Loud Park" in Japan, the same festival where we went on at 11:35 a.m. three years earlier. And just this past year in 2010, Anvil did a world tour starting in North America then on to Australia and Japan and Europe where we finished at the "Wacken Open Air Festival" playing after Slayer for 80,000 people.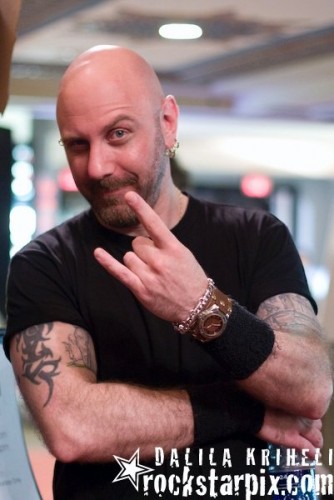 HRH: When you joined Anvil 15 years ago, did you ever think the band would realize this type of success? What kept you going through the years of obscurity?
Glenn Five: Absolutely!! As soon as I started playing with Anvil, I knew something special was happening. I remember thinking 'This is where I belong,' and 'The world needs to know about this.' Those thoughts have kept me dedicated to Anvil and to Lips and Robb who accepted me into their life-long endeavor.
Many people have called our journey a struggle—and to a certain extent it has been. But continuing on hasn't been the struggle, that part is easy when you have the self-belief and love what you do. It has been getting the rest of the world to take notice that has been the real hard part.
HRH: When did you realize you were, as Lips called it, "a lifer?" All in, 100% dedicated to Anvil, come what may?
Glenn Five: I've been playing music my whole life, as long as I can remember. Being an artist is a life-long thing, whether by choice or not. Being a "lifer" means by choice! By realizing that this is who you are and what you are meant to do is choosing to be a "lifer." I don't think you can make this choice until you are already doing it, loving it … living it! Even though I played for years before I joined Anvil, it was after I started playing with Lips and Robb that I learned what it meant to dedicate myself to my art. To really live it, not just do it.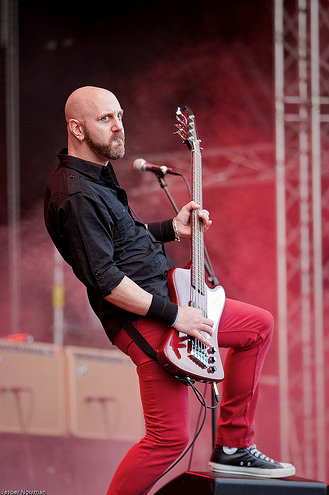 HRH: Going back in time, who and what inspired you to play bass and how did you get the nickname Glenn Five or G5?
Glenn Five: As I said earlier, I've been playing music my whole life. As a child I played organ and piano, then I started playing guitar when I was 7, and also trumpet and tuba in orchestras in school. But when I was about 14, one of my older cousins gave me a bass. It was around this time that I heard Iron Maiden's Number of the Beast album and heard the amazing bass playing of Steve Harris and thought, 'Hey, I have a bass! I'm gonna try that!!' Not long after that, a friend told me I should listen to this guy named Cliff Burton who plays in Metallica. I've been a bass player ever since!
There are a few stories as to how I got the name G5. The "G" stands for Glenn, that's the easy one. There are many reasons for the 5—too many to count to be honest. 5 was a nickname that my friends gave to me before I joined Anvil. It was simply a number that sort of followed me around and would pop up in my life very often. The fact that I mostly play a 5-string bass is probably why it stuck as my name in the band.
HRH: For the technical musicians out there, please describe your bass rig and equipment. Any endorsements you'd like to talk about?
Glenn Five: I am admittedly not one of those "gear head" musicians. But I do love the sound I get from my two Peavey Tour 700 amps and two Peavey 8×10 cabinets. I run both stacks separately with a splitter. I'm also endorsed by Gibson/Epiphone so I primarily I use Gibson 5-string Thunderbirds and an Epiphone Jack Cassidy semi hollow 4-string. But I also play a 12-string bass called "The Wraith" made by October guitars and an EDR-5R/FM bass made by Fujigen in Japan. I use D'Addario strings on all.
HRH: What are some of your favorite memories promoting the Anvil movie and This Is Thirteen album? Any highlights or crazy stories you can share?
Glenn Five: There have been so many exciting things we've done over the past few years. One of the most thrilling was appearing on "The Tonight Show" with Conan O'Brien. Not only getting to perform, but for Anvil to sit and do a couch segment as well was truly an amazing experience. Appearing on VH1's "That Metal Show" live from the Hard Rock Time's Square was quite cool too. But as a musician/performer it doesn't get much better than opening up for AC/DC at three of their stadium shows, including the now torn down and replaced Giants Stadium.
HRH: Wow, those are some amazing accomplishments, I'm sure made sweeter because of what Anvil has been through together. Take us through a day in the life of Glenn Gyorffy. Have you become much busier since the release of the Anvil movie?
Glenn Five: Well as you said at the top, I'm a quiet guy. So outside the band I lead a very simple, private life. A normal day for me not involving Anvil will be spent like any other regular guy. Especially now that we are on the road so much, when I'm home, I try to spend lots of time with family and friends.
I'm diabetic so I try to keep a healthy lifestyle with lots of exercise and a proper diet. Like I said, a very normal guy! It's this duality that keeps me grounded when I'm not on the road with the band. Being out there performing night after night is anything but simple and private, so when I'm home, I cherish that way of life.
HRH: What's next for Anvil and how do you define success in music and life?
Glenn Five: We just finished recording the next Anvil album titled Juggernaut of Justice. (Again, you read it here first HRH readers! – Alex.)
We recorded in L.A. with famed producer, Bob Marlette (Ozzy Osbourne, Saliva, Seether.) He has given Anvil one of its greatest gifts—a killer sounding album! We have always been proud of our albums in the past, but this one is by far the best sounding. Which is fitting considering it was written from a very positive place in all our souls.
After the release of This is Thirteen and the Anvil movie, we started writing this album and it just seemed to flow out of this great frame of mind and body. We are very proud and excited for the release which is in May. I should mention that it will be released in North America by The End Records.
But next on the schedule are seven shows in South America at the end of February and beginning of March. We are very thrilled about that because it will be the first time Anvil has been in South America and we hear our fans are rampant down there. Awesome!!!
I define success in music by simply doing it! Doing it to your fullest capability and sustaining longevity by never stopping at any cost. Even if it means never reaching the summit of the mountain, it's the climb that brings the most pride and self fulfillment.
HRH: Give us your first thought that comes to mind on the following names and words:
Bass: Makes music three dimensional! It's like drawing a circle on a piece of paper, it's just a circle until you add a shadow, then it becomes a sphere. Bass is like the shadow. Another analogy I like is that if the drums are the engine and the guitar and vocals are the sleek aerodynamic shape and a nice paint job, then the bass is like the tires. Not as nice to look at, or hear rev, but they keep the car on the road.
Metal: One of the genre's of music that I love the most. There is a brotherhood in metal that in my opinion is stronger and more passionate than any other type of music. Almost like metal fans have the same kind of struggle to be heard as the metal bands do. Metal is the "underdog" that we all love to root for.
Anvil Fans: Well a true Anvil fan is a true fan of music. Not someone who likes something because the guy next to you does. There is a passion and heart in all metal fans that seems to shine even brighter when they are an Anvil fan as well. You have to realize for more than a couple of decades there have been fans dedicated to Anvil when the rest of the world was telling them not to be, or at the least questioning why. I think our fans deserve as much credit as we do for sticking it out all these years.
The Music Business: Fragile! It takes so much work to get your foot in the door and it can so easily be swept away. Because it is just that! A business! It is a lot of work to get your foot in the door but even more work to get the door fully open and walk through before it closes shut in your face! I don't think it is possible to be a part of the business without all the business men and women on your team. Without managers and agents and lawyers, etc., it would be impossible to break in and stay there.
Lips: An innovator with self belief—a vital combination to be a front man in a band. And I might add that Lips is one of the best front men in the game. Also, it's an honour to be a co-writer with Lips. We have a special connection in that we can see wheels turning and hear thoughts forming in each other before they even appear.
Robbo: As a drummer he is a bass players "wet dream!" A genuine upfront man. Rarely will you find a more "real" person. Robbo tells it like it is.
Sacha: A genius with an unbelievably creative mind. A true friend and an angel to Anvil.
Hollywood: Shiny, sparkly, tasty, alluring … enter at your own risk!!! But very fun and we had some wonderful experiences and met some awesome people there.
Canada: A great place to live and a great place to come home to. Not necessarily the greatest place for an artist to showcase their talents but a country full of talented people who excel at their crafts. We just generally see them excelling in other countries.
HRH: Do you have any thoughts on the passing of Ronnie James Dio?
Glenn Five: I have some very personal thoughts and memories about Ronnie that are very dear to my heart. I don't mind sharing a few. Ronnie was one of the nicest men a person could ever get to know. He had a love for people and life that you come across rarely. He was the type of man who could meet you early in the day and then go off to do tons of interviews and 'meet and greets' and when he would bump into you again later in the day he would call you by name and ask how your day has been.
The last time I saw him was backstage after a Heaven & Hell show with Motorhead and Judas Priest. He was having a great time laughing and smiling. A fitting last memory of a truly amazing man.
HRH: Tell us something we don't know about Glenn Gyorffy.
Glenn Five: Hmmmm, tough to answer this one! As I said earlier, I'm a pretty private guy so I don't talk about myself very much. One thing I can say is that I'm a proud man with self esteem and many values and principles. And I don't let anyone or anything get in the way of that. These are important tools in my life and I would not compromise these attributes at any price. In the music business, in Hollywood—anywhere!
HRH: Do you give bass lessons, and if so, how can someone get in touch with you?
Glenn Five: No I don't give lessons. Everything I've learned has been pretty much self-taught, so I'm not sure I'd make a good teacher. I've tried to teach but I get frustrated quickly, which does not make for a good teacher! When I've been asked to teach I usually just give this piece of advice: 'If it sounds good keep it up, if it doesn't sound so good keep keeping it up. If it still doesn't sound so good, try another approach.' Basically what I'm saying is your ear will be a better teacher than me.
HRH: Is there anything else you would like to say to your fans and the Hardrock Haven audience?
Glenn Five: First off, I would like to thank Alex and Hardrock Haven. And I want to let the fans (new and old) know that we are fans of music as well, so we know what it means to love music and have favourite bands and go see live shows. So when we meet you at an Anvil concert, we are on the same level. We don't hold ourselves above the audience. We are the audience as well. Anvil fans make an Anvil show as special as Anvil itself.
HRH: Glenn, thanks again for your honesty and openness. You and Anvil are an inspiration to anyone with a dream—not just musicians—everywhere. All the best and please keep us posted on what's going on with Anvil.
Glenn Five: Thanks again Alex and HRH. We are looking forward to continuing on our amazing journey. Just now, we have many more people coming along for the ride with us, and that is very exciting!
http://www.youtube.com/watch?v=FF4H8lB2Y_o
www.facebook.com/pages/Glenn-Five…/62290202609
Official Anvil website: http://www.anvilmetal.com/