by Alex Barbieri
Staff Writer
In 2010, Accept not only returned to metal, they ripped the genre a new a**hole. Blood of the Nations has, almost unanimously, been heralded as 2010's metal album of the year. It is also—according the band's official website—turning out to be "the most successful release in the band's luminous history." So what's next for Accept? Singer Mark Tornillo took a moment to reflect on the past year and what's in store for the reigning kings of metal.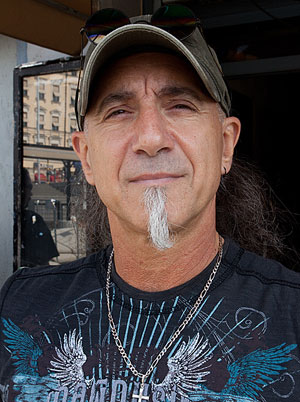 HRH: Mark, congratulations on the Blood of the Nations album and tour. My 14-year-old nephew Kyle and I both agree it is metal album of the year. How does it feel to know so may metal fans feel that way? Anything you want to say to the Accept fans out there?
MARK TORNILLO: I'm very happy that the new record is being accepted by the fans this way! We set out to make a classic Accept album and I think, with the help of Andy Sneap, we accomplished that.
HRH: What have been some of the highlights of 2010 for you? What shows stand out?
MT: Opening for AC/DC in Hannover and Stuttgart was the thrill of a lifetime! And the Sonisphere Festivals in Romania and Istanbul were amazing! We co-headlined with Rammstein and The Big Four. It doesn't get much better than that!
HRH: I read that Accept is launching the "Blood of the Nations Tour 2011" in mid-January. Where is Accept scheduled to go next?
MT: We'll be touring throughout Eastern and Western Europe from January until the end of March and then returning to do some festivals during the summer. We'll be in North and South America during the spring and shows are in the works for Australia and Japan. We're hoping to wind up the tour by the end of the summer and get back into the studio.
HRH: Accept played 16 countries in 80 days on this tour, and up to 14 shows in a row in Europe. How has the tour been physically on you? Do you enjoying touring more now or back in the day? Do you feel your voice has improved with age?
MT: Touring is physically demanding on all of us, but it's what we love to do! My throat is hanging in there. It's a muscle, the more you work it, the stronger it gets. I am definitely enjoying touring more now. It's a gift to be able to do it now and I appreciate it much more now than I did then.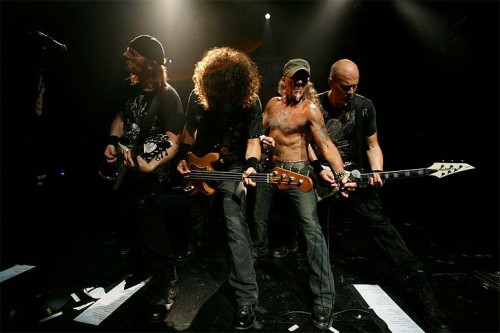 HRH: What adult beverages would be found in Accept's studio and on your tour bus?
MT: Beer and the occasional bottle of red wine.
HRH: What are your favorite songs to sing live off Blood of the Nations, and what are your favorite classic Accept songs to sing?
MT: "Bucket Full of Hate" and "No Shelter" so far. We'll be doing some others this time out, so I'll let you know! As far as the old stuff, what don't I like?? It's a killer catalog and I'm honored to be able to sing it every night! "Fast as a Shark" is a lot of fun, "Princess," "Breaker"…
HRH: Take us back to your first meeting with Peter Baltes and Wolf Hoffmann at that rehearsal room in New Jersey last year. What memories come back to you?
MT: We just hit it off really well, right off the bat. It was very comfortable, kinda like a bunch of guys who went to different schools together. We had a lot of fun playing together that day.
HRH: Looking back at the early to mid '80s, what are some of your fondest memories playing with TT Quick during that era? Any funny/crazy stories you can share?
MT: TT Quick has been my family for the past 30 years. There are endless stories, not too many that I can tell, but the fondest memories are always of us just being together – including the crew. We always hung out together, even when we weren't playing. Truly like a family.
HRH: What was the proudest moment of your musical career and why?
MT: The release of this album and the fan based and critical acclaim it's getting. It has far surpassed my expectations and I am humbled.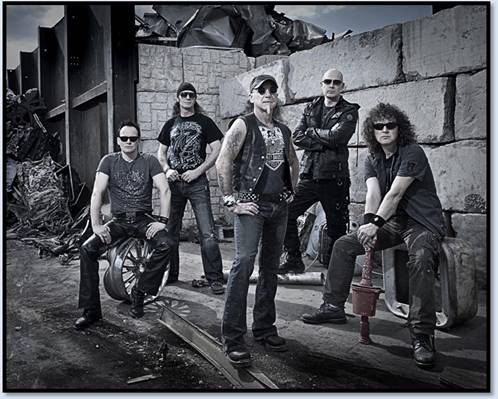 HRH: Any thoughts on the next album yet? Any song titles, album concepts or a title you can share? (Wink, wink.)
MT: Not giving away anything yet, but I DO have them!! We started writing as soon as the Blood of the Nations was completed.
HRH: Dan asks via Facebook:
"I was a huge TT Quick fan growing up in L'Amour's (famous rock club in Brooklyn, NY) backyard. How were you able to sing such demanding tunes night after night?"
Also, who makes more sense when they talk: Wolf Hoffmann, with his heavy German accent, or Dave DiPietro after three rounds of Jack Daniels?
MT: L'Amour was a huge part of our history, Dan. We opened it, and closed it. I think the energy in that club gave everyone the edge they needed to perform at a super-human level. And definitely Wolf Hoffmann!
HRH: Give us your first thought that comes to mind on the following names and words:
Metal: YES!
2010: Brilliant!
Europe: Coming!
America: Home!
The Music Business: Ugh…
Success: Work
HRH: Do you have any thoughts on the passing of Ronnie James Dio? If so, any personal stories you can share?
MT: Ronnie was always a huge influence on my writing and singing. The world lost one of the all time greats, and he will be missed for a long, long time.
HRH: Tell us something we don't know about Mark Tornillo. Anything you want your fans to know about you?
MT: I'm glad I took four years of German in high school!
HRH: Is there anything else you would like to say to your fans and the Hardrock Haven audience?
MT: I look forward to seeing you all on the road! Fists in the air, spreading the Teutonic Terror!!!!!
HRH: Mark, thank you again for your time answering these questions. Please stay in touch and keep us posted on what Accept is up to.
MT: Thanks Alex – it was a pleasure. Talk to you again soon!
Visit the official Accept worldwide website: http://www.acceptworldwide.com/
Watch the video for "Teutonic Terror" on YouTube: http://www.youtube.com/watch?v=req-oDf2ZRc
Friend Mark Tornillo on Facebook at www.facebook.com/pages/Mark-Tornillo/106273266078211
Order Blood of the Nations on Amazon.