by Joe Mis
Staff Writer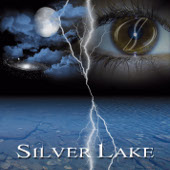 Rimini, Italy – the seaside resort known as the "Miami of Europe" and home of filmmaker Federico Fellini – is now also home to some American style progressive metal courtesy of the five-piece called Silver Lake. Filled with great vocals, lush keyboards, big hooky guitar riffs, Silver Lake's self-titled debut is a treat for any fan of progressive metal.
Originally formed in 2003 as a cover band called Exodiain and playing tunes by Dream Theater, Deep Purple, Angra and others, Silver Lake grew through numerous personnel changes and decided to start writing their own material. Having settled on a lineup, the band went to work and produced one of the stronger debut albums in recent memory. Silver Lake is 8 tracks of solid progressive metal, nicely recorded and well performed.
Davide Bertozzi fronts the band. He has a high range voice and uses it well whether singing lead or adding backing tracks. He stays within his range and is always clear and understandable despite a touch of Italian accent. Giovanni Matichecchia plays a very good guitar. He can blast out rapid-fire intense solos and classically inspired heavy riffs, but has a fine feel for the music and can deftly turn down his intensity to match the mood. Riccardo Fabbri keyboards are a great counterpoint to Matichecchia's guitar work and he seems equally comfortable whether playing background or taking the lead. Guest shredder Simone Mularoni (Empyrios) makes a fine teammate throughout. The one-two punch provided by Luigi Rignanese (bass) and Andrea Urbinati (drums) is one of the finest in progressive metal today. Both blend nicely into the background while anchoring the music, but both also step into the spotlight on numerous occasions – nice to hear some good bass soloing!
"Before The Storm" opens with some subtle keyboards and quickly switches to big guitars, bass and drums and features numerous prog metal tempo changes. This track shows what Silver Lake has to offer – good songwriting, solid vocals, catchy rhythms and outstanding musicianship. "Help Me To Fight The Rain" brings much more speed and aggression to the front, along with a very kicky groove, big chorus and some impressive use of the spoken word in the introduction.
The instrumental track "Break" dials it down while opening with some awesome bass and keyboard riffs before layering in some choppy guitars. This one definitely has a Dream Theater / Coheed and Cambria feel to it but is not a copy of either, and it gives all the band members a chance to show their chops. Big drums and a slow rock groove dominate "Life," but this track is a vocal showpiece featuring guest singer Michele Luppi (Vision Divine, Los Angeles, Heaven).
Reaching back to their cover band roots, Silver Lake has retooled Skid Row's "Slave To The Grind" and given it some unique twists (double bass, keyboard solo), and it works very well for them although Bertozzi doesn't quite have Sebastian Bach's range or power. Somehow they've managed to increase the intensity of an all time classic, but Bertozzi's accent is a bit more pronounced than on some of the other tracks. "Holy Affinity" has a very European sound to it, filled with rich vocal harmonies, massive drums and many progressive tempo changes. Fine piano work is the high point of the mellow and poignant ballad "Meet You Again." Great pianos again open the band's eponymous track "Silver Lake." This song seems to be Rush meets Coheed, and the band seems to go all out. Great drums, massive guitar solos, big bass, fine vocals – progressive metal at it finest.
Silver Lake is a very good album, and Silver Lake is a very good band. They work together like a veteran band and have obviously have put much effort and care into all aspects of the album. The band takes production and arrangement credits and has worked closely with Michele Luppi, Simone Mularoni and Gabriele Ravaglia at Italy's famed Fear Studio.
If you like progressive metal Silver Lake will not disappoint. Solid musical talent, good songwriting and fine engineering make this one a contender for almost any of 2011's "best" lists despite a January release. This is a band with a bright future, so get in on the ground floor and pick up one of the better debut albums ever. Very highly recommended!
Silver Lake will be released by the 7Hard label on 14 January 2011.
Genre: Progressive Metal
Band:
Davide Bertozzi – vocals
Luigi Rignanese – bass
Riccardo Fabbri – keyboards
Giovanni Matichecchia – guitars
Andrea Urbinati – drums
Guest musicians: Michele Luppi (vocals on "Life"), Simone Mularoni (guitars)
Track Listing:
1. Before The Storm
2. Help Me To Fight The Rain
3. Break
4. Life
5. Slave To The Grind
6. Holy Affinity
7. Meet You Again
8. Silver Lake
Label: SG Records / 7Hard Records
Web site: www.silverlake5.com; www.7hard.com
Hardrock Haven rating: 9/10