by Derric Miller
Staff Writer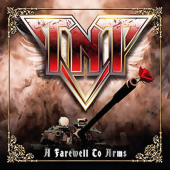 Over the course of the last two TNT studio albums with singer Tony Mills — The New Territory and Atlantis — TNT was on the precipice of a literal "farewell to arms." Guitar God Ronni Le Tekro let his freak flag fly on those two albums, becoming more artsy and quirky than heavy, and the fans were not forgiving. Unfairly or not, Mills took a lot of the heat as well; perhaps the fans did not understand that when Tony Harnell left the group, Le Tekro held most of the sway when it came to songwriting.
A Farewell to Arms was the title Le Tekro created when Mills suffered a heart attack; the band feared this would be the last TNT release, perhaps ever. Luckily for music in general, Mills bounced back and is in good health; the band is even calling the new release Engine in Scandinavia. That too is apropos, because TNT has restarted their engines and released the best music you've heard from them since My Religion.
The opener, "Engine," is all balls out, with Le Tekro churning out a heavy duty riff. The song suddenly bounces into a chugging racer, happy as hell with lines like "Let the sun shine in my heart! I hear my favorite song but the radio isn't on …" A tad repetitive but groovy enough for any stripper to disrobe to, "Engine" is the perfect intro to the rest of the release.
"Ship in the Night" owns that classic TNT riffage, a sound familiar yet new. Mills' vocals soar here, almost eerily stunning he's so good. This may remind you a bit off of something on Intuition, all pomp and melody and perfection.
It seems the band is back to having fun; maybe it took them three releases together to find a common plain. Regardless, "Take It Like a Man … Woman" is hilarious. It's basically just a song about sex, and a lot of it. Played at a breakneck pace but still featuring those mammoth harmonies fans have nearly come to take for granted, you'll go back to it again and again. The most amazing piece of this composition is Le Tekro's solo. The sheer chaos he creates, the sounds he forces his axe to emit … no one else can do what he can do. Why he isn't always near the top of the "Greatest Guitar Players" list in whatever magazine is a travesty.
If you were a fan of China Blue, which featured Mills as the singer, then "Don't Misunderstand Me" will definitely be one of your favorites. The track opens with the chorus, and it's one the most AOR-leaning songs on the album. However you define what a hit song is today, well, "Don't Misunderstand Me" is that definition.
In the initial press releases announcing the new album, TNT kept calling it a return to the past, to how heavy they were on Knights of the New Thunder. They don't disappoint, especially on the title track. "A Farewell to Arms" is a frantic, passionate track with Mills using his effortless higher range and Le Tekro's rhythms off the chart. After giving the new album a few spins, you will be unable to pick a favorite track, because all of the songs here are so damn good.
Just when you thought it couldn't get better, then you hear "Someone Else." The odd paced fills on the drums from Diesel Dahl perfectly match the lyrics, with Mills singing lines like "And if you were someone else, then I'd probably never even be myself."
TNT also re-recorded the classic anthem "Harley Davidson," and although the purists will argue against it, the track is exponentially better with Mills manning the mic. It just is …
A Farewell to Arms is, in essence, far stronger than even their biggest fans could have hoped for. They could not have afforded to create another album the fans would deem lackluster. Instead, like Mills himself, the band has a new lease on life. All you have to do to create your own superlatives is pick up the album the minute you can in your territory, and give an ironic "welcome back!" to A Farewell to Arms.
Genre: Hardrock / Metal
Label: Metal Haven
Band:
Tony Mills (v)
Ronnie le Tekro (g)
Victor Borge (b)
Diesel Dahl (d)
Online: www.tnttheband.com
Track Listing:
1. Engine
2. Refugee
3. Ship In The Night
4. Take It Like A Man – Woman
5. Come
6. Barracuda
7. Signature On A Demon's Self Portrait
8. Don't Misunderstand Me
9. A Farewell To Arms
10. Someone Else
11. God Natt, Marie
12. Harley Davidson (European bonus track)
12. Not Only Lonely (Japanese bonus track)
Hardrock Haven rating: 8.9/10