by John Kindred
Staff Writer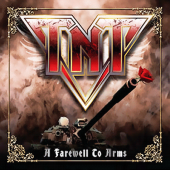 After two albums with vocalist Tony Mills, TNT finally may have settled down a bit, returning to a heavy, less experimental vibe on their third studio album, A Farewell to Arms, with Mills. Sans Tony Harnell and Morty Black, Ronni le Tekro and Diesel Dahl dabbled in experimentation on '07's A New Territory and '08's Atlantis. Now continuing on with Mills and bassist Victor Borge, TNT has broken in the new lineup and is ready to rock again.
Produced by Ronni le Tekro at his infamous Studio Studio in Norway, A Farewell to Arms features 11 new songs and features a redo of "Harley Davidson," which originally appeared on their self-titled debut release back in '82, as a European bonus track. The song "Not Only Lonely" appears on the Japanese release as a bonus track.
With 12 studio albums under their belt, it is easy to hear that the composition is strongly influenced by Tekro. With Tekro and Mills credited as writing the majority of the music, it's easy to see why Mills was asked to join the band. His vocal range is a perfect match for Tekro's frantic guitar playing. At times, his vocals are eerily similar to Harnell but not in a copy-cat way, maybe it's just that he has incredible range and can sing way up in the stratosphere, which is exactly where Tekro playing is.
A Farewell to Arms is heavy, and it's melodic … OK, it's also a bit experimental. But this time around, that experimentation is reigned in considerably. From the opening song, "Engine," the heaviness (ala '84's Knights of the New Thunder) and urgency of A Farewell to Arms grabs you. The album contains familiar melodies that are reminiscent of '04's My Religion.
Tekro slows things down on the acoustic instrumental song, "A Signature on a Demon's Self-Portrait." The song, "God Natt, Marie," is the only ballad-style song on the CD. It has a folk-sounding, almost Blackmore's Night vibe. As for the rest of the album, melodic vocals, harmonized guitar passages and solos and Tekro's heavy rhythmic crunch dominate the CD. Lets not forgot the underlying foundation of each song, which is built on the backs of Dahl and Borge.
From a fan perspective, after veering off the path to find a new identity, TNT returns with a vengeance. A Farewell to Arms hits you a lot like My Religion did when it came out. The main difference between the two albums is the guitars are heavier. There's not a bad song on the CD.
Genre: Hardrock / Metal
Label: Metal Haven
Band:
Tony Mills (v)
Ronnie le Tekro (g)
Victor Borge (b)
Diesel Dahl (d)
Track Listing:
1. Engine
2. Refugee
3. Ship In The Night
4. Take It Like A Man – Woman
5. Come
6. Barracuda
7. Signature On A Demon's Self Portrait
8. Don't Misunderstand Me
9. A Farewell To Arms
10. Someone Else
11. God Natt, Marie
12. Harley Davidson (European bonus track)
12. Not Only Lonely (Japanese bonus track)
Hardrock Haven rating: 9/10