Velvet Revolver Live In Houston, Texas
by John Kindred
Staff Writer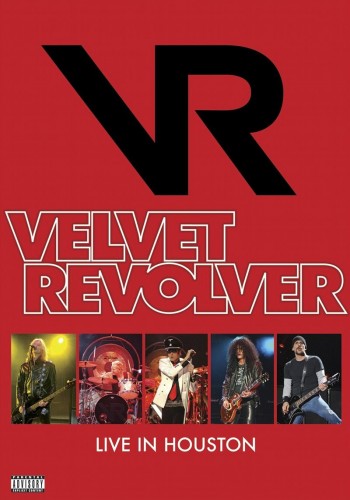 All has been quiet on the Velvet Revolver homefront since the departure Scott Weiland. So, with the search for a new singer now approaching three years, we have Velvet Revolver: Live in Houston, Texas to tie over diehard fans. Recorded in 2005 in support of their debut studio album, Contraband, in Houston Texas. Slash, Duff, Dave Kushner, Matt Sorum and Scott Weiland take us through their 12-song set that includes music from their debut album and two songs each from Guns 'N Roses and Stone Temple Pilots.
Live In Houston, Texas was directed by Kevin Kerslake, whose directorial approach to the DVD combines the live concert footage spliced with interviews and behind-the-scenes footage between each song. The DVD also includes footage of Playboy Playmate Irina Voronina, wearing a Nazi uniform, which must have been inspired by Weiland past visual antics.
The video of the live performance shows Weiland's character to be that of a poser, who lacks originality. His sickly visage and monotone vocals don't boost the band's performance beyond mediocre. The band's originals songs are OK live, but they don't compare to the Guns 'N Roses material. That being said, Wieland is nowhere close to being a stand in for Axl Rose.
If this is a band-sanctioned release, it was put out to bide time with fans so the band could find a new singer. Honestly, they need to find an unknown vocalist to avoid being compared to either Guns 'N Roses or whatever band the new singer hails from. Slash's solo album demonstrates that he can escape the Guns 'N Roses comparison with his writing and recording when he tailors his writing style to reflect the artists vocal style he is working with.
Seeing Slash live in 2010 with Alterbridge's vocalist Miles Kennedy gives hope that Velvet Revolver will find a talented singer to replace Scott Weiland, then the band can get on with producing better original songs for fans to digest.
Band:
Scott Weiland (vocals)
Slash (guitar, background vocals)
Dave Kushner (guitar)
Duff (bass guitar, background vocals)
Matt Sorum (drums, background vocals)
Track Lisitng:
1. Sucker Train Blues
2. Do It For The Kids
3. Headspace
4. Crackerman
5. Illegal I
6. It s So Easy
7. Fall To Pieces
8. Big Machine
9. Set Me Free
10. Used To Love Her
11. Slither
12. Sex Type Thing
Hardrock Haven rating: n/a