ColdSpell Out from the Cold
by Alex Barbieri
Staff Writer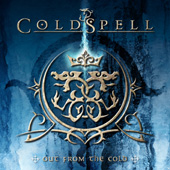 ColdSpell's 2009 debut, Infinite Stargaze, was one of the instantly impressive hard rock releases of that year, lauded for its tight songwriting and masterful performances. The Swedish band rightfully earned thousands of international fans and topped many "Best of 2009" album lists.
ColdSpell was quiet in 2010 (at least in the U.S.), but recently released the much-anticipated follow up to Infinite Stargaze. Titled Out From The Cold—first announced on Hardrock Haven a few months back in an interview with guitarist Michael Larsson—is a seamless continuation of all that rocked about Infinite Stargaze.
Out From the Cold was mixed by Tommy Hansen in Denmark, who did a stunning job on Infinite Stargaze. Hansen has also worked with Helloween, TNT, Pretty Maids, Jorn and Pagan's Mind.
The core of the band is founding member and guitarist Michael Larssen, the incredibly talented vocalist Niklas Swedentorp and Matti Eklund on keyboards and vocals. The band features two new members: Perra Johanson (ex Crawley, Lost Souls) on drums and Anders "Kebbe" Lindmark on bass (ex Dalton / RAW). Europe drummer Ian Haugland also makes a very special guest appearance. According to Larssen, "The new guys are both good old friends of mine from the time I used to live in the south of Sweden."
The 12 songs that comprise Out From The Cold sound like they could have appeared on their debut, but there is a distinct confidence that replaces some of the reckless abandon of their first release. Opening track "Heroes," for which they have a video (see link below), will have your head bobbing with its tight groove and catchy chorus. "Run For Your Life" kicks the album up a few notches with its headbanging tempo. "One In A Million" maintains the album's high performance quality."The King," with its Dio-esque melody and storyline, is fantasy metal at its finest.
One of the appeals of ColdSpell is that they undoubtedly rock, but their performances and production are extremely listenable. They're hooky, but not boring or predictable. And they don't feel the need to overplay and "wank off" like so many other bands of the genre. ColdSpell impress with sheer talent, an impeccable sense for songwriting and a sincere passion for their music. What a concept. If Infinite Stargaze sent you into orbit, you'll be just as hot for Out From The Cold. Like a fine wine, this is an album is worthy of time and appreciation—sip it, swirl it and drink it down—you'll be rewarded with a rare gift of melodic hard rock.
Genre: Melodic Hard Rock
Band:
Niklas Swedentorp – Lead Vocals
Michael Larsson – Guitars
Anders "Kebbe" Lindmark – Bass
Perra Johanson – Drums
Matti Eklund – Keyboards
Track Listing:
1. Heroes
2. Run For Your Life
3. One In a Million
4. Six Feet Under
5. Time
6. Save Our Souls
7. The King
8. Fate
9. Seven Wonders
10. Angel Eyes
11. Heading For Tomorrow
12. Out From The Cold
Label: Escape Music
Online:
Crank up the new video for "Heroes" on YouTube: http://www.youtube.com/watch?v=ASLT2MOdQy0&feature=player_embedded
Read a recent interview with Michael Larrson on Hardrock haven: http://hardrockhaven.net/online/2010/michael-larsson-of-coldspell/
Friend Coldspell on Facebook at www.facebook.com/pages/ColdSpell/164708699316 and on MySpace at www.myspace.com/coldspellsweden
For more information, visit www.Escape-Music.com
Hardrock Haven rating: 8/10