by Mark Allen
Staff Writer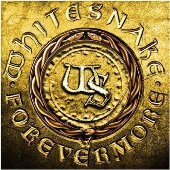 After achieving multi-platinum success in the late '80s by injecting their blues-based roots with a healthy helping of hair-metal sheen, Whitesnake began to slowly shrivel up and ride off into the sunset of irrelevance, partly due to the grunge invasion, partly due to a lack of noteworthy activity. People began to wonder if there was any bite left in the band or if the fangs had been forever plucked. Then Whitesnake struck back with 2008's Good to be Bad and all naysayers were immediately silenced and many a jaw was dropped in surprise.
The new album, Forevermore, wrapped in an aura of high expectations, is now upon us and faithfully follows the same pattern as Good to be Bad, meaning it wisely and effortlessly meshes together the various eras of Whitesnake's history. There are plenty of blues-rock tracks; for example, the opening song, "Steal Your Heart Away," features a slinky slide guitar and happy harmonica riff to go along with the blistering double punch guitar salvo. There are also multiple nods to the band's commercial metal glory days, with songs like "Love and Treat Me Right" captivating the ears with catchy hooks, "My Evil Ways" slamming out the sugar-coated heaviness, and "Dogs in the Street" serving up the street-rock swagger.
David Coverdale's vocals, though a long way from ruined as some critics have claimed, are certainly not what they once were and anyone who says otherwise was either born without eardrums, suffers from delusional tendencies, or has been smoking substances that will get you 5 to 10. That said, he sounds perfectly acceptable. But then, that is the problem; Coverdale was once a vocal god, a metal maestro with a golden voice, and to hear him reduced to the level of merely "acceptable" is as off-putting to some fans as finding a pubic hair in your pepperoni pizza. Coverdale pulls a Don Dokken here, singing in a lower register since he can no longer hit the notes of old, and your expectations for this album should be filtered through that fact.
More than compensating for the standard issue vocals is some stupendously strong guitar work. There is simply nothing negative that can be written about the twin axe attack launched by Doug Aldrich and Reb Beach. These two rock legends play with such scorching energy that it's a wonder they don't melt the strings. The production caters to this fiery fret fusillade, engineering the guitars so they sound crisp and clean and backing them up with some very punchy drumming from Brian Tichy. The whole feel of the album is warm and organic without crossing the line into artificial gloss and glitz, allowing the melodic edges to really shine.
At thirteen songs, the album flirts dangerously with overstaying its welcome, a fact not helped by the inclusion of one or two ballads too many. Change those ballads to rockers and fans would be more apt to forgive the extended running time. Still, the album is good, and maybe good enough that those fans will forgive the band anyway. As far as quibbles go, this is a minor one, and Whitesnake deserves praise for giving their listeners too much music as opposed to not enough.
When you gaze back through the mists of metal history, it feels like Whitesnake has been around forever. Actually, in the hard rock world, three decades is forever. So now that they have unleashed a new album, who should pick it up? Well, Whitesnake fans should pick this up. '80s metal fans should pick this up. Hard rock fans should pick this up. Guitar rock fans should pick this up. In other words, the answer to who should pick this up is pretty simple: everyone.
Genre: Hard rock
Band:
David Coverdale (vocals)
Doug Aldrich (guitars)
Reb Beach (guitars)
Michael Devin (bass)
Brian Tichy (drums)
Additional Musician:
Timothy Drury (keyboards)
Track Listing:
1. Steal Your Heart Away
2. All Out of Luck
3. Love Will Set You Free
4. Easier Said Than Done
5. Tell Me How
6. I Need You (Shine a Light)
7. One of These Days
8. Love and Treat Me Right
9. Dogs in the Street
10. Fare Thee Well
11. Whipping Boy Blues
12. My Evil Ways
13. Forevermore
Label: Frontiers Records
Hardrock Haven rating: 8/10