Artizan : Curse Of The Artizan
by Joe Mis
Staff Writer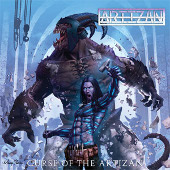 The American "traditional metal" scene is not dead, as is nicely proven by Florida-based metal act Artizan. While so many metal bands are leaning towards metalcore or screamo, Artizan is doing it old-school and heavy on their full length debut release, Curse of the Artizan. Melding influences from many of the greats of the '80s metal scene with a touch of modern metal, Artizan manages to make old sound new.
The Jacksonville, Fla. based quintet was founded in 2008 by drummer Ty Tammeus. He is the creative force behind the band — one of those rare drummers who takes an active role in songwriting. He is a fine drummer, laying down slick and catchy rhythms that match the tone of the music perfectly. His deft touch and enthusiasm for the music is obvious, but he never dominates the music no matter how complex the rhythms become. Jon Jennings is Ty's rhythm partner, and his rich, bubbling bass work is a perfect complement to the drums. The team of Shamus McConney and Steffen Robitzsch handle the guitars and seem equally at home whether laying down intense rhythm riffs or spiraling solos. Vocalist Tom Braden has a smooth and powerful voice well suited to the music. He is always clear and one hundred percent in control –- one of the better voices on the metal scene today.
Curse of the Artizan is filled with well-crafted songs with traditional metal structures. Influences of Iron Maiden, Metallica and Anthrax are occasionally obvious, but Artizan is not trying to be a copy band. They manage to take the tunes in new and sometimes unexpected directions. Big sweeping hooks and catchy but not overly complex rhythms are the band's trademark, and strong storytelling lyrics fill the album. Their musicianship is excellent and their performances tight. On the whole the album is well engineered with an overall warm tone and it simply sounds great.
Musical highlights include the progressive rhythms rolled into "Rise," the very Metallica/Megadeth guitar riffs on "The Man In Black," Braden's fine layered vocal harmonies on "Fire" and "Game Within A Game", the bouncy, almost Iron Maiden style into to "Fading Story" and the massive everything-but-the-kitchen-sink 10 minute epic "Curse Of The Artizan" which wraps the album and presents the story of the tortured artist in grand style.
Artizan's music will appeal to any old-school metal fan dues to its fine musicality and amazing performance, but it will also appeal to fans of more modern metal genres thanks to some of the more progressive elements woven into the songs. There is only a single negative factor on this album –- over-control. The listener may get the sense that there is a raging beast buried in Artizan but never fully released. They need one track where they turn it up to 11 and totally cut loose instead of reining themselves in and keeping it at 10. Otherwise, it is a competitive debut in a year filled with solid first releases.
Highly recommended!
Genre: Melodic Metal
Band:
Ty Tammeus (drums)
Tom Braden (vocals)
Shamus McConney (rhythm guitar)
Jon Jennings (bass)
Steffen Robitzsch (rhythm/lead guitar)
Additional Musicians:
Hermanus Rombouts performed the leads on "Rise", "Fire" and "Game within a Game" as well as rhythm guitars.
Tony Smotherman performed the solo's on "Trade the World", "The Man in Black", "Fading Story" and "Curse of the Artizan"
(* Steffen did not perform on the album)
Track Listing:
1. Trade The World
2. Rise
3. The Man In Black
4. Fire
5. Fading Story
6. Game Within A Game
7. Torment
8. Curse Of The Artizan
Label: Pure Steel Records
Website: http://www.artizanmetal.com/
Hardrock Haven rating: 8.5/10