Blood Ceremony : Living With the Ancients
by Justin Gaines
Staff Writer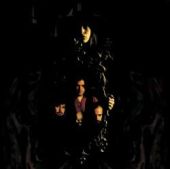 Living With the Ancients is the second album from Canadian heavy/doom metal band Blood Ceremony. Led by female vocalist/organist/flautist Alia O'Brien, Blood Ceremony plays a wickedly retro-sounding brand of metal with emphasis on heavy, doomy riffs, occult themes and a vintage organ sound. They're like an unholy mix of early Black Sabbath and Black Widow with just the right amount of Antonius Rex, Uriah Heep and Jethro Tull.
Living With the Ancients is like a time capsule from another era. As soon as you press play you expect to smell smoke and hear the popping of vinyl. Every song on Living With the Ancients has these thick, doomy Sean Kennedy riffs that are so old school it seems like a young Ozzy is going to jump in at any moment to sing about time travelers or the devil. Instead, it's O'Brien who leads us down those dark paths with her haunting and powerful voice. She also provides the heavy organ (is that a Hammond?) and Tull-like flute work that gives the album an even more vintage sound.
There are only nine songs on this album, and aside from (maybe) the 40-second flute instrumental "The Witch's Dance," none of them would qualify as filler. "The Great God Pan" is a brilliant way to start things, letting you know exactly what to expect from the rest of Living With the Ancients. "My Demon Brother" and "Morning of the Magicians" are two heavy, grooving demonstrations of Blood Ceremony's love for early metal, as is the spirited instrumental "The Hermit" and the monster 10-minute closer "Daughter of the Sun."
If Black Sabbath had recorded an album with Ken Hensley and Ian Anderson somewhere around 1969, it would probably sound a lot like Living With the Ancients. Between Blood Ceremony and Ghost's Opus Eponymous, fans of heavy, doomy, occult-themed metal have plenty to celebrate these days. If old school (heavy) metal and doom metal is your thing, Living With the Ancients is a must-have album. Fans of Cathedral, Witchcraft and Electric Wizard in particular should be all about this one.
Genre: Heavy Metal, Doom Metal
Band:
Alia O'Brien (v) (f) (o)
Sean Kennedy (g)
Lucas Gadke (b) (v)
Andrew Haust (d)
Track Listing:
1. The Great God Pan
2. Coven Tree
3. The Hermit
4. My Demon Brother
5. Morning of the Magicians
6. Oliver Haddo
7. Night of Augury
8. The Witch's Dance
9. Daughter of the Sun
Label: Rise Above/Metal Blade
Website: www.myspace.com/bloodceremony
Hardrock Haven rating: 9/10