Split Heaven : Street Law
by Justin Gaines
Staff Writer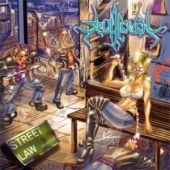 Apparently the traditional metal revival that has swept Europe, Canada and the United States has also made it to Mexico in the form of Split Heaven, a hungry young five-piece with an old school sound and a thoroughly modern energy. The band, who will be performing at next month's Warriors of Metal Open Air Festival here in the US, just released their third album, titled Street Law.
Split Heaven comes across as the Mexican equivalent of North Carolina band Widow. They have the same basic sound, which is roughly 75% Iron Maiden and Judas Priest traditional metal and 25% Van Halen and Motley Crue party metal. Street Law has high-speed metal tracks like "Night of the Jaguar" (complete with jungle cat growls) and "Lonewolf," which are so freaking metal it hurts, but there are also bar rocking party anthems like "Red Light District." Throughout the album you're treated to lightning riffs, rapid-fire rhythms, blazing solos and some killer high-pitched vocal wailing from Eligio Valenzuela. It's a hell of a mix, and one that just bleeds that classic heavy metal energy. It's impossible not to bang your head when songs like "Time Warrior" and "Servants of the Night" are playing, and the lightning-fast monster "The Obscure" is the perfect closer, ending things on a high note and leaving you wanting more.
Bottom line: Street Law is a kick ass heavy metal album. If you're a fan of the so-called New Wave of Traditional Metal bands like Widow, Wolf, Cauldron, Enforcer and the like, or just love classic heavy metal inspired by the likes of Iron Maiden, Judas Priest and Accept, you'll want to hear what Split Heaven has to offer. If nothing else, you have to appreciate young bands like this that are keeping the traditional heavy metal flame burning, and doing it in a way that sounds fresh and energized.
Genre: Traditional Metal
Band:
Taii Hernandez (b)
Tommy Roitman (d)
Armand Ramos (g)
Pedro Zelbohr (g)
Eligio Valenzuela (v)
Track Listing:
1. Time Warrior
2. The Devil Isn't Fool
3. Night of the Jaguar
4. Street Law
5. Servants of the Night
6. Lonewolf
7. Road to Nowhere
8. Red Light District
9. Nightfall
10. The Obscure
Label: Pure Steel
Website: www.myspace.com/splitheaven
Hardrock Haven rating: 8.25/10