by Franco Cerchiari
Staff Writer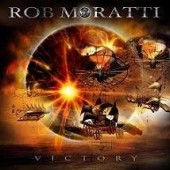 Since his earliest days with his self titled band, Moratti, on through his work with Phenomena, and as well his guest vocals on Tor Talle's astounding 2005 project, Northern Light and his tenure with Final Frontier and Saga's 2009 Human Condition, Moratti, has indeed proved himself time and again as one of the great voices of melodic rock. While it is his voice that is the focal point of Victory, note must be given to what is one amazing group of guest musicians – Reb Beach (Winger, Dokken, Whitesnake,) Fredrik Berg (Street Talk, Bloodhound,) Tony Franklin (Quiet Riot, Blue Murder, The Firm) and Brian Doemer (Helix,Saga.)
With a sound firmly planted in AOR, Victory opens with what could have been found on any Final Frontiers release, "Life on the Line," complete with subtle guitar riffs winding their way around the track. Reb Beach proves why he is one of the rock world's finest guitarists, with solos laying a delectable showing just under the blanket of power chords. Listen as well to the perfect, mid tempo "Life Time," the prog-ish, "Power of Love," the rocking, head nodding "On and On," the grandiose keyboards of "Hold That Light," the gentle "Take It All Back," and with a sound that will remind one of Work of Art or Northern Light is the ballad "I Promise You." Wonderful as well are the incredible drums of "Standing On Top of the World," where Moratti's voice reaches into the upper octaves, and closing this fantastic release is the piano and lush guitars of "Now More Than Ever."
Moratti seems to have a vocal style that has indeed remained as strong as ever. While age is indeed little more than a number, it has been proven that there are certain vocalists that unfortunately time catches up with and their voice becomes not as strong as it once was. On the complete other sides of the gamut are vocalists who seem to defy such a notion and stay as remarkable as ever – age be damned. Moratti is such a singer.
The sound on Victory is flawless, the musicianship as perfect as one could hope for and overall the sound flows easily from one track to the next. Pleasing on the ears, it is indeed tangible that Rob Moratti poured out his heart and soul on this release, and the end result is exquisite. The musicians play off each other extremely well, knowing their instruments and using them to accentuate certain passages and emotions. The songwriting was seemingly done with care, taking into consideration when to bring into focus a guitar, a keyboard or drum roll and when to pull back. The sentiment heard throughout is solid and real, and as has been said so many times, if the listener can feel of those feelings that the songwriter is trying to express, the result will be a compilation that a listener will want to come back to time and again. This is one of those times.
So…..the "best of" deliberation will surely carry on, but Rob Moratti, with this release, has established himself as one of the great ones, for this, in every way possible, showcases his talent as a lyricist, musician and vocalist. This was truly an unbelievable CD, one that will surely make many top ten lists for 2011.
Genre: AOR/Melodic Rock
Track Listing:
Life on the Line
Everything But Goodbye
Life Time
Power of Love
Hold That Light
On and On
Take It All Back
I Promise You
Standing On Top of the World
Jeannie
Now More Than Ever
Musicians:
Rob Moratti – vocals
Reb Beach – guitars
Tony Franklin – bass
Fredrik Berg – keyboards
Christian Wolff – guitars/keyboards
Brian Doemer – drums
Label: Escape Records
HRH Rating – 9.5/10