Jeremy Edge from Candlelight Red
by Deb Rao
Staff Writer
One band that is gaining popularity in the music industry is Candlelight Red. The band will be touring with Saving Abel this summer. The tour kicks off in Candlelight's Red hometown of Williamsport, Pa. on July 9. The young rock band already has a pretty impressive resume under their belt. In their short career, Candlelight Red has opened for Kiss and also appeared on the Rockstar Energy Uproar Festival with Disturbed. Most recently the band just wrapped up a tour with Egypt Central.
The latest single "Closer" from Candlelight Red is gaining momentum on radio stations across the country. The band has a cutting edge new sound reminiscent of Shinedown meets The Used. Singer Jeremy Edge has checked in with Hardrock Haven to discussing the unveiling of Candlelight Red.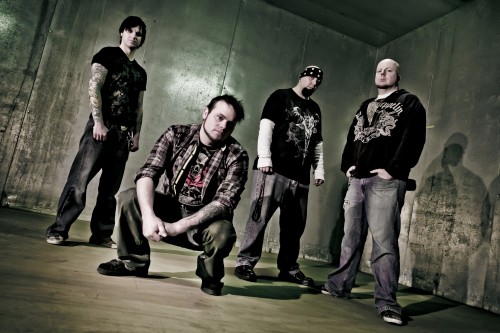 HRH: Jeremy, will Candlelight Red be performing a lot of new material from your upcoming release The Wreckage on the tour?
Jeremy: With the ten songs that we have on the record, we have been playing all of them. We have been alternating them every night. We have been doing seven songs every night.
HRH: Tell us a little bit about the songwriting for the album. The band has a catchy hook to most of your songs.
Jeremy: Some of the first songs we wrote started music first. Then we wrote lyrics later. The newer songs that we did like "Gone Forever" were kind of composed all at once with the vocals in the very beginning. Ryan had a lot to do with the writing. We are experimenting with a lot of different stuff. We're hoping it makes the album interesting.
HRH: The band has been on the road touring a lot this year. You have opened up with such great artists as Disturbed, Kiss and Halestorm. How did all this performing help you in writing the album? Do you feel that it worked in your benefit?
Jeremy: Yes, I think it does work to your benefit. It helps you get across what you are going to play for your audience. You get a feel for what is going to grab their attention. So far the reaction has been good on the road for the songs that we have played.
HRH: It is great because it is so hard to break into the music industry today and you have been so fortunate opening for these bands. I read that actually you got your start by winning a contest that was run by KISS at Guitar Center. How did this all transpire? This must have been great.
Jeremy: That was a great stepping-stone for us. Our fans really stepped it up on participation on the online voting. Which got us in the Top 5 in the running for Pittsburgh. Once we were in the Top Five Kiss selected us to open for the Pittsburgh show. From there they did the contest in 22 cities and picked a grand prizewinner. Out of all the 22 cities, they picked us as the grand prizewinner from the whole contest. That was pretty neat.
HRH: What was it like opening for Kiss? Were you a huge Kiss fan back in the day?
Jeremy: Oh yes, we all were. We grew up listening to Kiss, Led Zeppelin and Metallica. Kiss is a huge influential bands and it was great to share the stage with them. It was a massive honor to share the stage with them. It was cool to get to sound check while they were testing their pyro. It was a pretty neat experience.
HRH: Also, you performed at the Rockstar Uproar Energy Festival. How did that go?
Jeremy: That was cool. We got that one actually from Jagermeister. We did an appearance on the Jagermeister stage last year that was a huge honor too. A lot of people at that. So it was a lot of fun.
HRH: As a young band that is making quite the impact in the music industry, how do you want to be perceived? What is your goal, as a new band on the music scene?
Jeremy: We just want to get our music heard. We are not a big political band or have a message behind us. We want to play the songs that people are going to like along with us. I write the songs from experiences that you have that are real. Hope the music will strike more people. Hopefully, people will feel emotion and power behind the music.