by Nikiforos Skoumas
Staff Writer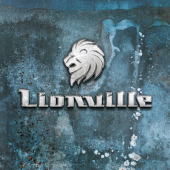 Lionville is the AOR project of Italian singer/guitarist Stefano Lionetti issued by Avenue of Allies. Lionville, an Italian AOR super-group at its own right, features musicians with far superior CVs than that of their founder; beyond Lionetti. Lionville features seasoned keyboardist Alessandro Del Vecchio (Edge of Forever, Eden's Curse) and Work of Art lead singer Lars Safsund. Lets not forget the rhythm section of Pierpaolo Monti and Amos Monti, the two musicians that put together one of the largest all-star AOR projects last year, Shining Line.
With additional contribution from session musicians as well as the collective abilities of the musicians involved, Lionville has every potential for success. Those who have followed the careers of the musicians mentioned above know that the will be hard pressed to name one bad album in their collective discography. Lionville as expected retains the high musical standards any melodic rock fan would demand from such a cast.
Lionville set out to deliver top quality AOR/melodic rock and that is exactly what comes out of the speakers when one plays this debut album. It has to be addressed that this is as authentic an AOR album as it gets. There is no hard rock no glam metal, not even the slightest trace of heavy metal on Lionville just clear and unblended AOR/melodic rock, a fact that only verifies how focused these musicians are on meeting their objective.
The flow of the album is very natural, bringing to front a good mix of tempos while remaining consistent on large melodic lines; whether these may come from the guitars, keyboards or vocals. Lionville music sounds unforced, though technical at the same time, forcing the listener to consider that there is not much one could do to improve the featured art. It is probably true that a stellar AOR album needs to sound subtle and intense at the same time an example of this is the powerful "Thunder in My Heart" an up tempo tune filled with shredding guitar and still very adult-oriented. "Power of My Dreams" has the quality of a radio mega-hit and then of course comes the male-female vocal duet of "The Chosen ones" (featuring Arabella Vitanic) which is bound to give Huston a run for their money. One also needs to mention the Journey-esque "Dreamhunter" and the ballads "World Without Your Love", "Over and Over Again" and "Centre of My Universe" which makes the self-titled album all the more complete and interesting.
Lionville are definitely not about stylistic originality, instead they come out as musicians who have mastered AOR and their potential at that seems limitless. One could spend days obsessively trying to find Lionville's weak spot but there is no such. Although Lionville should appeal to any fan of melodic rock and hard rock, it seems that it is better suited to the most demanding and experienced of AOR enthusiasts who will definitely make the most out of this impeccable album.
Genre: AOR/Melodic Rock
Band:
Stefano Lionetti: Lead & backing Vocals, guitars
Lars Säfsund: Lead & backing vocals
Alessandro Del Vecchio: Keyboards & backing vocals
Pierpaolo "Zorro11" Monti: Drums & percussion
Track List:
Here By My Side
With You
Centre Of My Universe
Thunder In Your Heart
The World Without Your Love
Power Of My Dreams
No End In Sight
The Chosen Ones
Over And Over Again
Dreamhunter
Say Goodbye
Hardrock Haven rating: 9/10