by Chris A.
Staff Writer
June 26, 2011 at Riverbend Amphitheater in Cincinnati, OH.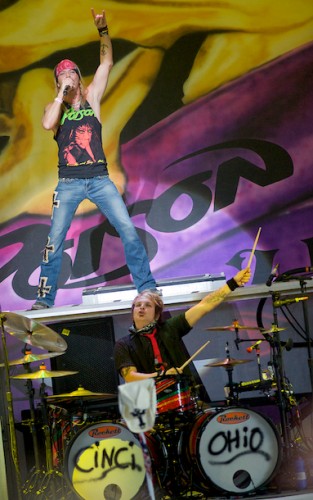 It's hard to believe it's been 25 years since Poison became the poster children for 1980's "hair metal". Sure enough, the original band members are all still alive, kicking and performing with a comfort level unmatched from "the good old days." Currently on tour in support of their west-coast buddies, Motley Crue, Poison's 25th Anniversary gig was a relaxed journey back to the days when mankind was in imminent peril due to androgynous bands like Poison who were condemned for destroying the ozone by consuming untold tons of hairspray.
Twenty Five years later, the ozone still seems to be in place and Poison never sounded better. Taking the stage, drummer Rikki Rockett welcomed by 12,000 plus, in attendance to the "Queen City" by spray painting "Cincy Ohio" on the front of his double-bass drum set. Moments later he was joined on stage by his buddies, Bobby Dell on bass, C.C. DeVille on guitar and vocalist and "Rock of Love," star Brett Michaels.
For anyone who remembers Poison, back in the day it's almost a miracle that at least one of these guys isn't dead or hasn't killed each other. Poison, was the definition of hard rock/hair metal excess and lived life hard, fast and with pure abandon.
25 Years later the boys who sometimes looked like girls (while still managing to get all the girls) have toned down the look and the excess. Performing in jeans, looking relaxed and taking advantage of 25 years of experience, they left the makeup and hairspray behind. On this night, it was Poison's music, not the hype and glam, that took center stage and frankly, they never sounded better.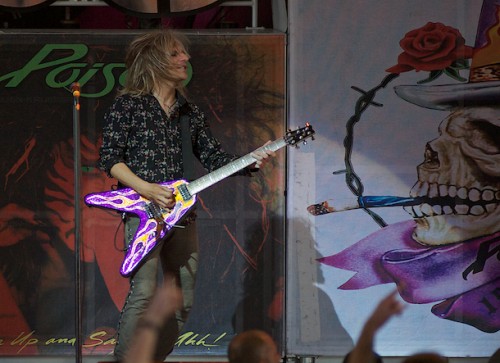 Opening the set with "Look What the Cat Dragged In," Brett, CC, Bobby and Rikki, instantly connected with the Cincinnati crowd. With huge smiles and a party attitude, they took the folks in attendance on a 25 year retrospective of the bands biggest hits and best tunes. The nine songs and two solo spots selected for the gig fit the warm, beautiful Ohio evening well. They elevated the crowd from 12,000 plus individuals into a musical choir of thousands singing "Unskinny Bop" and "Talk Dirty to Me" and more in unison with the band.
Poison captured the best of the bands persona and history in its 40 minute set. By the looks on their faces and the reaction of the crowd, they could have very well played all night long. Great show, solid set list and as far as the thousands in attendance were concerned, they had "Nothin But A Good Time!"
Poison's North American tour continues through August.
For more information about Poison visit www.poisonweb.com.
Set List:
1. Look What the Cat Dragged In
2. Ride The Wind
3. We're An American Band
4. Your Mama Don't Dance
5. CC DeVille Guitar Solo
6. Fallen Angel
7. Unskinny Bop
8. Rikki Rockett Drum Solo
9. Every Rose Has Its Thorn
10. Talk Dirty To Me
11. Nothin' But A Good Time
Poison Photo Gallery
Photos appear courtesy of Chris A.