by Deb Rao
Staff Writer
July 8, 2011 at Red Rock Casino in Las Vegas, NV.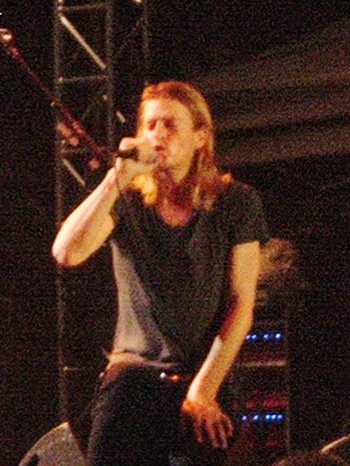 They say it never rains in Las Vegas but don't believe them. It pours! Last week in Vegas the area was embellished with thunderstorms that brought torrential downpours to the area. But not even a little rain would stop Puddle Of Mudd set to perform at the Sand Bar at the Red Rock Casino on July 8. An hour before the doors were set to be opened there was talk that the outdoor show just might be cancelled due to the inclement weather. Thankfully, the rain clouds subsided and like they say in Vegas, the show must go on!
Puddle Of Mudd hit the stage at 9 P.M. for a 90-minute set of great music that spanned their extensive career plus the band performed an AC/DC cover song TNT off of their upcoming cover album release, re:(disc)overed that is slated to be released on Aug. 2.
Red Rock Casino is one of the most innovative and impressive casinos in Las Vegas. The Sand Bar featured cabanas, pools, and a spacious concert area for fans to dance and just have a great time. Puddle Of Mudd are back on tour with a great new set list. Singer Wes Scantlin even performed some songs acoustically including "Drift And Die." It was great to hear "Famous" back in the set list. The band seemed energized and put on one of the best shows I have seen all season.
The set list was relentless, as Puddle Of Mudd pounded out hit after hit. Singer Wes Scantlin and guitarist Paul Phillips are a great team. The momentum of the night roared on as the band launched into "Psycho", "She Hates Me", and mega hit "Blurry." Be sure to check out Puddle Of Mudd on tour this summer. The re:(disc)overed Tour is slated to kick off on July 23 in Hartford, CT for a few select shows. Then Puddle Of Mudd joins the Rock Allegiance Tour on August 24 in Grand Prairie, Texas.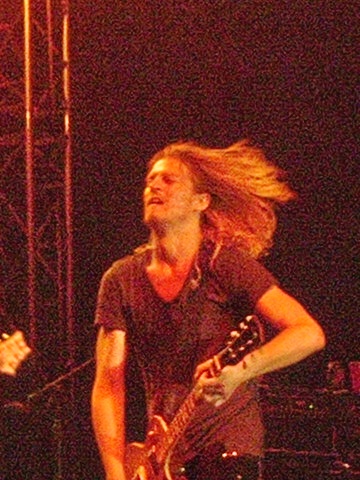 Puddle Of Mudd Set List:
l. Out Of My head
2. Control
3. Famous
4. Living On Borrowed Time
5. Drift And Die
6. Away From Me
7. Nothing Left To Lose
8. Think
9. Stoned
10. T.N.T
11. Psycho
12.She Hates Me
13. Blurry
For tour info visit www.facebook.com/puddleofmudd
Photos courtesy of Deb Rao