by Kim Shockley
Staff Writer
July 18, 2011 at Starlight Theater in Kansas City, MO.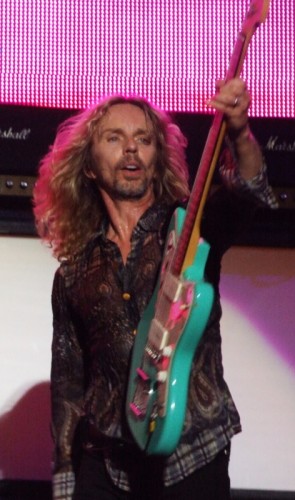 In spite of the oppressive heat and humidity, Styx played to a full house on Monday July 18, 2011 at Starlight Theater, Kansas City, Mo. This band, together for more than 30 years, are true professionals still at the top of their game. They seem to truly enjoy what they do, and are all about having fun on stage. The crowd came to their feet from the first song, "Blue Collar Man," and the energy of the show never waned.
The years have been good to lead singer and guitarist Tommy Shaw. Not only has he maintained an athletic build, his voice is still A+. He has the energy of any 30 year old musician as he moves across the stage. James Young is still as animated as ever on stage, and his vocals were spot on during "Miss America." James Young's guitar solo during "Grand Illusion," was nothing short of masterful.
The only new song performed was "One With Everything," which leans a little more to the progressive side. was well received by the crowd and definitely showcased Shaw's vocal range.
Bassist Ricky Phillips has carved out his place in the band, and has no trouble keeping up with boys. To the surprise and delight of the crowd, former bassist Chuck Panozzo (brother of late drummer John Panozzo) looking quite dapper in his shirt and tie, joined the group for two songs, "Fooling Yourself" and "Come Sail Away."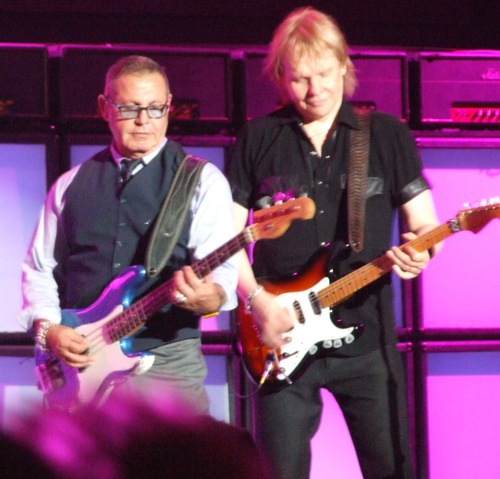 Lawrence Gowan, keyboardist and vocals, doomed to a lifelong comparison to Dennis DeYoung, held his own during the show. He's taken the Dennis DeYoung classics and made them his own, without loosing the spirit that made them signature songs, like "Suite Madam Blue" and "Lady," Some might think Gowan's almost constant 360 degree spinning of the keyboard and Keith Emerson style maneuvers somewhat distracting.
Shaw broke out the twelve string for fan favorite "Crystal Ball," and gave it his all, singing and playing to the crowd. He explained that this song was written around the time he lived in Montgomery, Alabama and was approached to join STYX. One glaring omission was "Snowblind," but with so many hits and a short time to play, they just can't do them all.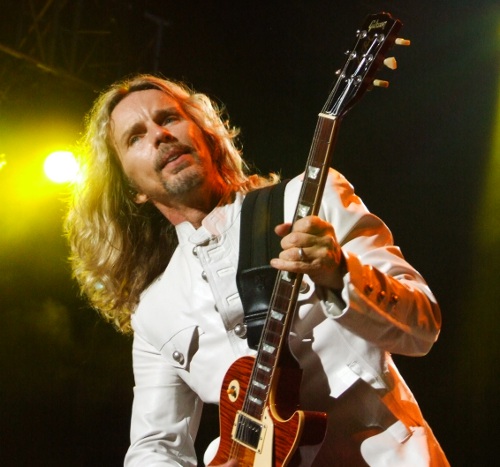 Legendary prog band YES opened for Styx and they put on a decent show. Their current lead singer, who they discovered on YouTube (sound familiar Journey fans?) just didn't quite have the chops. He gave it his all, and I found myself silently cheering him on to hit the high notes. At the same time, there were other songs that if you closed your eyes, you could almost hear Jon Anderson. Almost. Overall, YES entertained the crowd and they seemed to be enjoying themselves on stage, in spite of the sweltering heat.
Styx Set List: Blue Collar Man; The Grand Illusion; One With Everything; Too Much Time On My Hands; Lady; Lorelei; Man in the Wilderness; Suite Madame Blue; Crystal Ball; Fooling Yourself (Angry Young Man); Miss America; Sail Away; Renegade.
Yes Set List: Tempus Fugit; Yours Is No Disgrace; Heart of the Sunrise; I've Seen All Good People; Fly From Here; And You and I; Owner of a Lonely Heart; Starship Trooper; Roundabout.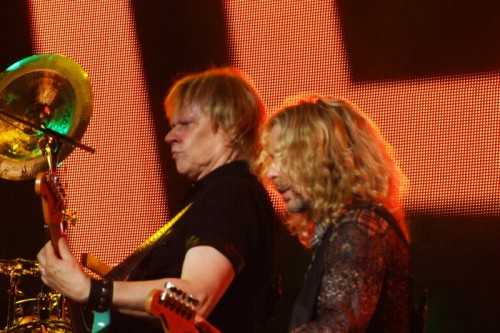 Photos appear courtesy of Kim Shockley